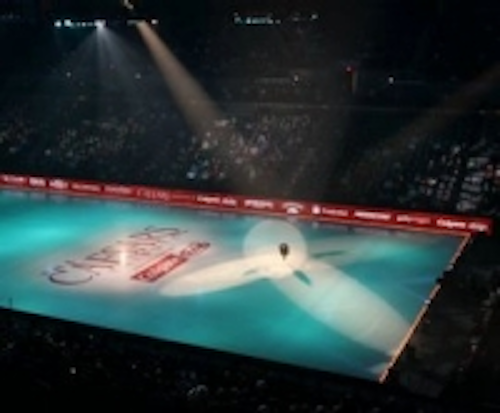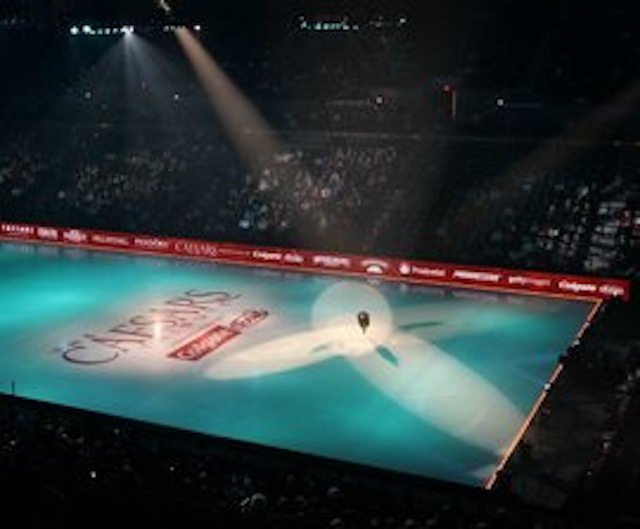 Date Announced: 21 Dec 2010
Atlantic City, NY – ANC Sports Enterprises today announced the company's continued expansion into televised entertainment through a partnership with StarGames' special Christmas Day program The Caesars Tribute presented by Colgate Total®: A Salute to the Golden Age of American Skating.
ANC provided and operated 225 feet of 22mm Diamond Vision LED Perimeter Signage for the ice skating spectacular which was held at Atlantic City's historic Boardwalk Hall on Saturday, December 11, 2010. The special two-hour television program will air on Dec. 25th on NBC from 4:00pm to 6:00pm Eastern. View preview of signage/event here:
http://www.youtube.com/user/ANCSports?feature=mhum
.
The broadcast will feature American skating icons that have combined to win more than 200 medals at Olympic, World and National Championship competitions such as Evan Lysacek, Nancy Kerrigan, Sasha Cohen, Brian Boitano, Sarah Hughes, Peggy Fleming, Scott Hamilton, Kristi Yamaguchi and Dick Button.
"ANC's event side signage enabled us to give a completely new look to skating," said Jerry Solomon, President and CEO of StarGames. "The flexibility within their system gave us the opportunity to enhance our lighting package, match costume colors, highlight sponsors and inform the audience in a way that would have been impossible with static signage."
The Caesars Tribute features 112.5 feet of dynamic full motion LED signage on each side of the ice skating rink. Operated through ANC's patent-pending VisionSOFT™ software system, each skater's performance will be highlighted by special effects, sponsor acknowledgements and event information in the background.
"We are extremely pleased to be able to enhance the entertainment and sponsor experience of the Caesars Tribute spectacular," said Greg Terlizzi, Manager, Sales Services of ANC Sports. "We look forward to providing future StarGames events with similar state-of-the-art signage and complete service solution."
ANC's staff set up, operated and broke down the entire signage system for StarGames. Additionally, ANC Design, the creative division of ANC Sports developed all of the content for the displays, including over 120 graphics and full motion animations.
ANC has provided LED signage solutions to television special events such as the NBA Draft, ESPN X Games and Dew Tour. The ESPN X Games, Dew Tour and United Football League surround nationally televised events with ANC's portable LED signage system option used during the 2010 Christmas special. The Caesars Tribute is the company's first non-hockey ice skating entertainment partnership to feature the company's LED system on the event perimeter.
About ANC Sports
ANC Sports Enterprises, LLC, is the industry leader in team and venue services, providing integrated signage, design, and marketing solutions for sports and commercial facilities. ANC Sports and its divisions: ANC Technologies, ANC Design, and ANC Marketing, offer Light Emitting Diode (LED), rotational and fixed visual displays; advanced media control systems; signage operation and maintenance; advertising sales and marketing consultation; graphic design; and printing production. ANC Sports provides signage solutions for 200 plus venues/stadiums in North America. For more information on ANC Sports, please visit its web site at
www.ancsports.com
.
About StarGames
StarGames, LLC (
www.stargamesinc.com
) is a fully integrated sports marketing, management and entertainment company based outside of Boston, MA. Now in its 16th year, StarGames represents current and former professional athletes, produces original content for mass media distribution, operates its own broadband television channels and produces live and made for television events. In recent years, StarGames orchestrated the return of tennis to Madison Square Garden with the 2008 NetJets Showdown and 2009 BNP Paribas Showdown for the Billie Jean King Cup and launched Ivan Lendl's Champions Academy in Sarasota, Florida. In April 2010, StarGames and Harrah's Entertainment teamed to produce the Caesars Tennis Classic, bringing tennis greats Pete Sampras, Ivan Lendl, Andy Roddick, Mats Wilander, Marat Safin and Venus Williams to Boardwalk Hall.
Contact
Michael Hopkins ANC Sports Enterprises 914-696-2100
E-mail:mhopkins@ancsports.com
Web Site:www.ancsports.com