EKTA's LED display greeted visitors at the UEFA Europa League final
Jun 8th, 2010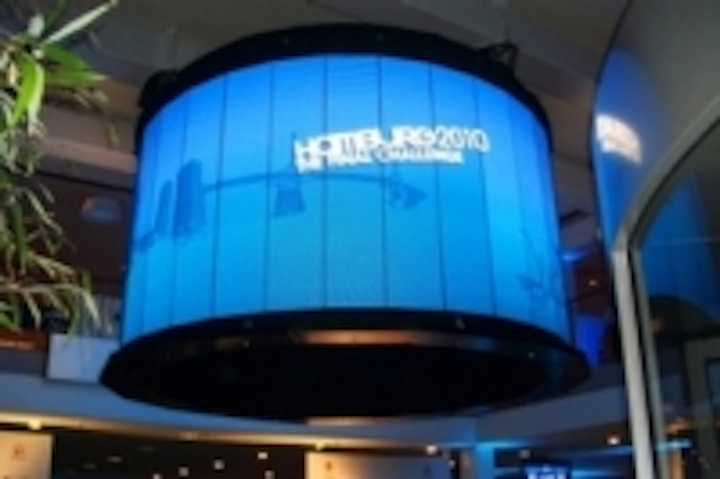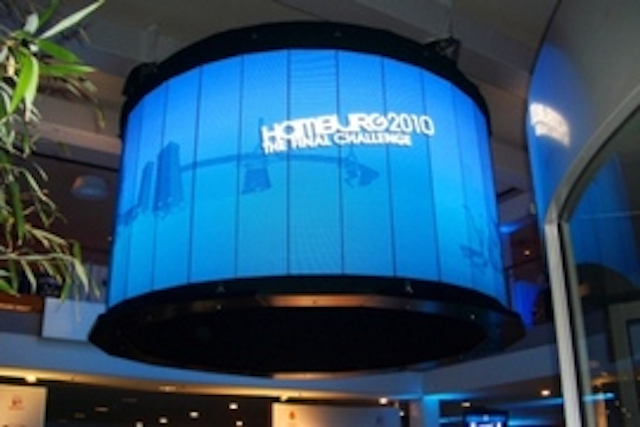 Date Announced: 08 Jun 2010
EKTA's iLVM 6C bf LED display - with 6-mm real pixel pitch and enhanced contrast ratio - was used during the inaugural UEFA Europa League final with Club Atlético de Madrid triumphant against Fulham FC. The circular, 1.9 m high and 4 m in diameter, LED display was installed suspended from the ceiling in the entry to the Platinum Lounge of the Hamburg Arena Stadium. This rental project was carried out by EKTA Vision GmbH, EKTA's representative in Germany, Austria and Switzerland.
The hi-end iLVM 6C bf LED display model belongs to EKTA's professional LED-Wall Indoor series and is designed for uncompromising quality imaging. Use of a full-color black Nichia LED in this model gives the screen surface its deep black color, significantly increasing image contrast. But the black LED is only one element that makes the iLVM 6C bf unique. Key advances in all of EKTA's professional LED-Wall series also include the highest in the industry brightness uniformity (99.5%) and refresh rate (up to 32 kHz) along with the revolutionary color processing that allows dimming even to 0.5% of maximum brightness without loosing color depth and adjusting color temperature in a wide range.
EKTA professional LED displays are designed to perform the most sophisticated visualization tasks in a variety of applications: rental solutions, TV projects and studios, show business and entertainment, DOOH signage, traffic and transportation and corporate AV. Their quality and reliability have been proven in more than 3,000 rental projects including performances of such world-wide stars as Sirs Paul McCartney and Elton John, Madonna, Metallica, Scorpions and Iron Maiden; as well as hundreds of LED display installations in more than 20 countries worldwide.
EKTA is a highly-tailored technology company that develops, manufactures and provides system integration of LED display solutions for a variety of markets including: DOOH media, branding, sports and other public events, television, corporate AV, leisure and entertainment, traffic and transportation. EKTA's state-of-the-art, innovative, and user-friendly products fulfill the visualization requirements of the most hard-to-please clients. The company's R&D and Manufacturing facilities are located in Ukraine. EKTA's dealer network covers EU, CIS, Central Asia, and Middle East.
Contact
Contacts: Mr. Maksym Skliarenko PR manager EKTA Company Email: pr@ekta.org.ua Tel.: +38 (044) 428-73-15 Address: office 8, 31 Turovska Str., Kyiv, 04080, Ukraine
E-mail:pr@ekta.org.ua
Web Site:www.ekta-led.com