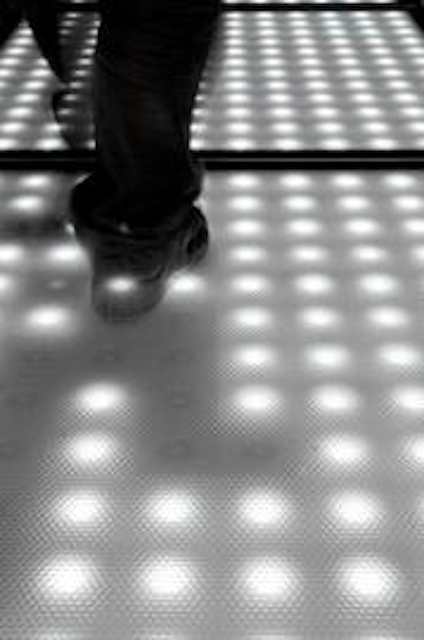 Date Announced: 16 Jun 2010
Arcadia, CA, USA - TAL North America announced the availability of the SmartFader interactive floor lighting system for the North American market. An instant hit at Light+Building in Frankfurt this April, the SmartFader utilizes LED technology in recessed "tiles" which will interact with their environment and is suitable for floor or wall applications.
"The basic concept is this;" said Heather Merriman, Director of Operations TALna, "each panel is fully illuminated until something in the environment touches it, such as someone walking over it when the SmartFader is floor mounted. Wherever the fixture is touched, the light in the area (touched) goes out and then slowly (approximately 8 seconds) comes back to full illumination. This gives the illusion of an animated foot print shadow (floor) or hand prints (wall) being introduced to the space".
The SmartFader is an excellent architectural or decorative element for designers to use in their spaces. The units only recess about 2" into the floor or wall, and are available in standard cool white, warm white, red or blue. Each "tile" is 1 meter (39") square and is designed to be used as a single element or in combination with other SmartFader units. This way it is possible for designers to customize the size of a dance floor, runway down the floor and up the wall, or endless creations based on the designer's imagination.
The SmartFader is available as IP65 (wet – exterior). Originally designed for nightclubs and trendy public spaces, many are also finding uses for the product in applications such as children's hospitals, museums, and elevator lobbies.
According to Bert Soenen, Export Manager for TALnv, the Belgian manufacturer, "TAL is a design-centric company and thus is very open to customizations to suit specific applications." Things such as rainbow filters and full RGB with DMX control are possible, as are illuminated corporate logos or illustrations at the designer's request.
Other versions of the SmartFader in the pipeline (including wall versions, smaller tile sizes and versions which are completely dark until touched by something in the environment) are scheduled for a Fall release.
About Technical Architectural Lighting
TAL is a Belgium lighting manufacturer of high-design architectural products specializing in contemporary and modern designs. TAL distributes high quality lighting products throughout the world and is committed to developing aesthetic products which meet sustainable design criteria. TAL is part of the Accoform Group which surpasses 150 million Euro of annual sales in 55 countries.
Contact
Heather Merriman, Director of North American Operations (626)340-4559
E-mail:heather@talnorthamerica.com
Web Site:www.talnorthamerica.com