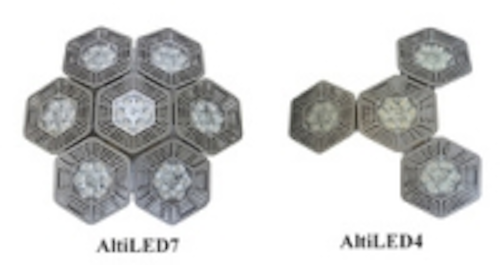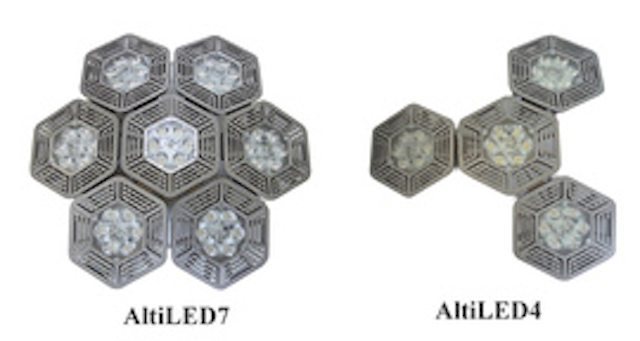 Date Announced: 22 Jun 2010
ACG Electronics, a well known LED driver and fixture manufacturer from Turkey has announced the industry's first modular LED High Bay Industrial Light, AltiLED Series. Available in 2 standard configurations, AltiLED7 (110 Watt) and AltiLED4 (65 Watt).
The patented design provides connection of lighting modules with specified angles, thus providing even light distribution. Other features of the product:
Significant Energy Savings (60-75%)
By replacing a 400W lighting fixture with AltiLED7, one may save up to 2850 USD at the end of lifetime of the fixture. The payback period of the AltiLED might be as short as 8 months.
Long product lifespan
Estimated life is over 50.000 hours.
High quality LEDs
Philips Lumileds' Luxeon Rebel LEDs with 100lm/watt@350mA are used.
Superior light quality
Flicker-free product with high CRI (70) value. Objects are seen similar to how they appear under daylight.
Instant On/Off
Many other lighting systems need 5-20 mins to reach maximum brightness once switched off (due to voltage fluctuations, break downs, work shifts). LED Lighting systems switch on in milliseconds.
Maintenance Free
AltiLED works continuously 6-7 years without any need for maintenance due to long lifespan of LEDs and durable structure. Even at failure situation, the repair time is very short because of modular structure of the fixture.
High Lumen Maintenace
At the end of 50.000 hours of usage light output will be more than 70% of its initial value.
Safe operation voltage
AltiLED operates with 24-28V DC input voltage. Can be used in locations where there is a risk of fire or explosion.
No Heat or UV
LED systems consume about 75% less energy than traditional lighting systems, thus the systems generate less heat to environment, which decreases the HVAC expenses (i.e cold storage facilities). LEDs do not emit light at wavelengths in UV and IR, therefore the light will not heat up the illuminated surface.
Green product
AltiLED contains none of the chemical materials (mercury, cadmium, lead etc.) restricted according to the RoHS (Restriction of Hazardous Substances) directive of EU.
Elegant and Modern Design
AltiLED can be used to give elegant and modern appearance to the architectural structure.
IP 50 protection
Suitable for indoor use only.
Contact
Address: Ilkyerlesim Mahallesi 1918. Sokak No:51 Batikent, Ankara 06370 TURKEY
E-mail:sales@acgelectronics.com
Web Site:www.acgelectronics.com