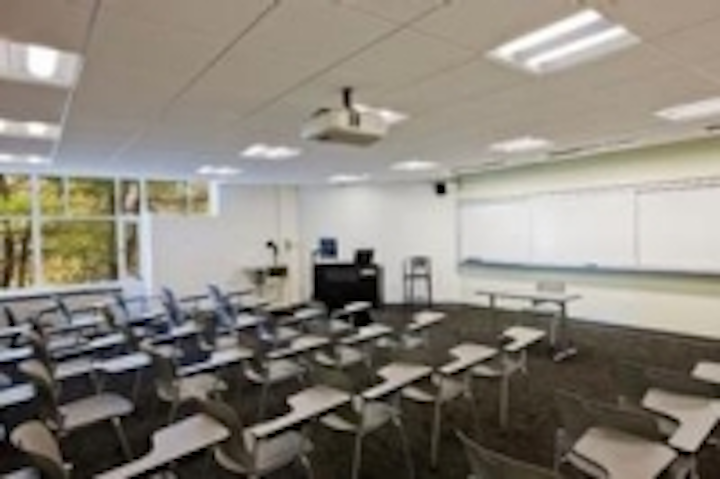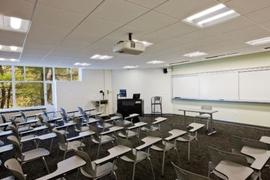 Date Announced: 22 Jun 2010
ATLANTA – Babson College turned to Lithonia Lighting RTLED for an LED lighting solution that improves operational efficiency and quality of service while delivering high-quality ambient illumination. The College renovated two 760-square-foot classrooms and installed 24 RTLED fixtures that are almost identical in appearance and illumination to traditional fluorescent lights.
"We've looked at LED fixtures several times over the years and have never been satisfied with the color temperatures and fixture dimensions," said associate vice president Shelley Kaplan.
The introduction of Lithonia Lighting RTLED volumetric lighting presented a solution to concerns over how LED lighting would perform in a standard space.
"We were immediately pleased with the color temperature and controllability of the RTLED systems," said Kaplan. "This was the first system we evaluated that had the ability to replace our T8 fluorescents and truly deliver on the promise of LEDs."
In addition to delivering visually appealing ambient LED lighting, the RTLED lights boast a 50,000-hour rated system life without having to change lamps or ballasts. The result is a significant reduction in the labor required to check and change lamps – a key victory in meeting the College's goal to reduce maintenance costs.
RTLED is a high-quality, volumetric recessed luminaire that delivers ambient white light throughout an entire space while reducing energy costs, maintenance costs and a building's environmental footprint. Powered by an advanced Samsung LED light engine, RTLED delivers a superior lighting environment: high color rendering (80+ CRI), 3500K color temperature, and full range dimming with 0-10V DC control.
RTLED is available nationwide for new installations through Lithonia Lighting agents. For more information visit
www.lithonia.com/RTLED
.
About Babson College
Babson College in Wellesley, Mass., is recognized internationally as a leader in entrepreneurial management education. Babson grants BS degrees through its innovative undergraduate program, and grants MBA and custom MS and MBA degrees through the F.W. Olin Graduate School of Business at Babson College. Babson Executive Education offers executive development programs to experienced managers worldwide. For information, visit
www.babson.edu
.
About Lithonia Lighting
Lithonia Lighting, an Acuity Brands Company (NYSE: AYI), is North America's largest manufacturer of lighting equipment for commercial, industrial, outdoor and residential applications.
Acuity Brands, Inc., the parent company of Acuity Brands Lighting, Inc. and other subsidiaries, is one of the world's leading providers of lighting fixtures and related products and services with fiscal year 2009 net sales of over $1.6 billion. The Company's brands include Lithonia Lighting®, Holophane®, Peerless®, Mark Architectural Lighting™, Hydrel®, American Electric Lighting®, Gotham®, Carandini®, RELOC®, MetalOptics®, Antique Street Lamps™, Tersen™, Syner­gy® Lighting Controls, Sensor Switch®, Lighting Control & Design™, and ROAM®. Headquartered in Atlanta, Georgia, Acuity Brands employs ap­proximately 6,000 associates and has operations throughout North America and in Europe and Asia.
Contact
Jennifer Manocchio 910.772.1688 or Samantha McLarty 770.860.3917 samantha.mclarty@lithonia.com
E-mail:jennifer@sweeneypr.com