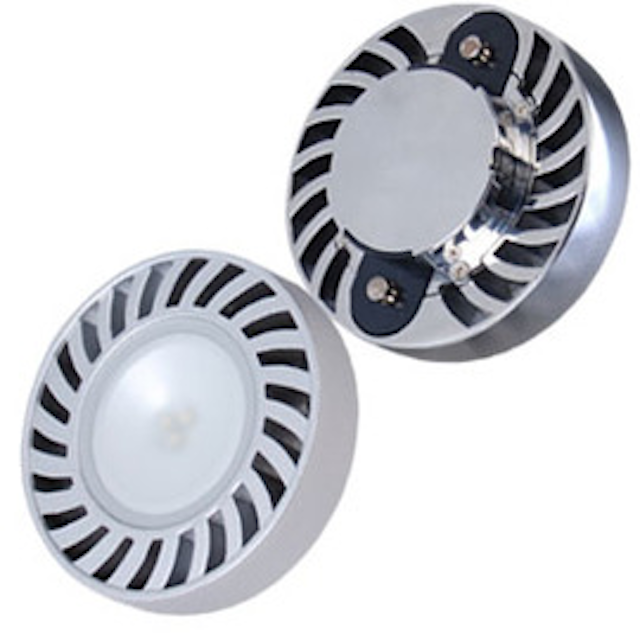 Date Announced: 12 Jun 2010
Shenzhen, Guangdong, China – In order to meet market demand for higher lumen output puck, ceiling, cabinet lighting. Today, Energy Concerns Luminaire (ECL) announced the launch of third generation line voltage High Power LED GX53 lamp.
"Traditional Halogen GX53 lamp body is so hot at work, and uses so much energy that is not worth to keep it, we need to design a energy-efficient, environmental retrofit lamp for CFL and halogen counterparts," said Lin Zhen, Senior Engineer of ECL. In 2007, at the very early stage of GX53 LED industry, the company released its First Generation GX53 LED lamp by incorporating 24 and 36 traditional super flux LED (two-leg type) as light sources. The electrical use was as low as 2W, dimmer than the later versions. The selling price was US$7.50 without gx53 socket. After about a year, the first generation lamp was discontinued, the company launched its new Second Generation GX53 Led lamps, using 12 super bright 5050 SMDs (3 chips in one SMD LED) LEDs as light source with total 3W electrical use, 120° beam spread. The total light output is about 160~170lm for Cool White (12lm/LED), 150lm for Warm White(10lm/LED) under 40mA current drive, features brighter, longer lasting than first generation and affordable price. The factory directed price is about US$8.95 without socket. The second generation GX53 Led lamp remains as hot selling economy item in our light bulb categories since its entry to the market.
Today's Third Generation power LED GX53 lamp creates benchmark that compared to about 50W of halogen counterpart, thanks to its breakthrough technology. The lamp features three one watt high power Leds as light source, round aluminum body with more efficient heat sink system, stronger lumen output than ever, improved optical lens for 115° beam angle, universal voltage range of 110~240v AC. The factory directed wholesale market price would be US$19.90~23.50 without socket, ($1.50 more with socket), it depend upon which branding power Led (Cree XLamp or BridgeLux of USA) required by the clients.
"Technical data shows that the total power consumption of the lamp is about 5.5 watts based on 1.5W/each LED, plus about 1W of circuit and component electrical use. A newest version Cree XP-E lamp can produce 250lm total for Cool White, 220lm for Warm White under 400 mA current drive, while high-end BridgeLux LED chip can produce about 93~96 lm/w. Customers can also choose cheaper old version of Cree XP-C series, but its light output is a little less, about 90 lm/w, each lamp produces 200lm total for Cool White, 170lm for Warm White," added Lin Zhen, Senior LED Bulb Engineer of Energy Concerns Luminaire. Currently, the luxury power GX53 LED lamps are demanded mostly by the high-end architectural, commercial, residential interior design and construction from the North America and Europe, used as under-the-cabinet lighting, tall showcase lighting applications and more, while the economy SMD Led GX53 lights are normally used in ordinary buildings and houses for budget concerns.
About Energy Concerns Luminaire & Supply Co., Ltd:
Energy Concerns Luminaire & Supply Co., Ltd ( referred to as "ECL") is a LED lighting manufacturer headquarters in Shenzhen, China, focusing solid state lighting fixture designing, developing, and manufacturing. Products include LED light bulbs, tube lights, strip lighting, under-the-cabinet lighting, display case lighting and more, selling products worldwide. Its USA partner company is California based Global Green Lighting, Inc.
Contact
Jin S Zheng Media & Marketing Department Energy Concerns Luminaire & Supply Co., Ltd B-1208 Feng Lin International Center, JiXiang Zhong Road, Central City, Long Gang District, Shenzhen, Guangdong, China, Postal Code: 518172 Tel: 86-0755-84514211 Fax: 86-0755-28902587
E-mail:Js@energy-concern.com
Web Site:www.led-lighting-factory.com/