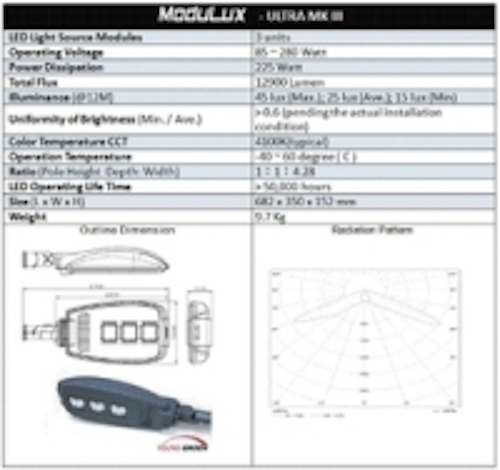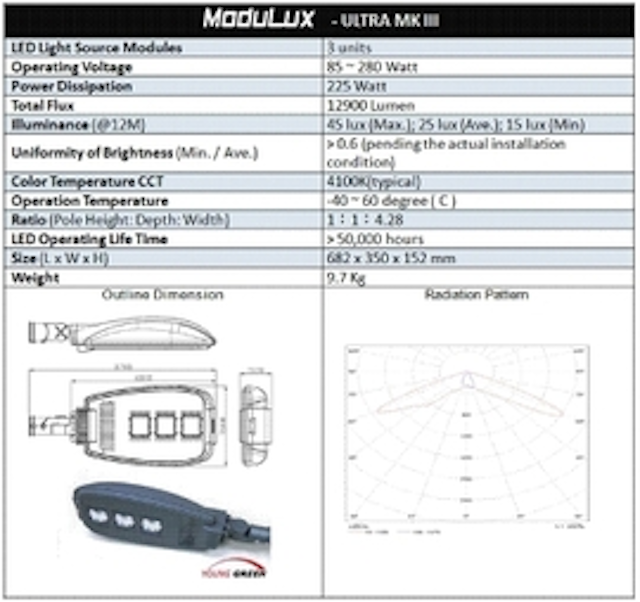 Date Announced: 14 Jun 2010
We have honor introducing the - ULTRA MK III high efficiency LED street lamp. Using performance LED components like Philips-Lumileds Rebel, the total flux reaches 12900 lumen with total system power consumption of only 225 Watt, sufficient to replace traditional HID or metal halide lamps of 680 Watt. Benefitted from advanced optics technology, its projection is precision controlled within a defined rectangular zone with exceptional homogeneity. Crossing over the technology and tradition ends, while its performance parts changed to LED technology, its outsides retains the elegant curve and shape of traditional street lamps.
Main Features:
1.Adopting the revolutionary Modulite LED modules, which integrates LED emitters, optics and lens, and heat dissipation, all into a compact IP65 Al-Gard platform.
2.LED components by Philips Lumileds Rebel.
3.No concerns of patent or IP infringement.
4.Unique radiation pattern from the ISOQUAD Technology, no more bright-and-dark "zebra patches" problems.
5.Exceptional Light Homogeneity, over 0.65 Min. / Ave. within the projection area.
6.Heat Dissipation:Ultra reliable Smart Forced Convection Technology (SFCT)
7.Significant energy saving over traditional technology, up to 65%
8.LED Operating Life: Over 50,000hours
9.Weatherability:IP65
Contact
Young Green Energy Corp. No.11, Li Hsing Rd., Science Park, Hsinchu County 300, Taiwan Tel: +886 3 5772000 ext. 1301
E-mail:sales.yge@young-green.com
Web Site:www.young-green.com