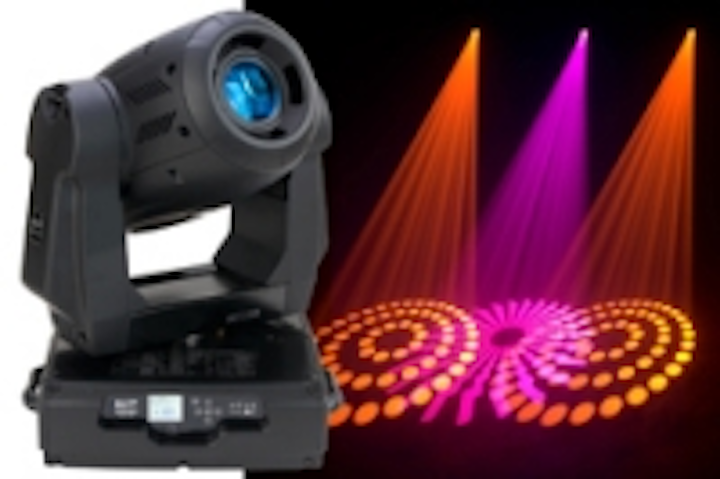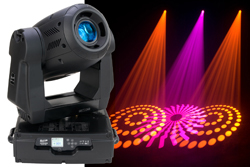 Date Announced: 07 Jun 2010
When crowds dance the night away under the light of the Elation Design Spot LED, they aren't thinking about anything practical; instead, they're swept away by this hybrid spot/wash effect's brilliant colors and rotating gobos. However, lighting professionals and club owners who have to address practical as well as creative concerns will love this light for more than its artistic value; they'll also be impressed by its "common sense virtues."
A perfect example of left-brain/right-brain harmony, the Design Spot LED offers the best of both worlds. An LED-powered version of Elation's popular Design Spot 250 Pro DMX moving head, the Design Spot LED is loaded with all of the performance features required to deliver an unforgettable light show. Yet, at the same time, it's also a no-nonsense practical fixture that saves energy, lowers shipping costs (because of its light weight) and simplifies maintenance.
At 48.5 lbs./22 kilograms, the Elation Design Spot LED weighs less than the original Design Spot 250 Pro, yet this powerful LED fixture produces a light output comparable to a 250-watt discharge lamp. It also offers the easy maintenance typically associated with LED fixtures, since its extended lamp life is 50,000 hours.
Like the original Design Spot 250 Pro, the new Design Spot LED features a variable Frost Filter, which allows it to function as a hybrid spot/wash effect. Other features include a Motorized Iris, Motorized Focus, and Variable Speed Shutter/Strobe, as well as improved optics and a flat beam field. Dimming of the lamp is ultra smooth via internal electronic dimmer for the led and built in strobe effects of the LED source are amazingly fast.
With 9 dichroic colors, 14 gobos (7 rotating/indexing, 7 static), a 3-facet Rotating/Indexing Prism and a 15° Beam Angle included as basic features, the Design Spot LED opens unlimited creative possibilities to the lighting designer. The fixture also includes Pan/Tilt 540/630 x 265, Mechanical Dimmer 0-100%, 16 DMX Channels, 3-pin and 5-pin DMX and a CBM-360-W-LED 90 Watt CRI 70 6,500K lamp.
The Design Spot LED measures 16.75"L x 16.75"W x 19.75"H/42.55 x 42.55 x 50.17 cm. Aside from making this ruggedly designed fixture easy to install, this compact size, together with the fixture's light weight, help reduce freight cost if the light is shipped from gig to gig.
The MSRP of the Design Spot LED is $3,399.95.
Contact
For more information, call Elation Professional toll-free at 866-245-6726 or visit www.elationlighting.com
E-mail:abby@fucinipro.com
Web Site:www.elationlighting.com