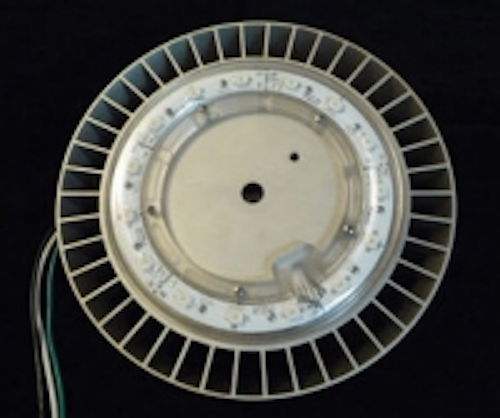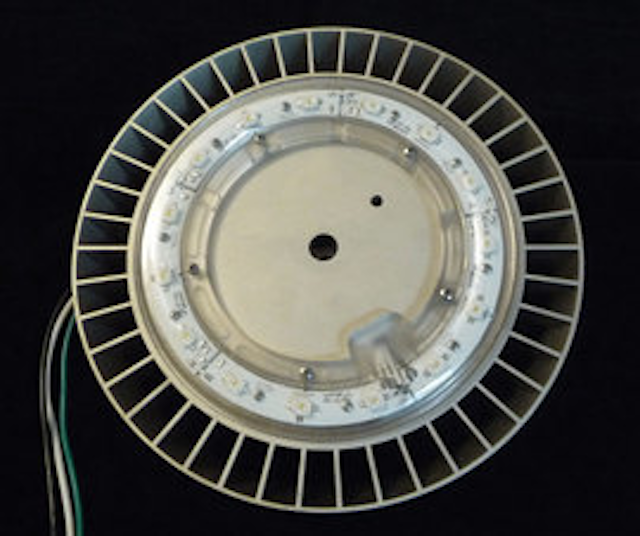 Date Announced: 23 Jun 2010
SAN JOSE, CA — OptoElectronix today announced its unique LED-based LightDisc module that enables luminaire manufacturers to accelerate adoption of low-power solid-state lighting (SSL) for commercial and consumer light fixtures. It delivers the same light output as a 90-watt incandescent bulb at just one-third the power and has a 50,000-hour life.
Fully Integrated Power Supply for
Quick Connection to Light Fixtures
The ULE5000 LightDisc module is a self-contained, plug-and-play LED light engine that includes the LED, integrated power supply, thermal management, proprietary control circuitry, and optics. It is available in warm white or cool white light. Its fully integrated 120-volt power supply means installing a LightDisc module in a light fixture is as simple as connecting two leads and the ground wire to the fixture. Light fixture manufacturers can easily replace the traditional ballast, sockets and bulbs with just one part. The ULE5000 LightDisc series is Underwriters Laboratory-recognized under File E323412 under the requirements of UL8750 and UL1598.
LightDisc features include dimming, which works with standard Triac dimmers, and power-factor correction (PFC), as well as continuous internal temperature monitoring and control. Proprietary Dynamic Dimming Compensation Control™ circuitry eliminates dimmer flicker.
The LightDisc LED module is only 1.4 inches high, which is an ideal size for applications such as ceiling fans, drum lights, large cylinder lighting, semi-flush lighting, rectangular wall sconces and bollard lighting. LightDisc modules can be designed into existing fixtures or used as the platform for efficient new designs never before possible, with no transformers required.
Warranty, Availability and Pricing
The LightDisc LED light engine comes with a five-year or 35,000-hour warranty. Pricing in quantities of 1,000 is $129.20 each. LightDisc LED light engine modules are available at our stocking distributor, New Horizons,
www.nuhorizons.com/nusolutions/lighting/oei/
, or at
www.optoelectronix.com
.
LightDisc Family
The ULE5000 is the first in the LightDisc family of lighting products based on OptoElectronix™ Universal Light Engine™ technology. OptoElectronix is using this platform to enable a wide variety of illumination-grade products for lighting applications using the common underlying technology and design of the integrated LED light engine.
Unique Integrated LED Light Engine
With 1530 Lumens Light Output
The first models in the ULE5000 LightDisc series are the ULE5360A-T-15 with a 3200K color temperature (warm white) and the ULE5361A-T-15 with a 6200K color temperature (cool white). Both connect directly to a 120VAC power source and feature a 120-degree beam angle. The lens is manufactured with UL94-5VA optical-quality plastic, providing extreme flammability protection.
The ULE5000 provides up to 1530 lumens of cool white light, or up to 1300 lumens of warm white light output—the same light output as a 90-watt incandescent bulb, but using only 28 watts of power. The 8-inch by 1.44-inch module includes a chain-pull pass-through. Three power leads provide a direct 120VAC connection. Data sheets are available at
www.optoelectronix.com/category.php?id=29
.
The Market for LED Lighting
OptoElectronix estimates that the market for fully integrated light engines—complete modules that include the LEDs, thermal management network, optics, and power and control circuitry—will be approximately $5.5 billion in 2012.
About OptoElectronix
OptoElectronix is the leader in "The Art of LEDs" — the conception, design, and manufacture of cutting-edge, standard, highly efficient, highly reliable LED light engines. OptoElectronix brings together many decades of unique expertise and experience in LED systems, an intimate knowledge of the lighting industry, and a thorough understanding of the manufacturing disciplines and requirements of both.
OptoElectronix is focused on introducing standard LED-based platforms that are appropriate for a variety of commercial, consumer, and OEM applications. OptoElectronix is based in San Jose, California, with its design center and LED manufacturing operations in Penang, Malaysia.
Contact
Mike Bottini OptoElectronix, Inc. (408) 717-0278 OptoElectronix, Inc. 111 West Saint John Street, Suite 588 San Jose, CA 95113 (408) 437-9455
E-mail:mbottini@optoelectronix.com
Web Site:www.optoelectronix.com