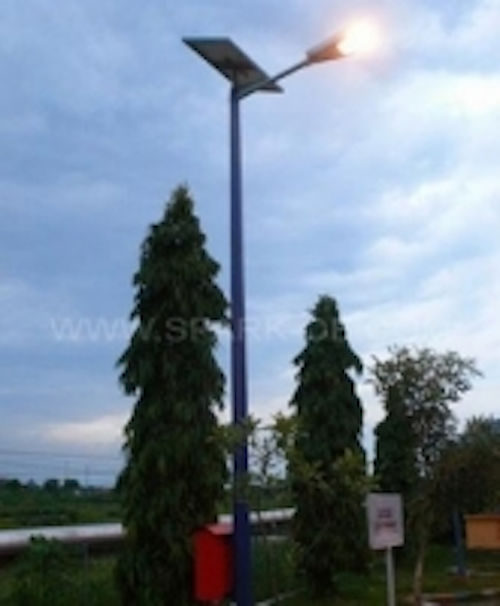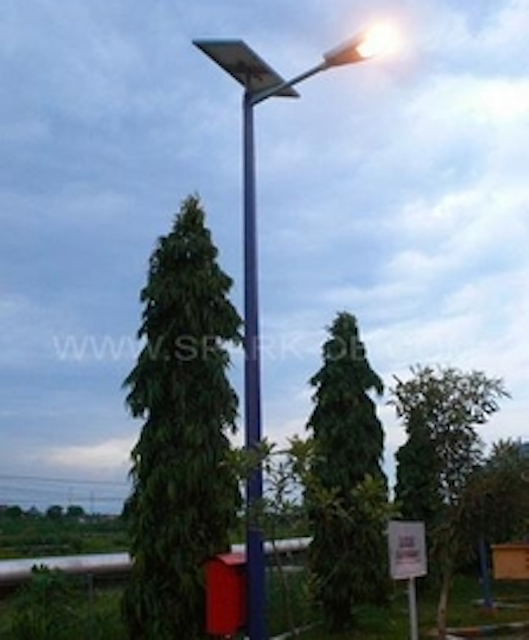 Date Announced: 28 Jun 2010
Solar LED street lights are recycled green energy lighting system. They're energy saving and environmental friendly, which can be used for residential, road, park and so on. High quality solar panel absorbs sunlight and convert into electricity energy, then charges maintenance-free battery and finally LED street lights automatically when day off, auto-off when day break.
Spark 60W LED Solar street light SRL-SPL-48 is a new energy-saving product with CE/RoHS/UL Certificate, using 60W high power street light as light source.(USA UL list number: 100524-776.) Spark has also passed and strictly carries out the ISO9001:2000 quality control system and ISO14001:2004 environmental management system.
The working method of solar street light is: solar panel absorbs sunlight and converts it to electricity to drive 60W LED Street light.
The whole system is mainly composed by:
60W LED street light, solar panel, leadacid battery and solar street light controller, pole (suggest 6-8m height).
Because of different weather condition in different country and different requirements from different market, so the specification of each part of the whole solar street light system, especially solar panel and battery, are depending on following factors:
•Average local daily sunshine hours.
•Working times of the system per night.
•Backup days of the solar system during rainy days.
Spark LED Solar Street light SRL-SPL-48
LED Initial Flux:6000lm(Tj=25℃)
Average lllumination and Effective llluminated Area:
6M Height 20m×8m≥26LUX
8M Height 26m×10m≥15LUX
Color Index (CRI): Ra>75
Color Temperature (CCT):
Warm white 2700-3500K;
Pure white 3500-4500K;
Cool white 4500-7000K
Beam Angle: Horizontal Axis: 120°/140°; Vertical Axis: 60°/68°
Light Distribution Curve (Beam Pattern):
Asymmetric (Bat Wing)/Rectangular Beam
Solar panel: 17.5V/180W (Average daily sunlight: 7hrs)
Battery: maintenance-free LEAD-ACID battery, 12V/150Ah*2 pcs
Solar controller: special designed controller, light sensor, anti-polarity reversal
Lighting time: 12 hrs full brightness/night, back up for 4 days
Spark Solar Street Lighting presents the perfect and cost-effective solution for residential streets, park, roadways, outdoor Lighting applications areas in almost 130 countries around the world.
Please feel free to contact us for customized Solar Street Lighting project.
Contact
Alice Wu Spark Marketing Director Tel: (86 755) 8390 4366 Fax: (86 755) 8390 4766
E-mail:sales@spark-oe.com
Web Site:www.spark-oe.com