Spark releases Intelligent LED Street light with Cree LEDs
Jun 17th, 2010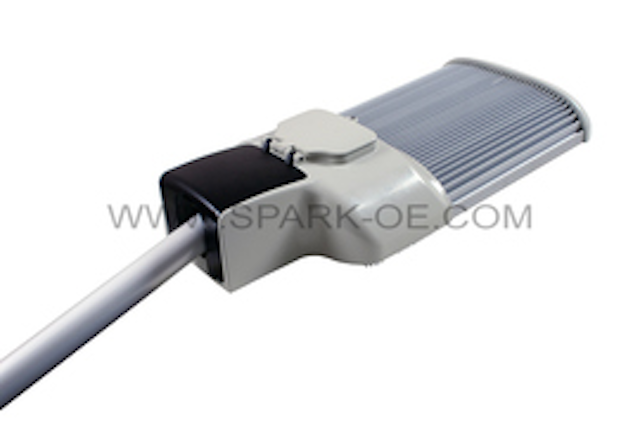 Date Announced: 17 Jun 2010
Spark is proud of its High Power Intelligent LED Street light Series. Spark Intelligent LED Street light technology has now matured, providing a cost-effective approach to managing municipal LED street light.
Spark High Power Intelligent LED Street lights are new series of energy saving products that utilize high brightness American CREE LEDs as effective lighting source to traditional illumination.It will be more reliable and effective to solve the heat release issue and keep the quality of Intelligent LED Street light more stable.
SPARK Intelligent LED Street light adopts a new independent intellectual property right of the intelligent driver. Leaded by a central control system, it can control the lamp brightness from 0-100% and feedback the working situation of each lamp to the central control system by remote control, and this kind of function can highly improve the management efficiency of road lighting administrative authority.
Therefore, spark intelligent system of outdoor LED street light can help local communities do their part in meeting this global challenge. Intelligent lighting systems utilize the latest LED technologies to optimize the light intensity according to the situation by dimming the lamp. All lamps can be communicated with, so their condition can be assessed remotely and controlled remotely. At the same time, intelligent LED street lights are also more benefit for EMC energy investment companies to control the electricity charge and cost.
LED street lights are among a city' s most important and expensive assets, typically accounting for a third of its electricity bill. With energy prices increasing, this is driving the demand for energy-conserving technologies for municipal street light. And SPARK Intelligent LED Street light series are the best city lighting energy-saving solution for EMC to recoup the investment rapidly and effectively.
The key features are:
1.Time-phased dimming control
2.Temperature control
3.Remote control
4.Adjustable Angle: 0-25°
5.Rectangular beam pattern
6.CREE chip
7.Wide range of wattage available for choice: 60W, 120W, 180W, 240W
8.Type can be Mini Intelligent LED Street light, Solar Powered Intelligent LED Street light, Intelligent LED Street light
Please feel free to contact us for one-stop exporting Intelligent LED Street light solution Now!
Contact
Alice Wu Spark Marketing Director Tel: (86 755) 8390 4366 Fax: (86 755) 8390 4766
E-mail:sales@spark-oe.com
Web Site:www.spark-oe.com