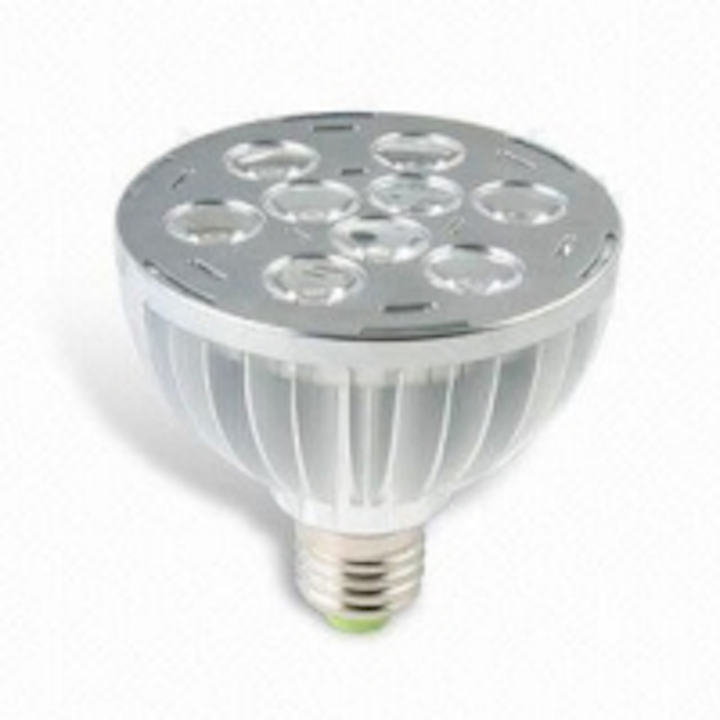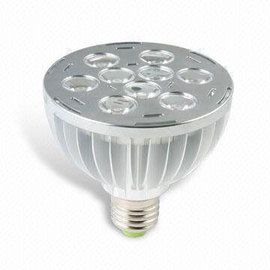 Date Announced: 12 Jun 2010
Shenzhen, Guangdong, China – China-based ECL introduces its third generation high lumen output, medium base LED PAR20, PAR30, PAR38 Lamps that replace conventional halogen for architectural, commercial and home lighting applications.
"PAR type white light applications call for higher light output and dimming function. Our PAR30 LED retrofits integrate nine 1W Epistar(Taiwan) High power LEDs as light source, and combine thin fin aluminum cold plate design, giving maximum brightness with high efficient themal performance." said Wei Li, senior engineer of light bulb sector of Energy Concerns Luminaire & Supply Co., Ltd.
The original design of PAR30 LED Lamp about two years ago (ECL's Second Generation) was based on seven 1w Edison (Taiwan) LEDs, and traditional thick heat sink, with efficacy of 85 Lm/W each cool white LED. ECL's Third Generation
LED PAR Lamps
adopting first generation Epistar LED chip could reach 91 Lm/W each cool white LED, and 102 Lm/W for second generation of Epistar LED chip. Total lumen output could achieve 820-850 Lm, higher than earlier version. Both of them are of universal 100-240v AC powered with E26/27 medium base socket with three beam angle variations for wide variety of spot and narrowflood applications (15°, 25°, 40°). Accordingly, PAR20 LED Lamp uses 5 LEDs,
PAR38 LED Lamp
uses 15 LEDs with same features as PAR30.
Another advantage of adopting Epistar LED is its high CRI and high efficacy of warm white technology. Efficacy and color rendering index (CRI) are two important merits in white LED lighting industry, one of the reason we choosing Epistar chip is the company's technology realizing high CRI and high efficacy simultaneously for warm white LED. A key element in delivering quality high power LED is managing the heat emitted from the LED chip. New heat sink is made up of dense ultra thin fins, resulting superior performance and increased light output, It establishes a new power LED PAR lamp benchmarks for engineering, reliability and lifetime.
"The integration of Epistar LED and newly designed heat sink is the perfect solution for a wide range of general LED lighting solutions such as E12/E14 candle lights, GU10/E27/E26 light bulbs, PAR lights, speeding the migration from traditional halogen and incandescent lamps to modern solid-state lighting." added Wei Li, senior engineer of Energy Concerns Luminaire.
Even the high power LED PAR lights are the majority in the market of the this kind, low power LED PAR lights (ECL's First Generation) made up of 60 LEDs of traditional two-leg type SuperFlux for par30, 36 LEDs for par20, 120 LEDs for par38 are still popular due to its lowest cost advantage in PAR light categories. ECL manufactures dimmable, non-dimmable high power PAR lamps, and non-dimmable low power PAR light currently.
About Energy Concerns Luminaire & Supply Co., Ltd:
Headqusted in Shenzhen, China. Energy Concerns Luminaire & Supply Co,. Ltd. (referred to as "ECL") focuses on developing, designing, manufacturing LED bulb, tube, strip lighting since 2006, and sells LED lighting fixtures worldwide. Its USA partner company is California-based Global Green Lighting, Inc. since 2002.
Contact
Jin S Zheng Media & Marketing Department Energy Concerns Luminaire & Supply Co., Ltd B-1208 Feng Lin International Center, JiXiang Zhong Road, Central City, Long Gang District, Shenzhen, Guangdong, China, Postal Code: 518172 Tel: 86-0755-84514211 Fax: 86-0755-28902587
E-mail:Js@energy-concern.com
Web Site:www.led-lighting-factory.com/