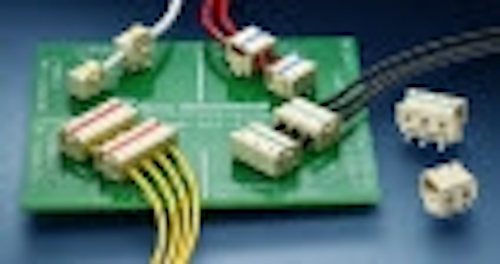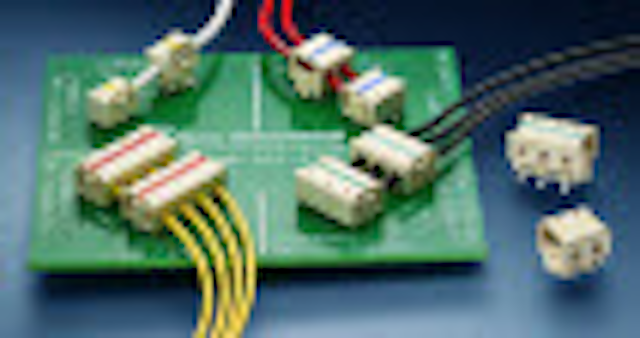 Date Announced: 22 Jun 2010
Mansfield, Texas, USA – Mouser Electronics, Inc., known for its rapid introduction of the newest products, today announced it is stocking new product from Tyco Electronics.
Tyco Electronics IDC SSL connectors are insulation displacement (IDC) SMT and thru-hole wire-to-board connectors designed for quick, tool-less termination of discrete wires onto LED printed circuit boards. The IDC SSL connectors feature Tyco Electronics' proven insulation displacement technology to provide a robust, stable electrical and mechanical power connection to single or multiple printed circuit boards in solid state lighting and non-lighting applications. Tyco Electronics IDC SSL connectors are available in 1 - 4 positions and SMT or thru-hole mounting. The IDC SSL connectors are also available in a wide wire range from 18-24 AWG, for both solid and stranded wire, with options for feed-thru or closed-in applications. To learn more, visit
www.mouser.com/tycoidcssl
.
Known for its focus on design engineers with its broad product line, unsurpassed customer service, advanced on-line catalog and innovative product marketing, Mouser continuously offers customers the newest products and latest technologies for their new design projects.
Mouser Electronics' website with interactive online catalog is updated daily and searches over 6.7 million products to locate over a 1.6 million part numbers available for easy online purchase. Plus, it houses downloadable data sheets, supplier-specific reference designs, application notes, technical design information and engineering tools.
About Mouser
Mouser Electronics, Inc. is an electronic component distributor, focused on the rapid introduction of new products and technologies to electronic design engineers. Mouser.com features more than 1.6 million products online from more than 400 manufacturers. Mouser publishes multiple catalogs per year providing designers with up-to-date data on the components now available for the next generation of electronic devices. Mouser ships globally to over 270,000 customers in 170 countries from its 432,000 sq. ft. state-of-the-art facility in Mansfield, Texas.
About Tyco Electronics
Tyco Electronics Ltd. is a leading global provider of engineered electronic components, network solutions, specialty products and undersea telecommunication systems, with fiscal 2009 sales of US$10.3 billion to customers in more than 150 countries. We design, manufacture and market products for customers in a broad array of industries including automotive; data communication systems and consumer electronics; telecommunications; aerospace, defense and marine; medical; energy; and lighting. With approximately 7,000 engineers and worldwide manufacturing, sales and customer service capabilities, Tyco Electronics' commitment is our customers' advantage. More information on Tyco Electronics can be found at
www.tycoelectronics.com
.
Contact
Kevin Hess Vice President Technical Marketing Mouser Electronics, Inc. (817) 804-3833 Direct (817) 804-3803 Fax
E-mail:Kevin.hess@mouser.com
Web Site:www.mouser.com