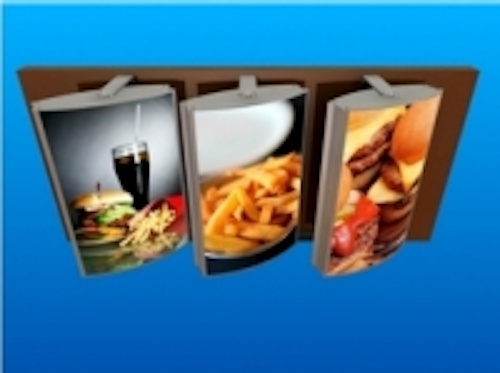 Date Announced: 29 Sep 2010
Advanced Menu Systems (AMS), a leading provider of LED illumination solutions for the Fast Casual and Quick Serve Restaurant (QSR) industries, today announced the launch of all new lines of specialized backlit LED Indoor and Outdoor Menu Boards and LED Menu Board Retrofit Kits. AMS was recently formed from the restructuring of ExpoTrans / EcoTek Lighting Solutions.
AMS' menu boards feature an innovative LED-Array light source from ION™ Light Engines that utilizes low voltage, Class II power. With an emphasis on menu graphics display, energy-efficiency, functionality and simple change-out of graphics, AMS' menu boards reduce energy consumption 65% over conventional menu boards using fluorescent lamps.
The LED indoor menu board product line includes four new models, Flat-Vu™, Arc-Vu™, Dual-Vu™ and Tri-Vu™. The unique Flat-Vu and Arc-Vu engineering eliminates "lift-and-drop" metal grids, providing 21% more display area for menu graphics in the same amount of wall space. The outdoor menu board product line includes the Drive-Thru Standard with fog-free doors and the Drive-Thru Day-Part, which provides twice the menu graphics area with rotating Day-Part panels. All menu boards are offered with sealed housings that reduce areas where airborne bacteria and virus can be trapped. The LED Menu Board Retrofit Kit is the ideal solution for QSRs and Fast Casual restaurants to quickly and easily realize new energy efficiencies with ION's LED-Array technology without having to replace existing menu boards.
All AMS' products are manufactured from environmentally-friendly, powder coated aluminum extrusions that are easy-to-install and attractive. UV & IR-free, these backlit LED menu boards help reduce building heat load and decrease air conditioning costs, are maintenance-free and qualify for LEED certification points. AMS' new backlit LED menu boards are stylish and durable, while also helping to reduce the associated Carbon Footprint.
About Advanced Menu Systems
Advanced Menu Systems (AMS) is a leading provider of LED illumination solutions for the Fast Casual and Quick Serve Restaurant (QSR) industries. AMS' menu boards feature an innovative LED-Array light source from ION™ Light Engines that utilizes low voltage, Class II power. AMS' products are fully recyclable, UL, C-UL and CE-listed, meet RoHS specifications and contribute points to LEED certified buildings, while also qualifying for commercial tax rebates. AMS' products represent the next-generation of energy-efficient and sustainable menu boards that help QSRs and Fast Casual restaurants "Go Green."
Contact
Dawna Lee Heising Director of Marketing Advanced Menu Systems 2907 S. Croddy Way Santa Ana, CA 92704 714-545-2426
E-mail:dheising@advancedmenusystems.com
Web Site:www.advancedmenusystems.com