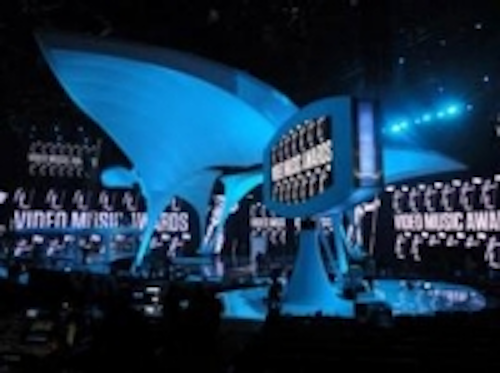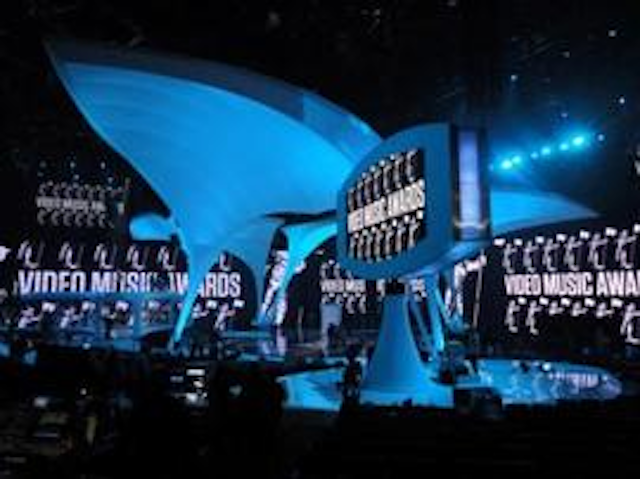 Date Announced: 24 Sep 2010
Lighting Designer Tom Kenny was the first in the world to get his hands on Martin Professional's
ultra-compact MAC 101 LED moving head wash light
, scattering 200 of the 2200 lumen, 8 pound fixtures across the sets of the 2010 MTV Video Music Awards (VMAs).
Mirroring the show's success (it was the most watched VMAs in nearly a decade), Kenny says the MAC 101s were the most talked about lighting fixture out of the 1500 moving lights on the show.
"Once we brought them on site, it had so many scenarios we could use it in," Kenny commented. "Everybody loved it. The director, some of the bands, and some of the scenic people said, 'can we use that light.' It has a million and more uses. We hid them all over the place and used them as a scenic element, putting it in places that no other light can fit in."
World debut
Hosted by Chelsea Handler and broadcast live from the Nokia Theatre in Los Angeles on September 12th - the very day the MAC 101 officially launched at the PLASA exhibition in London - the VMAs drew massive ratings and were as ground-breaking as ever with Lady Gaga this year's big winner. The show was produced by Jesse Ignatovich with set design by Florian Wieder.
On a show as big and popular as the VMAs, most designers would tend to go with their tried and tested lights, but Kenny's reputation as one of the industry's most innovative lighting designers is well earned, and he chose a world stage to debut the MAC 101.
"Brian Friborg and the guys at Martin US told me about the 101 and we decided that the VMA's would be a perfect stage for it. On TV, you're always trying to hide fixtures out of sight, but you also need a lot of power. Up until now you always needed a big light but with the power, size and color of the 101s we were able to bring it into situations which you would never be able to on television."
Multi-tasking light
The MAC 101 is a remarkably small and super light LED moving head wash light yet packs a punch greater than many fixtures twice its size. It features a tight and very bright beam, rapid movement and calibrated colors and consumes a low 125 watts of power.
"For anyone who's wanted a little, powerful light for stage this is the light. This proves there is a market out there for a low wattage light that you can fit in anywhere," Kenny stated. "We had them everywhere on the massive set because they are small, lightweight and cool. Usher fell in love with them and I put them behind him as uplight on his Tron set. The electricians fell in love with them because you could stick them anywhere and they had a huge punch. The set designer loved them for their unique size and color. And the producers loved them as they went with the creative futuristic look of the show.
"You can imagine the number of people who come through the door and are associated with the VMAs - professionals in video, riggers, scenic design, producers - and everyone has said, 'wow, look at that thing.' It became a type of mascot, people saying 'hey, we could fit some 101s in there.' It has shown that it has an awful lot of uses."
Kenny says that gaffer Mike Grimes and programmer Mike Appel enjoyed the power and resourcefulness of the 101 as did the other gaffers on the show (John, Ronnie and Jason).
Toy and workhorse
Kenny used the 101s in three or four big looks in the main show, including in a wall matrix, beneath the main stage, for beam looks and to light scenic elements. "We could get the 101 where we couldn't fit anything else," he stated. "It became one of our main toys, something that is focusable and powerful."
Kenny's original thought was to use the fixture just once on the show, but ended up showing it in nearly every theme. "For example, we lit a set piece on the floor and sixty foot high and it had light on it from the 101s bottom to top, pure color. It shows the versatility of the light. It became the workhorse of the show but it's low profile. The riggers have raved how light it is."
There are few designers worldwide who do shows of the magnitude of the MTV Video Music Awards, and lighting personnel often hit the ground running. "When you get on site there's all these areas that you see that you didn't count on. We'd add a 101here for a camera angle, add one there for a piece of scenery. It was one of those things where it started out as one thing and turned into another."
Kenny also used the MAC 101 outdoors, at a remote location shoot at Griffith Observatory, a leading U.S. site of public astronomy and a cultural and scientific icon of Los Angeles. He incorporated them in the show's opening look to light Linkin Park, the Observatory's first ever rock show. He also used thirty 101s to light the iconic Astronomers Monument in the middle of the Observatory. "They are very cautious about how to light the Observatory and wanted fixtures that have a scientific look," Kenny explained. "Also at Griffith, lighting directors Dirk Optende and Gus Dominguez, as well as gaffer Bryan Klunder, were amazed at their outdoor durability."
The MAC 101 wasn't the only Martin fixture used on this year's VMAs. Along with the 200 MAC 101s Kenny also had Martin MAC 2000 Wash XBs™ and Atomic 3000™ strobes fitted with Atomic Colors™ scrollers on the show, nearly 500 Martin fixtures in all.
Kenny thanks Brian Friborg, Gary Mass, Nick Freed and Noel Duncan of Martin US "for showing me this light and for always supporting me on my projects and to all who contributed endless hours and thought into what became a very special set design for us."
About Martin Professional
Founded in 1987 and headquartered in Aarhus, Denmark, Martin Professional is a world leader in the creation of dynamic lighting solutions for the entertainment, architectural, and commercial sectors. Martin lighting solutions are industry standard on top tours and events, grace prestigious theatres, energize nightclubs, and decorate major television studios around the globe. Other important areas of application are indoor and outdoor architecture and commercial applications where Martin products are increasingly being used to transform spaces through dynamic light. Martin also offers a range of advanced lighting controllers and media servers, as well as a complete line of smoke machines as a complement to intelligent lighting. The company operates the industry's most complete and capable distributor network with local partners in nearly 100 countries. For more information please visit
www.martin.com
.
Contact
Larry Beck Telephone: +1 719 686 0793 Fax: +45 87 40 00 10 (DK) / +1 954 858 1811 (US)
E-mail:larry.beck@martin.dk
Web Site:www.martin.com