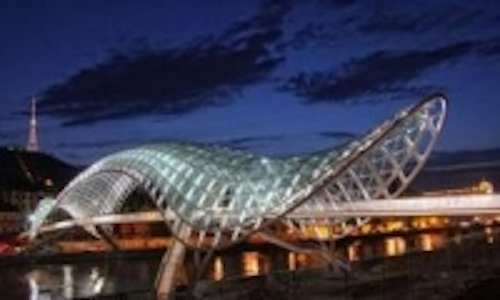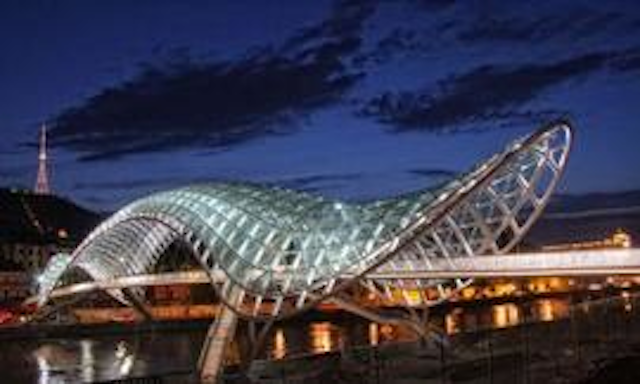 Date Announced: 07 Sep 2010
The Bridge of Peace spanning the river Mtkvari is the third project in the Georgian capital of Tbilisi using Pharos controllers with the collaboration team of Italian architect Michele de Lucchi, French lighting designer Philippe Martinaud and Dutch lighting engineer Marco de Boer. A graceful and elegant sculpture, its dynamic, mesmerising illumination is created using only white light.
The 1200 fixtures in the glass canopy provide a substantial canvas for geometric and organic lighting effects, generated by a networked Pharos LPC 1 and LPC 2. An additional four LPC2s and three LPC1s control the 4100 LEDs incorporated into the glass parapets of the 150m interactive walkway. Integrated along the walkway are 256 sensors connected to the digital inputs on 32 Pharos RIO 80 remote devices networked via 16 Pharos PoE switches to the LPCs. As pedestrians pass the sensors, sections of lights follow their progress across the bridge. The LPCs' support for scripting simplifies the process of handling the inputs from the numerous sensors and determines which LED sections to light up in response. A Pharos button panel (BPS) is also installed for local triggering of override sequences.
From sunset to the early hours, the controllers run a change of program every fifteen minutes, culminating in the hourly sequence that expresses a universal message: the chemical elements that comprise the human body. This was achieved by translating their periodic table chemical symbols into Morse code and programming the dash-dot pattern as a text effect in Pharos Designer. The resulting light pattern travels across the parapet.
The award winning Pharos controllers offer all-in-one solutions for lighting, audio-visual and show control in architectural and entertainment installations. For further information and to download free Designer software visit the website at
www.pharoscontrols.com
.
Contact
Pharos Architectural Controls Limited Studio 20, Shepherds Building, Rockley Road, London, W14 0DA +44 (0)20 7471 9229
E-mail:info@pharoscontrols.com
Web Site:www.pharoscontrols.com