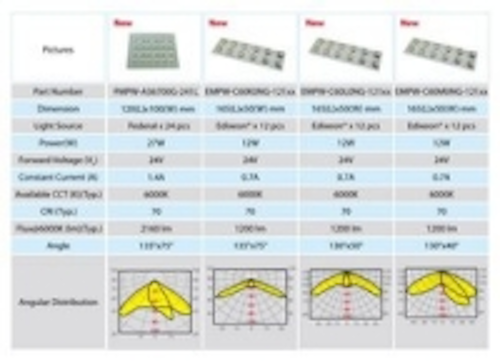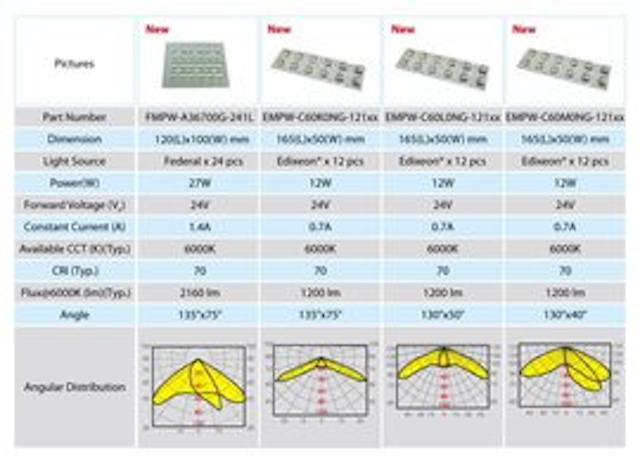 Date Announced: 20 Sep 2010
To implement the energy conservation policy, many governments have been devoted to promoting green products. Edison Opto streetlight module is an energy-saving compliance that can generate the same brightness as 400W mercury streetlight while consuming 35% less energy.
Compared with traditional lights, a LED streetlight is superior in terms of its efficiency, brightness and lifetime. Edison Opto streetlight module comes in 12W and 27W and can offer lumen efficiency up to 100 lm/W. In addition, the module is available in Federal series or Edixeon series.
Due to rapid developments in the LED industry, many countries have started to formulate strict standard to ensure high LED streetlight quality and performance. Edison Opto utilizes patented technology and multiple non-spherical lens design to make an asymmetric light output and minimize direct glare. The asymmetric light pattern is decent for roadway and can also be applied to all kinds of LED lights or street lighting.
If you are interested in LED streetlight modules, please visit our product theme page: http://www.edison-opto.com.tw/Flash/Edison_Opto_Themepage/Edison_Opto_ThemePage.html
About Edison Opto
Edison Opto is a leading manufacturer of high power LED and a solution provider experienced in LDMS. LDMS is an integrated program derived from the four essential technologies in LED lighting applications- Thermal Management, Electrical Scheme, Mechanical Refinement, Optical Optimization, to provide customer with various LED components and modules. Edison Opto, will be introducing a diverse range of high power LED products in the coming exhibitions such as Hong Kong lighting fair, Munich Electronics fair and Moscow decorative and technical lighting fair. For more information, please visit our official website: www.edison-opto.com.tw or call on behalf of no. 886-2-8227-6996.
Contact
Jill Hsu, Marketing Planning Specialist Edison Opto Corporation Tel +886 2-8227-6996 Ext.8802 Fax +886 2-8227-6993
E-mail:jillhsu@edison-opto.com.tw
Web Site:www.edison-opto.com.tw