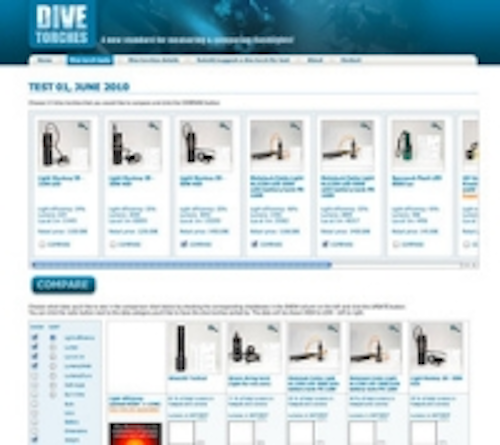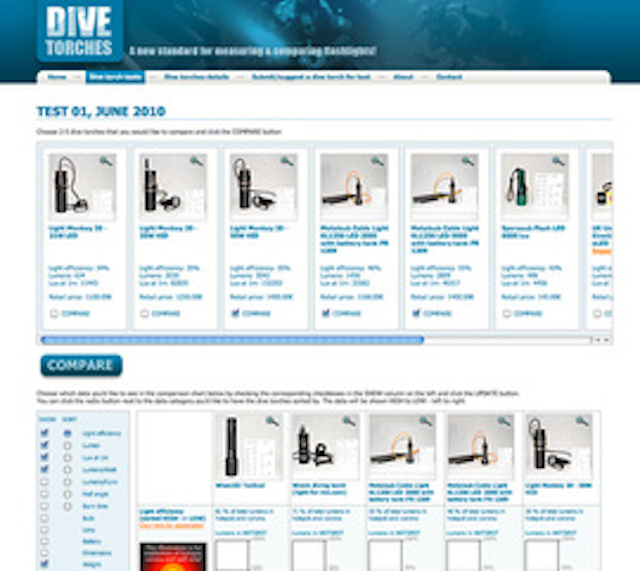 Date Announced: 14 Sep 2010
Gilleleje, Denmark -- WiseLED, a small Danish flashlight manufacturer has taken the first step to propose - and encourage the flashlight industry to agree on - a new standard for measuring flashlight output. A few days ago WiseLED launched a new web site, divetorches.com, which shows exact and scientifically measured data for a number of powerful dive torches. The company has included its own dive torch, the WiseLED Tactical in the test, but states that all data and information are 100% objective. This is backed by the fact that their own torch only has the highest score in a couple of categories.
These tests measure and state data for lumens, lux at 1 meter, half angle, lumens per watt and the percentage of lumens in hotspot, corona and spill and a couple more.
Today flashlight manufacturers use different units of measurement like lumens, lux, watt and foot-candles to state the output of their flashlights, which makes it difficult for the consumers to compare data when buying flashlights.
Flemming Dahlin, CEO of WiseLED explains: "In our test the light from the torches is being measured by 18 digital lux meters positioned on a black banner, measuring the light from the center of the beam (0°) to the edge of the beam at 90°.
All readings are fed into a computer that calculates the value for each degree (between the lux meters) marked on the banner and from all these numbers the total number of lumens is calculated. Also the lux value at 1 meter is being calculated from the reading at the center (0°) lux meter (the distance from the torch being measured and the lux meters is 215 cm).
The lumen value is reached by measuring the total light that falls on the inside of a hemisphere. In our calculation the hemisphere is divided into slices and the area of each slice is then multiplied by the measured lux value (readings from the digital lux meters). The total lumen output of the torch is the sum of all lux calculations.
Light output from all torches have been measured immediately after a full charge and within a few minutes, as dive torches are not meant to be turned on for a longer period of time above water."
At launch 9 dive torches have been tested, but more will follow. WiseLED also invites other flashlight manufacturers to partake in the test either by submitting their torches for test or being present during the measuring of the lights.
About WiseLED
WiseLED, located in Gilleleje, Denmark, manufactures flashlights and dive-torches.
Founder and innovator, Flemming Dahlin, started the company in 2004, wanting to develop a superior lighting system that optimizes the use of high power LEDs. New products are constantly in development and existing flashlights are continuously being improved with newer and better LEDs and batteries.
Contact
Martine Carlsen, director of public relations WiseLED Aps. Boegebakken 15 DK - 3250 Gilleleje Denmark wiseled.com
E-mail:mc@wiseled.com
Web Site:www.divetorches.com