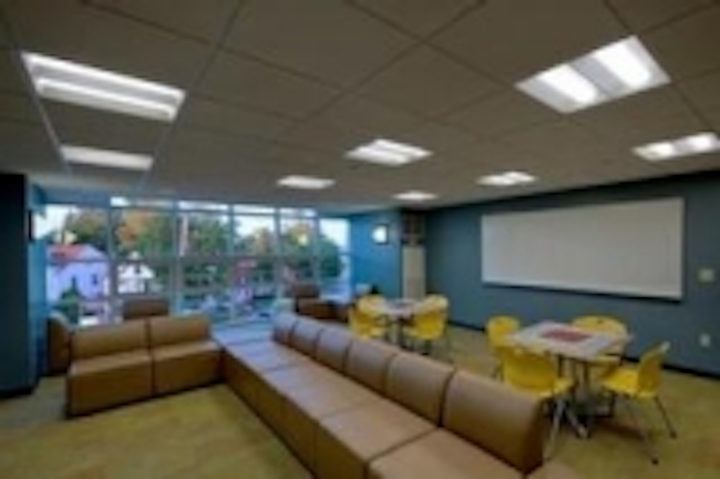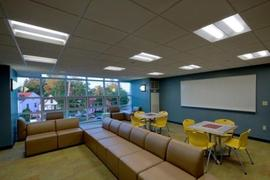 Date Announced: 15 Sep 2010
Atlanta - Acuity Brands, a market leader in innovative energy efficient lighting and control solutions, is proud to support the University of Akron in its sustainability, design and energy conservation goals for the University's new Multiplex residence hall. The new residence hall features more than 700 Lithonia Lighting(R) RTLED(TM) luminaires in hallways, study lounges and social lounges.
LED lighting was not the initial recommendation for the facility. In support of the university's "green" initiatives, a request was made to determine if LED lighting could be incorporated late in the construction cycle while minimizing the impact on the installation work already completed.
"A lot of the branch circuiting and lighting fixture flex connections were already installed. All that was missing on some of the floors were the luminaires themselves. We were tasked with finding the right LED fixtures for the project, which had to be characterized by a high degree of energy efficiency, high quality light output, the overall look of the fixture and the ease of installation as a one-for-one replacement," said Ronald Radabaugh, P.E., L.C. principal and electrical engineer with Scheeser Buckley Mayfield, LLC (SBM).
Patrick Duffy, president of Jack Duffy & Associates, a full service company of lighting professionals who advised the University on the project, said multiple lighting manufacturers were investigated. "Ultimately Acuity Brands' Lithonia Lighting luminaires were selected due to the architectural look, ability to meet the installation demands of the LED conversion, quality of light and the reputation of the brand," said Duffy.
While the University's new Multiplex opened mid-August 2010, the Vice President of Capital Planning and Facilities Management Ted Curtis is already pleased with the results. "We are extremely happy with our decision to move forward with LED lighting as the RTLED system not only met, but exceeded our initial expectations," said Curtis. "The installation process proceeded as smoothly as it would have using conventional lighting technology. The LED ambient lighting delivers a crisper lighting effect and provides a comfort knowing we are spending fewer dollars to obtain better lighting."
First introduced in May 2010 and now available nationally through Lithonia Lighting sales representatives and authorized distributors, the RTLED is a high-quality, volumetric recessed luminaire that delivers ambient white light uniformly throughout an entire space while reducing energy and maintenance costs and a building's environmental footprint.
Powered by an advanced LED light engine, the RTLED luminaire delivers an expected 50,000 hour system life and a superior lighting environment: high color rendering (80+ CRI), 3500K color temperature, and full range dimming with 0-10V DC control. "This is an LED installation of substantial size. The patented optical system integrates LED brightness while maintaining maximum light output and effectively balancing visual comfort and efficiency, clearly meeting the University of Akron's goals," said Dave Ranieri, vice president and general manager, Lithonia Lighting Commercial Indoor Products.
For more information, visit
www.lithonia.com/RTLED
.
About Acuity Brands
Acuity Brands, Inc., is a North American market leader and one of the world's leading providers of luminaires, lighting control systems and related products and services with fiscal year 2009 net sales of over $1.6 billion. The Company's lighting and system control product lines include Lithonia Lighting(R), Holophane(R), Peerless(R), Mark Architectural Lighting(TM), Hydrel(R), American Electric Lighting(R), Gotham(R), Carandini(R), RELOC(R), MetalOptics(R), Antique Street Lamps(TM), Tersen(R), Synergy(R) Lighting Controls, Sensor Switch(R), Lighting Control & Design(TM), and ROAM(R). Headquartered in Atlanta, Georgia, Acuity Brands employs approximately 6,000 associates and has operations throughout North America, Europe and Asia.
About The University of Akron
The University of Akron -- with 29,000 students representing 46 U.S. states and 80 foreign countries -- is a vibrant community within metropolitan Akron, featuring more than 80 buildings on 218 acres. Providing excellence in the breadth and quality of its 300 academic degree programs and in its highly talented faculty, the metropolitan campus is in the heart of a dynamic, regional economy and in sync with the pulse of business, government and the community. The University features high-tech classrooms in new academic buildings, a new Student Union and Student Recreation and Wellness Center and 200 student organizations on campus.
Contact
Jennifer Manocchio 910.772.1688
E-mail:jennifer@sweeneypr.com