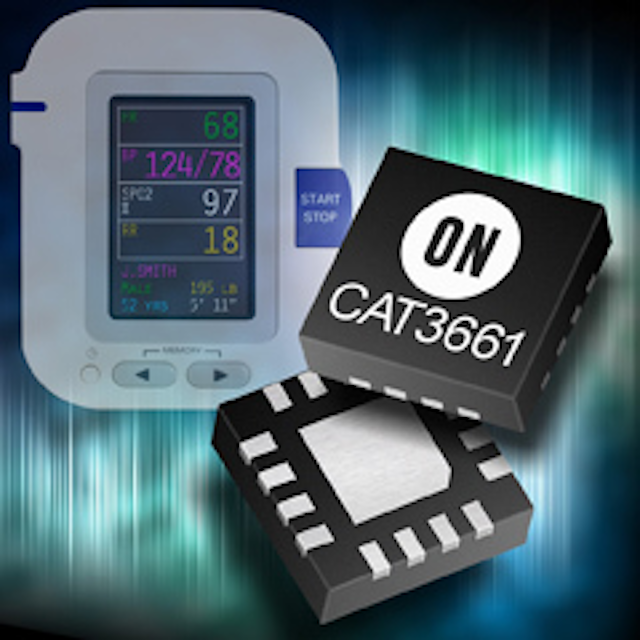 Date Announced: 17 Sep 2010
Phoenix, Ariz. – ON Semiconductor (Nasdaq: ONNN) a premier supplier of high performance, energy efficient silicon solutions for green electronics today introduced the CAT3661 - a new one-channel Quad-Mode™ LED Driver for ultra low power LED applications such as portable handheld medical equipment.
"High efficiency and small size are often top of the agenda for designers of handheld electronics equipment," said Anthony Russell, director of LED Power Products, ON Semiconductor. "The CAT3661 low power Quad-Mode LED driver utilizes patented technology to fully address these needs and supports customers in launching new battery powered product designs that meet the needs of end users by combining small form factor and long battery life."
The CAT3661, which uses a patented architecture and integrates fault protection and fault diagnostics, is able to drive a single LED backlight with a current of up to 5 mA. Soft-start current limiting and short-circuit protection make the new device ideal for use in equipment powered by coin cell batteries. Typical applications include low power backlighting for LCDs and backlighting for a wide range of portable handheld devices including medical equipment.
Packaged in a 16-lead TQFN package measuring just 3 mm x 3 mm x 0.8 mm high, the CAT3661 provides a valuable solution for engineers working on new designs where available board space is limited. Space as well as overall system cost savings are further enhanced due to the fact that the low noise input ripple and constant switching frequency of the new device allow the use of small external ceramic capacitors. The quad-mode charge pump supports a wide range of input voltages from 2.0 V to 5.5 V and also helps the CAT3661 achieve peak efficiency levels of up to 92 percent - up to 10 percent higher than traditional high efficiency 1.5x tri-mode charge pumps. A typical quiescent current of just 150 µA across all operating modes at full load and a zero current shutdown help reduce power consumption and ensure that application battery life is maximized.
Packaging and Pricing
The CAT3661 is offered in a 16-lead Pb-free TQFN package. Pricing for these devices is $0.86 per unit in 10,000 unit quantities.
Upcoming Events
ON Semiconductor will be exhibiting its energy efficient lighting solutions at the Strategies in Light Europe conference Sept. 27-29 in Frankfurt, Germany.
About ON Semiconductor
ON Semiconductor (Nasdaq: ONNN) is a premier supplier of high performance, energy efficient, silicon solutions for green electronics. The company's broad portfolio of power and signal management, logic, discrete and custom devices helps customers efficiently solve their design challenges in automotive, communications, computing, consumer, industrial, LED lighting, medical, military/aerospace and power applications. ON Semiconductor operates a world-class, value-added supply chain and a network of manufacturing facilities, sales offices and design centers in key markets throughout North America, Europe, and the Asia Pacific regions.
Contact
Richard Haas Media Relations ON Semiconductor 408-934-3108
E-mail:richard.haas@onsemi.com
Web Site:www.onsemi.com