v2 Lighting Group Inc. launches new company and five modern, LED product lines
Sep 3rd, 2010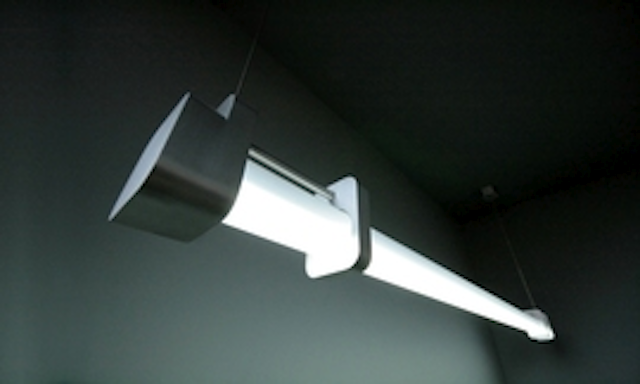 Date Announced: 03 Sep 2010
Mountain View, CA - v2 Lighting Group, Inc. introduced itself to North American the spring at Lightfair International 2010 and Hospitality Design Expo 2010. Simultaneously they launched five new lines of modern, European LED lighting from the Belgian company LedLab. Show attendees enthusiastically welcomed the bold, clean designs and visible high quality. The products are now fully ETL listed and available.
v2 Lighting Group was formed in April by Chris Varrin, a 25 year lighting industry veteran. Varrin enjoyed 17 years as an independent lighting designer prior to co-founding Element Labs, Inc. in 2002. When Element Labs was purchased by a major competitor, Varrin saw the opportunity to launch a new venture more directly focused at the architectural market.
LedLab, a fresh, young company from Belgium, displayed their products for the first time at Light + Building in Frankfurt, Germany, in May, 2010. A quick series of meetings convinced both companies that they would make excellent partners. "We're excited to have v2 Lighting Group as our partner in North America. We share the same design sensibilities and vision for the future of modern lighting." said Karel Van Cauwenberghe, founder of LedLab.
The striking and original designs all offer high performance LEDs, a wide variety of finishes and an array of mounting options. The Tripod family, for example, offers a full compliment of indoor and outdoor fixtures for wall, ceiling, pendant, and landscaping, allowing the creation of a continuous theme with the luminaires.
Each fixture is powder coated aluminum, electro-polished stainless steel or plated brass, with all stainless steel hardware. Only the highest quality LEDs are used, including Cree and the Acriche series from Seoul Semiconductor. "The design and quality of the fixtures is incredible. All of the major components are milled from solid stock and fit together like a machine." said Varrin.
Detailed specifications, images and sales information are available at
www.v2LightingGroup.com
.
About v2 Lighting Group, Inc.
Based in Mountain View, CA, the heart of Silicon Valley, v2 Lighting Group provides modern lighting products for discriminating architects, designers and clients. v2 Lighting Group believes in offering only the highest quality luminaires - innovative designs of uncompromising quality that deliver extraordinary results.
Contact
Michelle Varrin v2 Lighting Group, Inc. Phone: +1 707 383 4600 x102
E-mail:michelle@v2LightingGroup.com
Web Site:www.v2LightingGroup.com