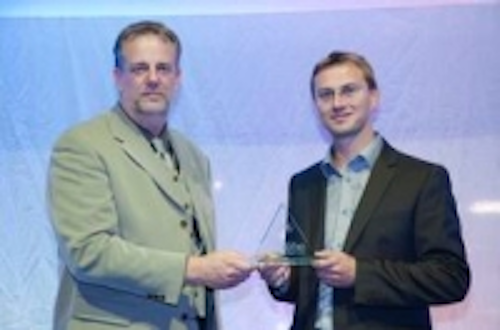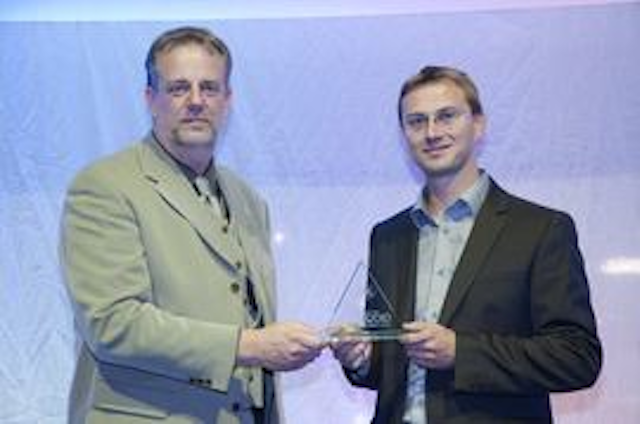 Date Announced: 20 Sep 2010
Robert Juliat is very proud to announce that its new Aledin LED theatrical zoom profile spot has been recognised with an Innovation Award from the judges at PLASA 2010.
Aledin, the world's first LED generic profile, was created to fill the gap in the market for a high output, low wattage LED alternative to conventional tungsten and discharge profile fixtures.
"It has been possible for some time to replace every other lighting fixture – washlights, cyclights, striplights and moving heads - with LED alternatives," explains Robert Juliat Sales Director, Lionel Garraud. "The only fixture that could not be replaced was a generic profile – until now."
Aledin's 85W LED light source generates an output of 4500 lumens presenting, for the first time, a viable LED profile for venues wishing to reduce their carbon footprint without reducing their technical performance quality.
Aledin combines all the benefits of an LED light source (including a LED life of over 50,000 hours and no UV or IR emissions) with the all the renowned qualities of a standard Robert Juliat profile.
A choice of two colour temperatures, akin to tungsten or discharge sources, is available, with emphasis on the precise binning qualities of the LED. There is also an integral variable strobe option.
Aledin offers high quality dimming with a smooth dimming curve across the full dimming range, even at low levels. It is flicker free and silent making it suitable for TV studios.
The effects gate and internal parts of the gate remain cold which increases the safety and comfort for the technician and enables the use of plastic gobos or slide film. Colour filter can be placed inside or outside the unit, lasts longer while the lack of heat means there is less damage to internal parts and correspondingly less maintenance time and cost.
Aledin is available with 3 zoom options (narrow, medium and wide) whilst the design allows the LED module to be retrofitted to RJ's existing tungsten fixtures.
The opinion of the PLASA Innovation Award Judges was that they felt that Robert Juliat's usual high standards have not been compromised in the search for a useable LED profile spot.
Robert Juliat MD, Francois Juliat, collected the award from PLASA Committee Vice-Chair Ed Pagett (see photo):
"I am very happy that Robert Juliat received this Innovation Award as it is a recognition of a product which clearly makes no compromise on quality. Aledin is our first step into LED and we shall develop further in line with future technology."
Aledin generated great interest at the show and is already in use in a number of theatres and television studios in Europe.
"The public response has been tremendous," continued Juliat, "not only in relation to the quality of optics and dimming, but also in the immediate accessibility of the technology behind Aledin. Visitors arrived at the stand curious and full of questions and expectations of how an LED would perform in a zoom profile.
"The immediate familiarity of the product, despite the new technology it incorporates, meant they felt comfortable and confident with its operation and its ability to fit alongside existing lighting inventories. Aledin's dimming, for example, offers the possibility of a slow dimming response which imitates the inertia fade out of a tungsten filament or a fast response for instant black out. Further examination reassured them of the capabilities and quality of this new form of LED profile and convinced them that Aledin was the right product for their theatres and studios."
For more information on Robert Juliat Aledin, visit www.robertjuliat.com or contact your local Robert Juliat dealer, a list of whom can also be found on the Robert Juliat website.
Examples of Aledin in action at iTELE television studios can be seen at www.itele.fr/direct
Contact
Head Office contact: Lionel Garraud, Sales Director Tel: +33 (0)3 44 26 51 89 Email: info@robertjuliat.fr Robert Juliat USA contact: Fred Lindauer Phone: + 1 203.294.0481 Email: fred@robertjuliatamerica.com Robert Juliat Asia contact: Jamie Boey Tel: +65-91853993 Email:asia@robertjuliat.fr Press enquiries contact: Julie Harper Mob: +44 (0)7990 974388 Tel: +44 (0)1323 416810 Email: julie@joolzharper.co.uk
E-mail:info@robertjuliat.fr
Web Site:www.robertjuliat.fr