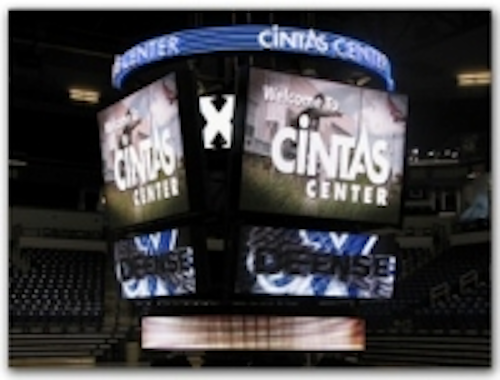 Date Announced: 28 Sep 2010
Purchase, NY - ANC Sports Enterprises installed a new light emitting diode signage (LED) system at the Cintas Center, Xavier University's multipurpose sports and entertainment arena.
The signage system is highlighted by a center-hung scoreboard which features eight LED video displays and a 42' long circular LED ribbon. The structure is nearly 18 feet tall and weighs approximately 14,700 pounds.
Four Mitsubishi Electric Diamond Vision™ 10mm video screens measuring 7' 9" high by 10' 10" wide will captivate the 10,250 seat facility with higher-resolution video than the previous center-hung scoreboard. Additionally, the structure will feature four 3' 6" high by 10' 5" wide scoring matrix which are capable of seamlessly transitioning from real-time statistics to vibrant full motion animations.
"We are excited to partner with ANC Sports to launch these technology enhancements at the Cintas Center which will make the arena an attractive place to play and watch a game," said Mike Bobinski, athletic director at Xavier University. "This new technology will create an energetic atmosphere for all our events while increasing creative opportunities for our corporate partners."
In addition to the new center-hung scoreboard, ANC Sports installed a 7'10" tall by 10'5" wide video screen which will be located in the North End of the Cintas Center's arena bowl. Complementing the center-hung scoreboard and North End video screen will be an LED ribbon stretching across 590 feet of the arena's upper level fascia.
Driven by ANC's patent-pending VisionSOFT™ the dynamic signage system will feature uncompressed video across its displays, creating the clearest images possible. Additionally, the unique operating system increases revenue opportunities with capabilities of connecting corporate partners with specific moments of a game in real-time, such as Sherwin-Williams' Points-in-the-Paint.
"We look forward to providing the Xavier's students and fans with one of the premiere arena experiences as we continue to introduce ANC's state-of-the-art technologies to college venues," said Chris Mascatello, executive vice president of technology sales at ANC Sports Enterprises.
ANC Sports' recent collegiate projects include LED installations at University of Tennessee's Neyland Stadium, Penn State University's Bryce Jordan Center and Beaver Stadium, Arizona State University's Sun Devil Stadium and Wells Fargo Arena. The company's roster includes new professional sports venues such as Pittsburgh's Consol Energy Center and Dallas' Cowboys Stadium.
About ANC Sports
ANC Sports Enterprises, LLC, is the industry leader in team and venue services, providing integrated signage, design, and marketing solutions for sports and commercial facilities. ANC Sports and its divisions: ANC Technologies, ANC Design, and ANC Marketing, offer Light Emitting Diode (LED), rotational and fixed visual displays; advanced media control systems; signage operation and maintenance; advertising sales and marketing consultation; graphic design; and printing production. ANC Sports provides signage solutions for 200 plus venues/stadiums in North America.
Contact
ANC Sports Enterprises Michael Hopkins 914-696-2100 ext. 139
E-mail:mhopkins@ancsports.com
Web Site:www.ancsports.com