LEDnovation MR16 extends LED EnhanceLite lamp line
Sep 29th, 2010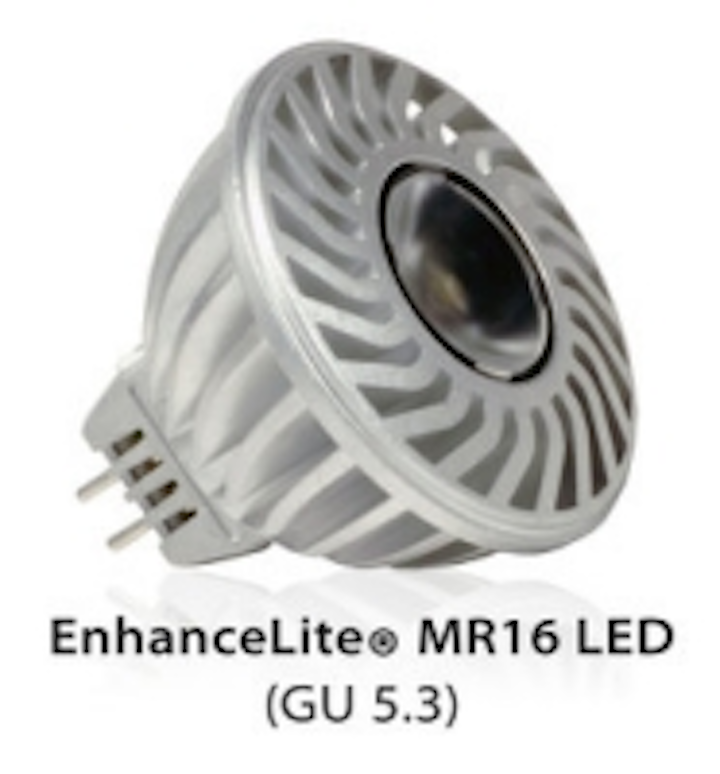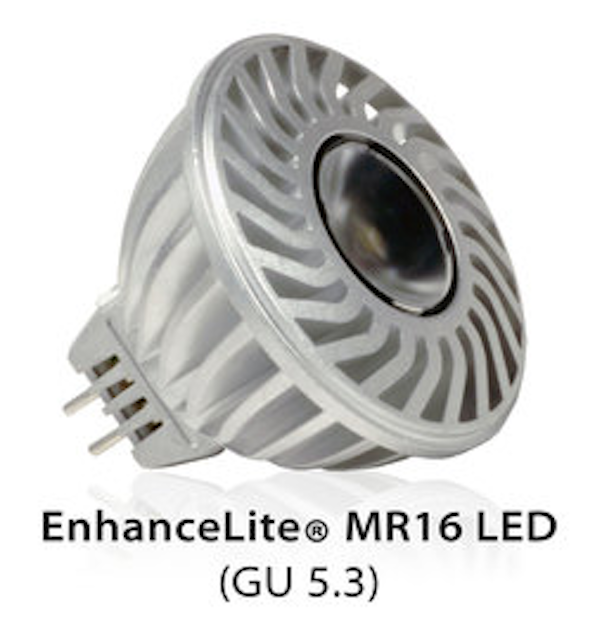 Date Announced: 29 Sep 2010
-- Innovative LED lamps set new benchmark for energy efficient MR16 replacements
LEDnovation, a leading innovator in LED lighting and replacement lamp technology, today unveiled its new EnhanceLite® LED MR16 replacement lamps.
LEDnovation's new lamps offer an industry-best level of quality and performance and are suitable to fully replace both 20-watt and 35-watt halogen lamps in a package that is sized for exact fit into any standard MR16 fixture.
The new lamps boast center beam candle power (CBCP) figures ranging from 1100 candela for the 3.9-watt MR16 to 1420 for the 6-watt version, at efficacies of 64 lumens/watt and 54 lumens/watt respectively.
The EnhanceLite® MR16 family joins the Tampa, Florida-based company's previously introduced line of A19 or "Edison" type LED replacement lamps optimized for use in downlights, or other semi-enclosed directional fixtures. The EnhanceLite® MR16 is used to replace low-voltage halogen MR16 lamps in a variety of applications within the retail, hospitality and commercial markets.
According to Israel Morejon, CEO and President of LEDnovation, "Our new EnhanceLite MR16 line represents a very significant milestone in LED lighting design, providing a high-quality LED replacement lamp that performs at the level of a 35-watt halogen MR16.
"To achieve this breakthrough, LEDnovation has meticulously engineered every element of these lamps, from intricate heat management to custom-designed driver electronics and optics. This effort has resulted in a commercial product that finally delivers on the long-standing promise of LED lighting, namely an LED replacement lamp that doesn't compromise on the quality of the light, while simultaneously increasing reliability and lifetime over incumbent technologies."
LED lighting continues to gain acceptance for a growing number of applications by providing superior performance, higher efficacy and longer lifetimes. High quality LED lamps, such as the EnhanceLite® MR16 series, are delivering improved lighting performance while reducing electricity consumption by over 80% when compared to the inefficient, heat-wasting halogen reflector lamps that they replace.
By their nature, halogen MR16 lamps generate substantial heat, both in the beam and in the housing. The energy efficient LEDnovation LED MR16 reduces this wasted heat by a significant factor, including eliminating any heat in the beam. This has important implications for merchandise or food product retail displays, as well as environmental comfort for occupants in more enclosed spaces.
Mr. Morejon added, "The overall quality of the delivered light is ultimately what makes the difference. Our initial installations have resulted in customer feedback confirming that our new EnhanceLite models are the first LED MR16 products to combine the kind of light quality and overall output that allows seamless replacement of their existing lamps." LEDnovation's EnhanceLite® line comes with a performance backed, 5-year warranty, which assures customers they will see the kind of product lifetime and performance they expect from an LED lamp. "We are confident the EnhanceLite MR16 line will set a new standard in MR-type replacement lamp performance," concluded Morejon.
The EnhanceLite® MR16 lamps are available now in a 27° narrow flood beam angle with additional beam angles available soon. The MR16 offers a warm white 3000K color temperature, and high color rendering index (CRI) of greater than 80.
EnhanceLite® LED MR16 GU5.3 Details
EnhanceLite® MR16 LED - 3.9W, 250lm, 1100 CBCP - designed for applications currently served by 20W halogen lamps.
EnhanceLite® MR16 LED - 6W, 324lm, 1425 CBCP - designed for applications currently served by 35W halogen lamps.
Note: All specifications are typical values
All LEDnovation lamp models are tested for photometric performance in accredited third-party labs according to IES LM-79 requirements, and the company posts its reports online. These commercial-grade models are rated for a minimum 50,000-hour lifetime, carry an industry-leading 5-year warranty and unlike many LED replacement lamp offerings, fully conform to ANSI standard form factors to assure compatibility with existing fixtures. The EnhanceLite™ MR16-20 and MR16-35 models are in production and shipping now.
About LEDnovation - Change without compromise
Offering a full complement of LED-based replacement lamps, LEDnovation is leading innovation in the field of solid state lighting. Solid state, or LED lighting generates light from complex semiconductor materials, eliminating much of the wasted energy that has been inherent to electric light-generation for over a century. By combining multi-disciplinary strengths in electronic systems, power supplies, thermal and optics design, LEDnovation has succeeded in developing one of the highest efficacy warm white LED replacement lamps available, offering a winning business case and rapid return on investment to commercial clients and property operators. The company is headquartered in Tampa, Florida and manufactures its products in the US. For more information, visit http://www.LEDnovation.com or call +1 (813) 891-9665.
Contact
Michael Eckert Director of Marketing tel (704) 787-5469
E-mail:mike_eckert@lednovation.com
Web Site:www.lednovation.com