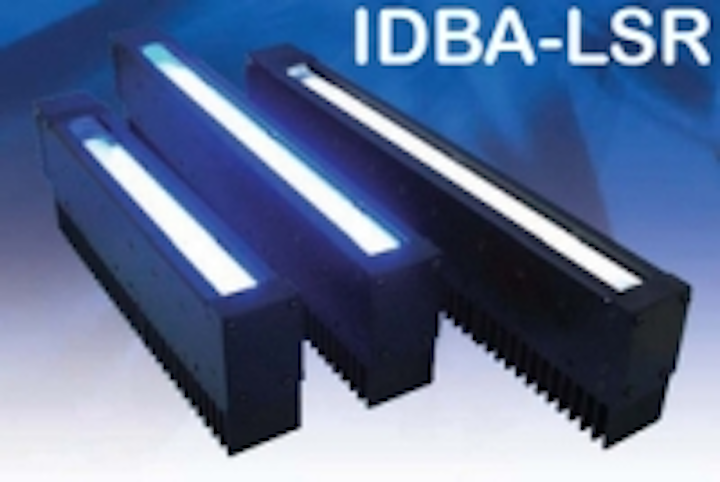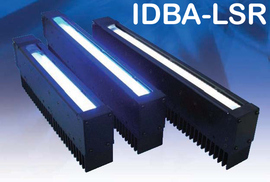 Date Announced: 09 Nov 2010
The new IDBA-LSR Series Focused LED Line Lights from LDDLIGHT.com employ high output 'Power LEDs' aligned behind a unique focusing optic. The result is a light that optimizes the available light energy, generating a high intensity line of light onto the target even from extended working distances. Integral to the IDBA-LSR's design, a finned heat sink provides fan-free passive cooling for thermal management of the LEDs, assuring uniform output over time and long LED life.
IDBA-LSR models are used successfully in imaging applications with area or line scan cameras to provide very high intensity light suitable for creating bright or dark field lighting effects (for applications requiring diffuse back lighting, see the IDBA-RE Series). Typical IDBA-LSR applications include high speed inspection of web material (e.g. cloth, film, paper) for contaminants or irregularities; pattern recognition or detection of defects on electronic printed circuit boards; inspection of packaging films for breakage or pinching; inspection of rollers, drums and cylinders used in printing systems; high speed optical character reading (OCR).
A member of our Line Light Family, IDBA-LSRs are offered in 40 size and wavelength configurations. Available with illuminated area dimensions ranging from 100 to 1,000 millimeters, IDBA-LSR models are offered with red, white, blue or green LEDs. Additional wavelengths and sizes may be custom ordered, including custom versions with forced-air cooling that offer up to 1.5 times higher output than passively cooled models.
IDBA-LSRs deliver real customer value through their high build quality and competitive pricing. For part numbers and pricing, see the IDBA-LSR model page at http://www.lddlight.com, or enter "IDBA-LSR" into the site's search box.
Contact
About LDDLIGHT.com LDDLIGHT.com offers an extensive lighting line. Detailed and graphical specifications assist customers in choosing lighting techniques. Simple menus guide site users through model choices and help them add the right light and accessories to the shopping cart. Users can simply enter account information, select a shipping method, and use the encrypted checkout for fast, secure credit card purchases. Customers' preferring to use company purchase orders (POs) may submit them via FAX or e-mail. Orders are quickly processed and shipped, and products are backed by a 2 year warranty and "no questions" return policy. LDDLIGHT.com is the domain of LDD Trading Associates, LLC. LDD's headquarters are at 126 Lull Road, New Boston, NH 03070. LDD can be reached at sales@lddlight.com, 603-203-3099, 603-325-5293 or FAX to 603-529-0837.
E-mail:sales@lddlight.com
Web Site:www.lddlight.com