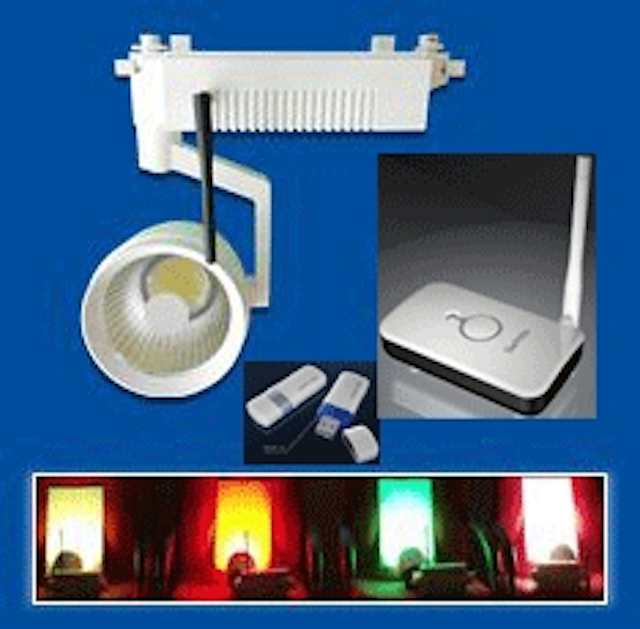 Date Announced: 30 Nov 2010
We, LKO Lighting Co., Ltd. are LED Manufacturing Company in Korea specialized in COB package and Smart lighting system.
Recently, we launches the Smart LED Lighting System ( SLS-1 ) for full range white control from 2,500 K ~ 7,000 K through a wireless communication.
Through a SLS-1, the customer easily change the color of each LED lights and dimming the LED light and strongly control the grouping LED lights as well as each LED control. The SLS-1 also has auto-programming control mode for more energy saving control over the full area of house, office building, display shops through a wireless network communication. And it has a easy LED lighting control system when customer needs more attractive lighting show for their goods or good display which customized with their color of goods, commercial product, displayed cars, cloths…. Etc.
Product Features;
1. LED Lamp
1) R.G.W Chip: 44 chip ( Red:18chip, Green:13Chip, White:13 chip )
2) CCT: 2,500 ~ 7,000 K
3) CRI: > 90.-
4) Power consumption: 20W
2. Wireless Communication
1) International Communication Standards: IEEE 802. 15.4(MAC / PHY)
2) ZIGBEE Base Network ( Up to 256 Network Elements)
3) Inter- working with sensors( USN, Home Network)
4) Control Figure
a) ON / OFF ( Group, Each LED )
b) Dimming ( Group, Each LED )
c) Color Temperature Control ( Group, Each LED )
d) Variable Color Change ( Group, Each LED )
e) Emotional Lighting
5) Sensors : Motion, Intensity of Illumination , USN ( Co2, CO, VOCS) , Temperature
6) Line of Sight : Up to 2Km ( Control and Repeater Function)
3. Strong Points
1) World - Wide Protocol
2) Individual Control of Each LED Light
3) Interactive Communication
4) Application of Various Wireless Communication Network
5) Easy upgrade on exiting LED Light with Wireless Control
About the LKO Lighting Co., Ltd.
; We, LKO Lighting Co., Ltd., are one of the leading manufacturing companies in Korea, specializing in professional LED COB package and LED lighting instruments.
With our skilled staff, we produce and sell various kinds of COB lamps. We are manufacturing LED lighting products based on many years of accumulating IT communication technology.
With technology leading enterprise, all LKO staffs are committed to developing the professional IT technology combined product - Smart Grid.
Contact
Mr. Anthony Kyoung / Managing Director Tel : 82-31-427-3770 Fax : 82-31-427-3771 LKO Lighting Co., Ltd.
E-mail:kkm9035@lkolighting.com
Web Site:www.lkolighting.com