LEDs add colors to Asian Games: Osram Oslon SSL LEDs outline profile of stadium
Nov 12th, 2010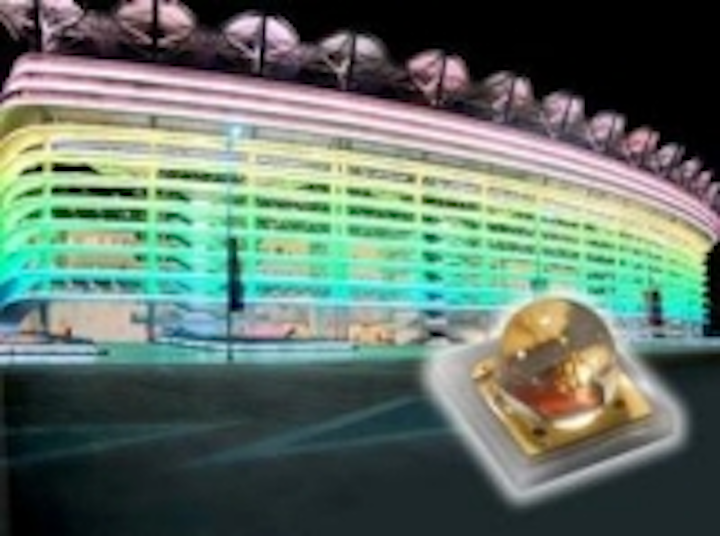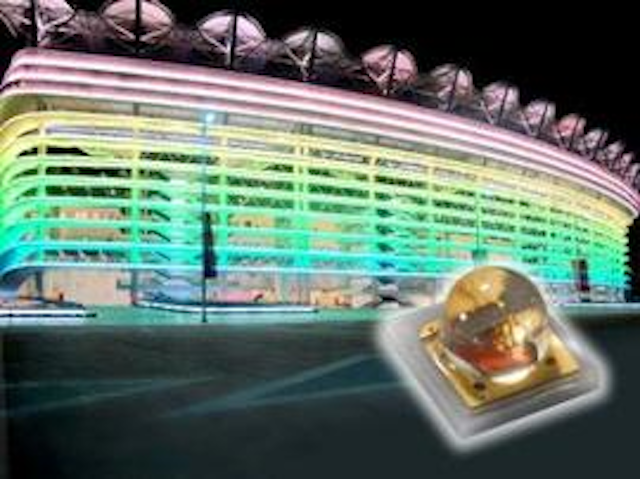 Date Announced: 12 Nov 2010
The opening and closing ceremonies of the Guangzhou Asian Games (due to open on November 12th) will be held in a newly constructed half-stadium in Haixinsha Square. OSRAM Opto Semiconductors' OSLON SSL LEDs were chosen to light up the exterior of the venue. These LEDs were used to produce a variety of colours, highlighting the gill-like side openings of the half-stadium, flanked by the city's UFO-like opera house and the latticed Guangzhou TV Tower.
OSLON SSL amber/green/blue LEDs and warm white LEDs were used in separate flood lights to provide the different combinations of colours for the architectural lighting. Each floodlight was equipped with four independent sections of display pixels and colour adjustments, rendering bright and rich colours. Together with real-time video control system, different colours could be created to work with the requirements of the various opening ceremony programmes.
Around 200,000 LEDs were used in 3,200 floodlights in the project. To achieve the effect and efficiency required, several design options were explored. "We have experimented a few designs and have finally opted for bidirectional asymmetric lens design and DMX online system which can make the whole lighting system more easy to use and to create dynamic lighting effects," said Jiansheng Chen, General Manager of Guangzhou Joinmax Display Technology Limited, the company which installed the floodlights.
OSRAM's OSLON SSL series is a family of compact and symmetrical LEDs with a high efficiency of up to 84lm/W (typical) at an operating current of 350mA and a viewing angle of 80° or 150°. These LEDs are particularly suitable for architectural lighting. "We are very excited that our OSLON SSL LEDs are part of the Asian Games opening ceremony," said Kai-chong Cheng, Marketing Director of OSRAM Opto Semiconductors Asia Ltd.. "Millions of visitors at the venue and viewers through television broadcasts will see how well these amber, blue, green and warm white LEDs deliver a colourful profile of the stadium."
The Asian Games, to be held from November 12th to 27th, will have 11,700 athletes from 45 nations competing in 42 sports. The opening ceremony will be broadcast live to countries in Asia and beyond. It will be the best stage to prove the strengths of LED architectural lighting.
Currently, architectural lighting is the biggest application segment of solid state lighting. According to Strategies Unlimited, the architectural lighting segment stood at 33.7% of the total solid state lighting market and will revenue will increase at a compound annual growth rate of 16% by 2014.
Contact
Product & Technology Enquiry: prasia@osram-os.com
E-mail:prasia@osram-os.com
Web Site:www.osram-os.com