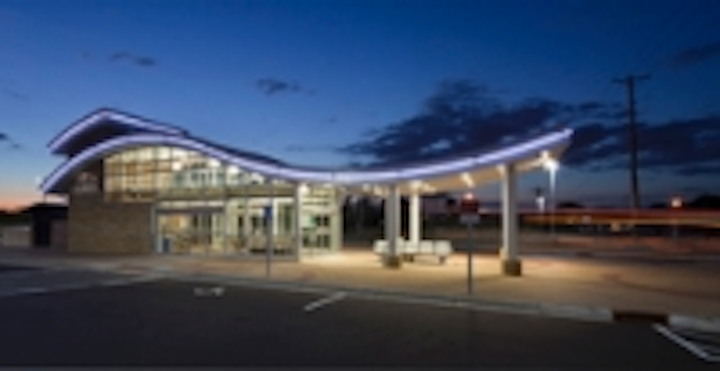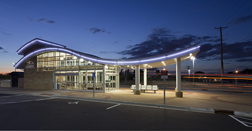 Date Announced: 02 Nov 2010
It's 6:00am and you're on your way to work. For the last year, you've given up driving over an hour to get downtown, so you now are trying out the new the Minnesota Valley Transit Authority (MVTA) Cedar Grove Transit Station. Newly opened in March of 2010 as one of three new stations along the Cedar Avenue Bus Rapid Transit Corridor, the station's main goal is to entice commuters to leave their cars behind and alleviate rush hour traffic. It is also an example of a station integrated into planning a pedestrian-focused, mixed-use Transit-Oriented-Development(TOD).
With growing traffic headaches, commuting congestion, and increases in gas prices, the region needed a remedy to encourage people in southern Minneapolis suburbs to get out of their cars and share the ride. TKDA, a top engineering, architecture and planning design firm, was brought in by MVTA, working in conjunction with the city of Eagan and the MN Department of Transportation (MNDOT), to design an environmentally-friendly and inviting facility as part of a larger planned Cedar Avenue Bus Rapid Transit (BRT) Corridor. Not only did the new transit station need to be functional, it also needed to appeal to local residents and draw them into trying the new park & ride facility.
TKDA looked at a variety of options to add a unique, eye-catching lighting feature to the new building. The designers at TKDA had to be cognizant that Cedar Grove is an unstaffed station so any lighting had to be able to withstand abuse. Joe Yobbie, Electrical Designer at TKDA stated, "The lighting had to basically be vandal-resistant and versatile." Durable materials, therefore, were used on areas within reach. The station was also designed with high visibility inside and out for safety and security, and is further supplemented by video cameras.
For versatility, TKDA looked at fiber optic lighting, but it was ruled out because of the issues with the illuminator and the limited color changing. Neon was dismissed due to durability, or lack thereof. And then iLight's Hypnotica Color Changing Series was set before TKDA. Yobbie said, "The durability and color changing versatility of Hypnotica set it apart from the other lighting options." Yobbie added, "After seeing it in action, Hypnotica had that 'wow'factor."
Figuring out how to incorporate the Hypnotica fixtures (the 'wow' factor) into the curved roofline, however, posed some challenges. The station has two separate curved rooflines with a fascia reveal. The Hypnotica fixtures are offered in straight lengths. After some consultation between TKDA and iLight, iLight was able to alter its standard product and design a specific gently curved exterior extrusion that fit Hypnotica fixtures for this site.
iLight custom formed each Hypnotica section at the factory to exactly match the curves of the roofline, creating an arc of color changing light. In addition to custom length color changing fixtures, mitered outside corners and color changing field cuttables were incorporated into this site as well.
The Cedar Grove station is quite a landmark. Visible from the night time skies for planes at the busy international airport and the last station before the famous Mall of America, the Cedar Grove station wanted to be able to promote public transportation and celebrate special occasions by using dynamic light control. TKDA and the owner collaborated on ten unique scenes for the station lighting. From the sparkling Fourth of July show with blue, red and white flashes, to fading between the Pantone colors of the MVTA logo, the shows were designed to celebrate the community and significant holidays.
The Cedar Grove station not only looks appealing, but it is also meets the Buildings, Benchmark, and Beyond (MN B3) standards for sustainability explained TKDA's Project Manager, Terry Olsen. Regional and recycled products were selected to construct the building, and xeriscaping practices were employed to use native plants with low water needs to create a beautiful, and local setting. Yobbie added that many LED lighting products, in addition to the Hypnotica Color Changing Series, were used on this project for the parking lot and canopy as well.
As we face growing issues of increased gas prices and traffic congestion, cities are answering transportation and land use issues with new, practical transportation solutions that are architecturally relevant and aesthetically appealing. The Cedar Grove Station with its colorful lighting using Hypnotica, has been designed with the community and environment in mind. With Hypnotica's 16.7 million color possibilities, the Cedar Grove Station is one stop you don't want to miss.
Site: Eagan,MN
Exterior application
Project: Transportation
Product: iLight's Hypnotica Color Changing Series
Direct view
Length:347 LF (106m)
Designer: TKDA
Photograph: Perzel Photography
Contact
Elizabeth Randgaard Director of Marketing iLight Technologies T: 312.876.8630
E-mail:erandgaard@ilight-tech.com
Web Site:www.ilight-tech.com