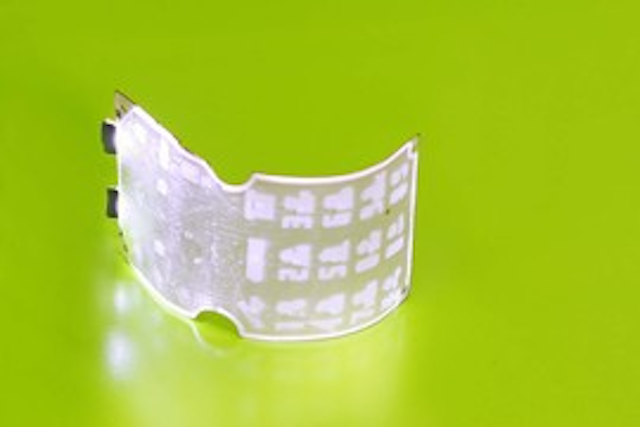 Date Announced: 16 Nov 2010
Palatine, IL – Lumex announces the global launch of their QuantumBrite Flexible LED Backlight technology. Completely customizable in any shape, size, and color, QuantumBrite Flexible LED Backlights are up to 88% thinner and can cost up to 80% less than standard LED backlight technology.
Whereas standard LED backlights are 5mm thick, the QuantumBrite Flexible LED Backlight is made out of an ultra-thin polycarbon film and is only 0.6mm thick on its widest side.
"The ultra-thin, flexible QuantumBrite LED Backlight helps existing technologies significantly reduce their profile width and also opens the door for new applications that incorporate backlights in creative new ways, for example in applications that require curved lighting," explained Brian Coates, Technical Sales Manager at Lumex.
The new thin, flexible backlights are ideal not only for traditional applications such as flat panel displays and indicator lighting, but also for non-traditional applications, such as logo enhancement or indirect lighting. Applications include:
• Appliances (including logo illumination and refrigeration display backlighting);
• Medical Device technology (including indicator, logo enhancement and display features on medical radiology equipment, monitors, defibrillators, infusion pumps, blood gases analyzers and ventilators);
• Industrial Control technology (including climate control, AMR metering and drive control displays).
QuantumBrite Flexible LED Backlight technology comes with complimentary integration support. Lumex Technical Design Specialists can integrate the flexible backlights with LEDs, LCDs, light pipes, switches, connectors and other key components to create solutions that maximize performance and efficiency in each individual application
The RoHs compliant QuantumBrite Flexible Backlight technology is available in custom sizes. Pricing is dependent on size and quantity ordered and is approximately $0.50 to $5.00 from 1.0"2 to 5.0"2 in size. Production lead times range from five to eight weeks.
About Lumex
For 30 years Lumex has been a global leader in the optoelectronics industry, with the broadest range of high efficiency, high performance LEDs and LCDs in the industry. With thousands of standard products and a focus on semi-custom and custom designs, Lumex is a valuable resource for quality and innovation. Lumex's optical range encompasses a wide spectrum including UV, visible and infrared wavelengths. Lumex's team of Technical Design Specialists are experts in collaboratively developing effective, smart solutions from the most complex design dilemmas.
Lumex has a global footprint with the worldwide headquarters outside Chicago and the Asian headquarters in Taiwan. With manufacturing capabilities in the United States, China, Taiwan and Thailand, Lumex is able to support over 23 end markets with more than 80,000 customers both directly and through our distribution channel partners. Over the last 30 years, the name Lumex has become synonymous with quality and performance around the world.
About ITW Photonics Group
The ITW Photonics Group was created to bring together and build on the technical expertise of individual companies that specialize in photonics technology and span the full spectrum of wavelengths. The group consists of:
* Lumex - LED and LCD technology
* Cal Sensors - IR Detector and Emitter technology
* Opto Diode Corp - LED, Silicon Photodiodes and Electro-Optical Assembly technology
The synergy of these three industry front-runners provides an unsurpassed range of photonic capabilities within a broad spectrum of markets, including medical, military and industrial controls. The ITW Photonics Group provides integrated solutions that encompass the technology and experience from all three business units, offering design engineers higher performance with greater feature enhancements.
Contact
Lumex's Sales Department 290 E. Helen Rd., Palatine, IL 60067 USA Phone: 1-800-278-5666 FAX: 1-847-359-8904. E-mail: lmxsales@lumex.com Lumex's Asian Pacific Headquarters 3F, No. 972, Sec. 4, Chung Hsing Rd., Chu Dung, Hsin Chu County, Taiwan, ROC Phone: +886-3-582-1124 FAX: +886-3-582-1154 Web (in Chinese): www.lumex.com.tw
E-mail:dianel1135@lumex.com
Web Site:www.lumex.com