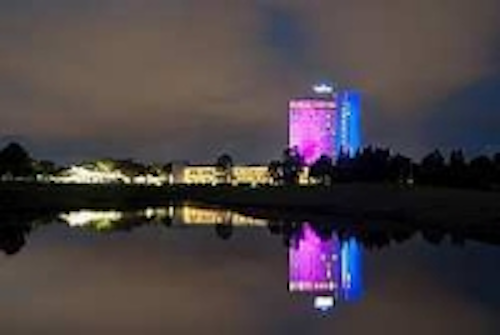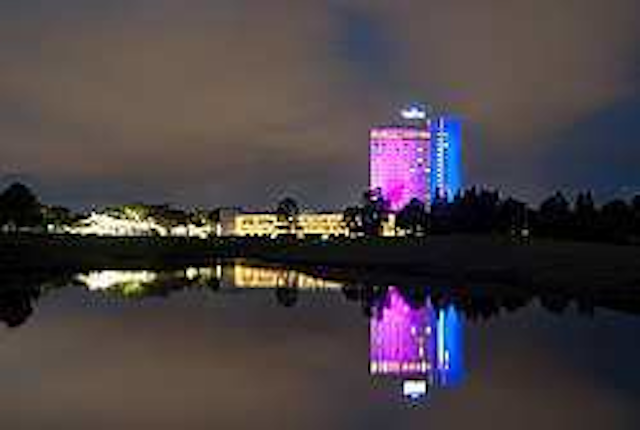 Date Announced: 08 Nov 2010
The high profile annual fundraising event was staged at the RACV Royal Pines Resort. To add a touch of magic and excitement for those attending, this year it was decided to light the outside of the building - which includes a 21 storey triangular shaped tower - so it became a beacon of light, visible from miles around.
As one of the most potent outdoor lighting fixtures on the market, ArcPad extremes were specified for this task by locally based lighting specialist, The ULA Group.
It took just 2 ArcPad Xtremes to illuminate each fascia of the building - which greatly impressed everyone, including the management at the RACV Royal Pines, who are now considering lighting the building in the future for special events and functions.
The units were positioned on the ground, at varying distances of between 20 and 30 metres away from the tower, and run via wireless DMX and an ECue controller. This was set to a slow colour changing chase, rolling over gently and giving the 1000 plus guests arriving at the ball a spectacular special effect.
Anolis's ArcPad Xtreme has been developed as an outdoor fixture with two independent LED modules densely populated with 188 LEDs which providing the exceptionally bright light output. The fixture is completely silent due to a convection cooling system - great for environments where noise is an issue - and the IP 67 rating makes it ideal for exterior installations, either permanent, or temporary like this one.
The unique combination of the 188 RGBW LEDs produces a rich array of colours including a 'proper' white light, rarely seen in competitive products. As with all Anolis fixtures, the light engine is homogenized to produce an ultra-smooth quality of light without pixelation.
Contact
Anolis is an architectural division of ROBE ROBE lighting s.r.o. Roznov p. R., Czech Republic Tel: +420 571 751 500 Fax: +420 571 626 337
E-mail:info@anolix.cz
Web Site:www.anolis.cz