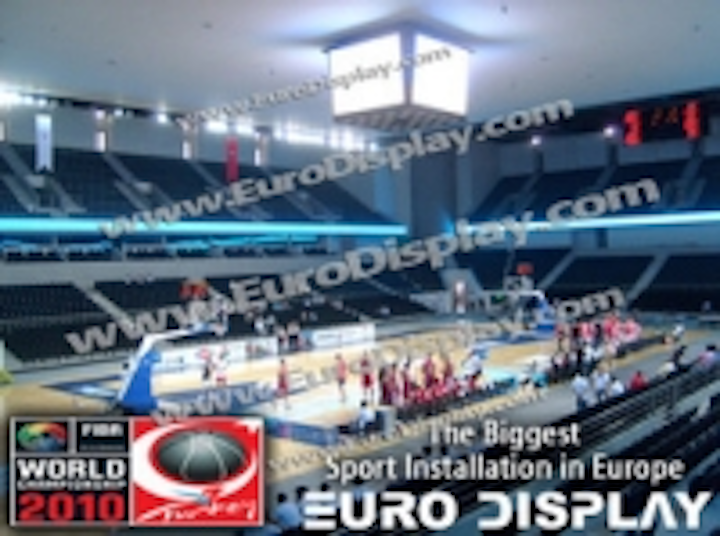 Date Announced: 16 Nov 2010
Ankara Arena, Turkey -- Euro Display recently installed a total of 400 square meters (between indoor and outdoor led screens), in what is considered the biggest led screen installation in Europe.
The brand-new Ankara Arena needed a professional led screens system in order to host the prestigious FIBA World Championship - Turkey 2010.
The main issue was finding a cost-effective solution for an equipment with very strict requirements in terms of reliability and broadcasting capabilities.
The main technical issue consisted in the ability to broadcast the same content on all led screens but with the possibility to use each of them individually.
Furthermore the reputation and pride of the Country were at stake and the team in charge of the selection of the led screens could not afford anything else but perfection. Which put an incredible pressure on the team in charge selecting the led screens supplier.
The led screens were installed for the inauguration of the new Ankara Arena in occasion of the FIBA World Championship and included the following configuration:
A) n. 4 Indoor Led Screens (diamond) - 5 x 4 meters - p10mm real SMD 3-in-1 > Total 80 sqm
B) n. 2 Indoor Led Banners - 60 x 1 meters - p10mm real SMD 3-in-1 > Total 120 sqm
C) n. 2 Indoor Led Banners - 80 x 1 meters - p10mm real SMD 3-in-1 > Total 160 sqm
D) n. 1 Outdoor Led Screen - 8 x 5 meters - p10/20mm 2R+1PG+1B > Total 40 sqm
The n. 4 led screens of the diamond and the n.1 outdoor led screen can broadcast the same image at the same time and are symoultaneously controlled by EuroDisplay's Professional Video Scaler able to display live images and pre-edited content from several video-sources.
The n. 4 led banners are symoultaneously controlled by Euro Display' Control PC and Software and can display the same image/video as well as different videos according to the needs.
All led screens are connected to the Control Rooms with more than one kilometer of fiber cables to allow real-time management of the content displayed.
"We chose EuroDisplay for your experience in the sports led screens after evaluating your previous case studies." says Mr Serka project manager in charge of selecting the led screens supplier.
"We were followed promptly on our customizations needs and were provided with precise technical information when requested."
"The reliability of the led screens was our main factor of decision and we found that you provided the best guarantees."
This new installation widens the expertise of Euro Display in Sports applications such as stadiums and indoor arenas and confirms it as one of the most reliable and competitive led screens suppliers Worldwide.
Contact
Euro Display Srl Via Mahatma Gandhi, 21 10051 Avigliana, Torino Italy
E-mail:info@eurodisplay.com
Web Site:www.eurodisplay.com/