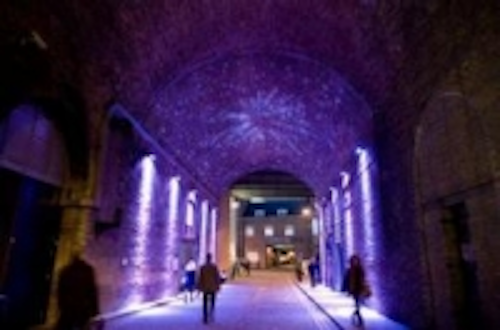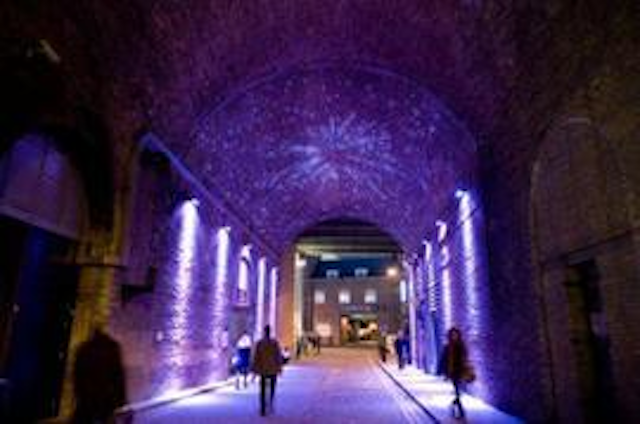 Date Announced: 01 Nov 2010
London pedestrians should prepare themselves for a beautiful sight this winter thanks to a new feature adding a touch of lighting magic to the underneath of Clink Street tunnel in the Southwark area of the capital.
Located at the junction of Clink Street and Bank End on the Thames Path, the installation has been programmed to create a subtle firework display effect that appears from the darkness inside the tunnel, running along the brickwork and bridge walls. In planning the project, Southwark council collaborated with lighting designers, Halo Lighting, and suppliers Architainment Lighting Ltd, all of which are coming together for the grand launch on Wednesday 27th October.
For several years, Southwark Council had been looking for an innovative yet achievable way of rejuvenating Clink Street, and seeing what Halo Lighting designer Yann Guenancia had created in London's Fire nightclub inspired it to begin this project eighteen months ago.
Architainment Lighting suggested the iColor® Flex MX from Philips Color Kinetics in order to support Halo Lighting and Southwark in developing the concept into a practical and workable solution. The iColor® Flex MX is a multi-purpose, high-intensity strand of 50 full-colour LED nodes for generating extraordinary effects without the constraints of fixture size or shape. The technology enables patterns and video on almost any interior or exterior surface and was therefore perfect for the Clink Street application.
Commenting on the project, Halo Lighting's Yann Guenancia said: "Clink Street's bespoke LED screen is an ambitious undertaking: 135m2 in size, made of 9,600 nodes capable of producing any shades of colour on the visible spectrum, driven by the latest imaging technology control system, an curved to the profile of an old Victorian tunnel 7m up above ground. It took 6 people 6 weeks to install and many months of careful preparation by a team of designers and engineers. To our knowledge this is the first installation of its kind in the UK and Halo is proud to have contributed to this land mark project."
Clink Street tunnel is located in the heart of historical Bankside next to Clink Prison Museum and the Golden Hinde, and is a popular route taken by local residents and tourists. The feature lighting will run from 7.30am until 10.30pm and has been designed to correspond with the highs and lows of the pedestrian flow under the bridge. The quiet phases will be marked with a twinkling star effect and when the area becomes busier, the firework effect will build up momentum reaching its most striking display in times of increased activity.
Along with Bermondsey Street tunnel, Stoney Street, Pocock Street and Southwark Street bridges, the project marks another successful transformation commissioned as part of the Light At The End Of The Tunnel (LET) programme, a scheme launched by Cross River Partnership in 2002 to tackle the severing effect of a ten kilometre stretch of disused Victorian viaducts, south of the river in Central London. The project was funded through Section 106, associated with Bankside Mix Development and the council's own Cleaner Greener Safer funding.
Commenting on the installation, Councillor Fiona Colley, cabinet member for regeneration at Southwark Council, said: "Southwark will become famous for the way it has transformed spaces that were previously dark and unattractive into bright and interesting routes for people to enjoy and walk through. Not only do the tunnel installations in many of the borough's historic railway arches enhance the original structures, they also provide a safer environment for pedestrians during the evening."
In addition to the sophisticated LED display fitted above pedestrians as they walk through this popular thoroughfare, Halo Lighting has also improved lighting along the footway making it safer and more appealing for the public.
About Architainment Ltd
Architainment Lighting Ltd is a specialist lighting solutions provider for the architectural and entertainment sectors in the UK.
We provide our clients with an in-depth quality service and detailed product knowledge. Our extensive industry expertise makes us uniquely placed to deliver the latest lighting developments tailored to our clients' individual needs.
In keeping with our commitment to excellence, Architainment Ltd represents only the world's top manufacturers in the lighting solutions field, including Philips, Color Kinetics, Led Linear and SensaCell.
Since our formation in 2003, Architainment Lighting Ltd has developed excellent relationships with lighting designers, architects and specifiers. We have a team of dedicated professionals with in-depth lighting industry expertise which allows us to offer a unique level of service from initial concept to completion with full technical support.
Contact
Holly Winman PR and Marketing Coordinator T: 01494 471340 F: 01494 442627
E-mail:Holly.Winman@architainment.co.uk