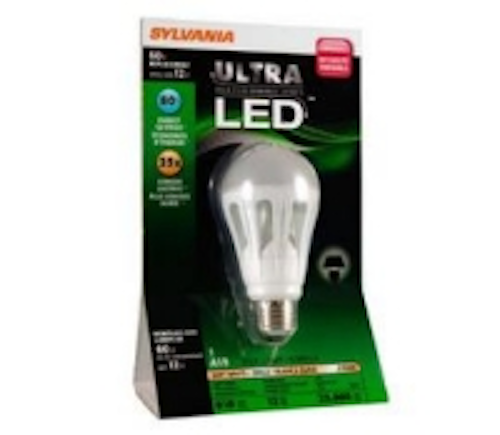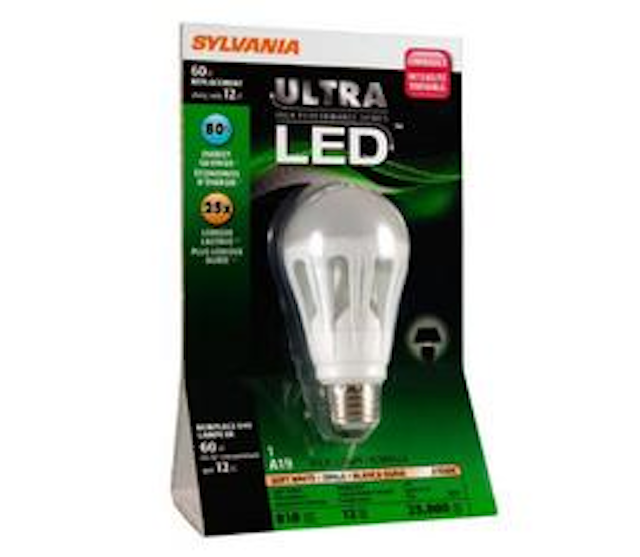 Date Announced: 22 Nov 2010
Danvers, Mass. - Osram Sylvania and Lowe's today announced plans to introduce the brightest LED replacement for America's most popular light bulb, the 60-watt incandescent. The SYLVANIA Ultra A-Line 12-watt LED bulb provides 810 lumens of light.
This innovative, A-Line 12-watt LED bulb uses 80 percent less energy and lasts 25 times longer than incandescent bulbs and is part of a complete line of energy-efficient LED bulbs designed for household lamps and lighting fixtures. The new, A-line bulb will be available on Lowes.com this month and in all Lowe's stores by second-quarter 2011.
"We have been making LEDs for over 30 years and are part of one of the world's largest LED producers. OSRAM SYLVANIA is proud to partner with Lowe's to bring this lighting technology to consumers," said Phil Rioux, general manager of Consumer Lighting LED Retrofits at OSRAM SYLVANIA. "Together, we're leading America's transition to LED lighting."
SYLVANIA Ultra LED bulbs exceed federal efficiency standards that will phase-out the production of most inefficient incandescent bulbs, starting in 2012. The 2009 SYLVANIA Socket Survey found 91 percent of Americans consider energy efficiency an important factor when choosing a light bulb and 74 percent of American households currently have at least one energy-saving bulb
"Long-lasting, energy-efficient LED bulbs can help save consumers time, energy and money over the lifetime of the bulb," said Karena Bailey, Lowe's merchandising vice president. "Lowe's is proud to introduce a 60-watt equivalent, 810-lumen LED bulb to provide consumers with the best energy-efficient lighting choices for their homes."
The SYLVANIA Ultra A-Line 12-watt LED bulb features a high-performance OSRAM LED module and boasts a color temperature of 2700 Kelvin and high color quality, with a color rendering index of 90.
The complete line of SYLVANIA Ultra LED bulbs also includes MR16, PAR20, PAR30, PAR38 and G25 types. All of the lights are dimmable and mercury free, unlike standard compact fluorescent bulbs.
About OSRAM SYLVANIA
OSRAM SYLVANIA is a leader in lighting solutions that feature innovative design and energy saving technology. The company sells products for homes, businesses and vehicles primarily under the SYLVANIA brand name, and also under the OSRAM brand. Headquartered in Danvers, Mass. - Osram Sylvania is the North American operation of OSRAM GmbH, a wholly owned subsidiary of Siemens AG. For more information, visit
www.sylvania.com
or follow SYLVANIA on Facebook and Twitter.
About Lowe's
With fiscal year 2009 sales of $47.2 billion, Lowe's Companies, Inc. is a FORTUNE® 50 company that serves approximately 15 million customers a week at more than 1,725 home improvement stores in the United States, Canada and Mexico. Founded in 1946 and based in Mooresville, N.C., Lowe's is the second-largest home improvement retailer in the world. For more information, visit
Lowes.com
.
Contact
Stephanie J. Anderson +1-978-239-3121 stephanie.anderson@sylvania.com or Jaclyn Pardini Lowe's Companies, Inc. +1-704-758-4317
E-mail:jaclyn.pardini@lowes.com