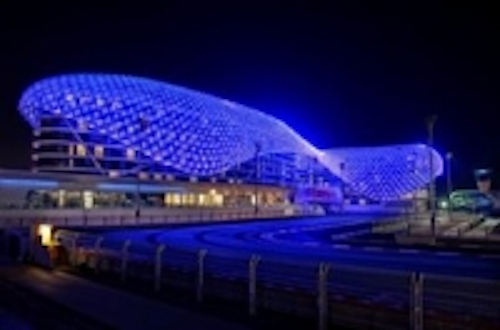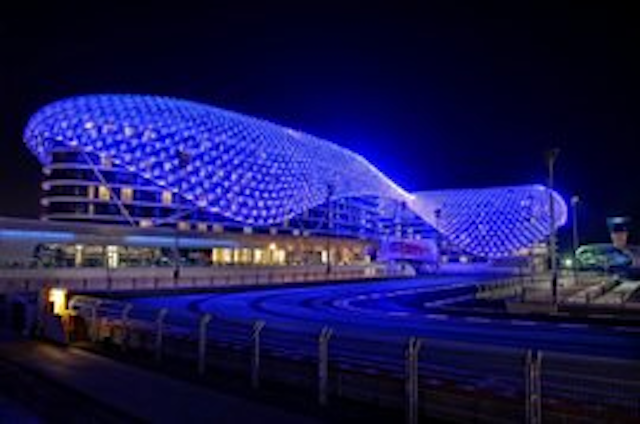 Date Announced: 16 Nov 2010
The newest architectural marvel of the Middle East, YAS Hotel in Abu Dhabi, was recently completed with the launch of the first Formula 1 race held at the new circuit built around this hotel. YAS Hotel is the world's biggest LED project, to date, controlled through RDM (Remote Device Management) protocol by an advanced lighting control solution provided by e:cue lighting control.
The main design attraction of this 5-star, 500-room, 85,000-square-meter complex, is the curvilinear grid-shell covered with over 5,300 diamond-shaped steel panels, containing nearly 5000 RGBW LED fixtures, each controlled by e:cue's CONTROL SERVER through RDM protocol. Thirty two e:cue BUTLER XTs, RDM capable, provide bidirectional communication between the LED lighting on the grid-shell, and e:cue's CONTROL SERVER for status monitoring of LEDs. The system sends status reports to building management and automatically adjusts the intensity of LEDs to prevent overheating.
Lighting design firm Arup Lighting-New York used e:cue's LIGHTING APPLICATION SUITE 5.1 (LAS) running on a CONTROL SERVER to create stunning lighting effects such as color-changing lighting sequences, and to play customized three dimensional low-resolution video content, on the grid-shell.
"Working with e:cue has taken the vision and implementation approach of the lighting design team, and allowed it to go beyond box-standard solutions to provide the complex and multi-faceted design and technical lighting control technology that these high-quality, demanding environments require. The project specific Pre-Visualisation abilities of the LAS, on such a complex geometry has allowed us to save weeks of precious time on-site, while understanding basic items such Frame Rates and viewing angles when thinking about the spectators, hotel guests, and cameras on Raceday and beyond." said Brian Stacy, Yas Hotel Project Director, Arup Lighting.
LIGHTING APPLICATION SUITE 5.1 software package provided the tools for the complex video pixel mapping on the curvilinear shape of the grid-shell, and software visualization for offsite programming of the complete lighting design for this 20,000 DMX-RDM channel installation. Additionally, the project specific lighting sequences and media files can be uploaded remotely through the Internet, and the content is triggered by programmed automation based on a matrix of setting triggered through the astronomical clock, daylight sensors, and a touch-screen user interface.
"YAS Hotel provided us the opportunity to work on a demanding project using our newly implemented RDM features. Bidirectional communication provided by RDM between the lighting and our lighting control products opens many more options for our lighting control system," said Jan Julius Miebach, e:cue Managing Director.
LEAD ARCHITECTS:
Asymptote Architecture
LIGHTING DESIGN:
Arup Lighting, New York
LIGHTING CONTROL:
e:cue lighting control
GRID-SHELL LED LIGHTING:
Enfis/Cooper Lighting
LOCAL PARTNER:
RDK International
About e:cue lighting control
e:cue lighting control develops state of the art control and automation solutions to deliver sustainable dynamic lighting experiences. e:cue is an industry leader in innovation with its software and hardware portfolio to provide the right lighting control solution together with lighting professionals and partners around the world.
e:cue, as part of Traxon Technologies – An OSRAM Company, is headquartered in Paderborn, Germany with regional offices in Europe, North America, Asia and Middle East. Distribution and support is also managed through e:cue's extensive partner network around the world. Incorporating company values of innovation, flexibility and simplicity, e:cue provides reliable solutions for any dynamic lighting project.
Photo Credit: Bjorn Moerman
Contact
Rhedon Begolli, International Marketing Manager e:cue control GmbH | An OSRAM Company Phone:. +49 (221) 888776 -0 Fax: +49 (221) 888776 -29 r.begolli@ecue.de
E-mail:rbegolli@osram.com
Web Site:www.ecue.de