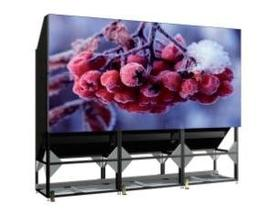 Date Announced: 09 Nov 2010
Kortrijk, Belgium - Visualization specialist Barco is proud to announce a new line of LED-lit, DLP-based video walls with an improved LED engine. The new OVL range reaches a brightness level that is 20% higher than any competing system, without shortening the projection system's lifetime. This makes it the most efficient LED video wall available today. The OVL video wall range is offered in 4:3 ratio, with screen sizes up to 80 inch.
The coolest and most efficient engine
Just like Barco's 16:9 LED video walls, the new OVL series has an advanced heat management system based on liquid cooling technology, which brings the LED temperature down to the optimal level. This results in a significantly longer lifetime of the projection system, amounting to 80,000 hours of continuous operation in eco-mode – or a 35% improvement over competing video walls.
Thanks to liquid cooling, it is possible to boost the OVL's brightness level up to 20% without shortening the system's lifetime. This effectively makes the OVL the brightest LED-lit video wall on the market. Conversely, it is possible to prolong the system's lifetime by lowering the brightness level. This way, Barco proves that liquid cooling is very effective in counteracting LED aging effects.
OVL video walls can save up to 30% power compared to other LED-based systems. Barco achieves this by basing the OVL's color and brightness adjustment on smart power management, not on optical dimming.
Thanks to the OVL's new LED engine, offering higher brightness and higher efficiency, the use of larger screens has become possible. Barco's OVL range therefore includes an 80" video wall system with seamless screens, which is particularly interesting for utilities applications. An additional benefit over smaller size screens is the 80" OVL's high mean time between failures.
The warmest colors
Barco's OVL rear projectors come with Sense6, a unique sensor technology which co-ordinates across multiple rear-projection modules to provide brightness and color stability over time and across the entire video wall screen. Unlike factory calibrated systems, the OVL continuously measures and adjusts color and brightness in real time and therefore requires no maintenance or manual adjustments.
Barco's LED expertise
The OVL video wall completes Barco's range of LED-based video wall systems, which also includes the 16:9 OL video walls launched in 2009. Barco's LED-lit video walls tackle a large number of challenges faced by most other video wall systems used today. By combining the advantages of using LEDs instead of lamps to create the images, with a number of cutting-edge technical innovations, Barco's LED video wall series offer saturated colors, low maintenance and usability in critical 24/7 applications.
About Barco
Barco, a global technology company, designs and develops visualization products for a variety of selected professional markets. Barco has its own facilities for Sales & Marketing, Customer Support, R&D and Manufacturing in Europe, North America and Asia Pacific. Barco (NYSE Euronext Brussels: BAR) is active in more than 90 countries with about 3300 employees worldwide. Barco posted sales of 725 million euro in 2008.
Contact
Sophie Hautekeete Press & PR EMEA-LATAM Barco n.v. Phone:+32 56 36 80 59
E-mail:sophie.hautekeete@barco.com
Web Site:www.barco.com/en/