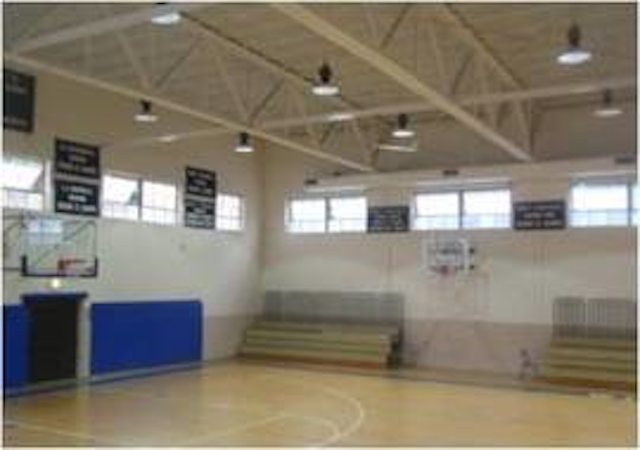 Date Announced: 04 Nov 2010
St. Aloysius Academy has recently completed the installation of new LED Lighting for the Gym of their property in Bryn Mawr, PA.
St. Aloysius Academy, founded in 1895 by the Sisters, Servants of the Immaculate Heart of Mary, is a private Catholic elementary school for boys K-8. They have teamed up with LED Saving Solutions to take a progressive step towards significantly greening their campus.
The Challenge: St. Aloysius Academy wanted to save money on its operations as well as improve the lighting output and quality in its facilities. St. Aloysius continues to upgrade to clean energy LED
lighting in areas where it is a cost-effective solution for energy reduction across their campus, including hallways and classrooms.
The Solution: LED Saving Solutions created a custom roll-out plan for the Academy, allowing the school to realize savings in their highest usage areas, which would in turn help to finance the rest of the project.
Comprehensive analysis helped LSS to target the gym as an area of substantial ROI. Replacing the old 450 watt metal halides with clean energy LED High Bay 100 watt Canopies helped St. Aloysius to reduce
their Gym lighting consumption by 80% while simultaneously increasing it's luminosity by an average of 5 foot candles.
The Results: LED Saving Solutions projects a monthly savings of $438 of electricity. This translates into savings of $5,266 annually and $215,000 over the life of the LED lighting. As well, the CO2 offset over the life of the bulbs is expected to be 2.6 million lbs of CO2. That translates into taking 17 SUVs off of the road each year. LED Saving Solutions also supports its clients though monitoring and verifications.
Based on available utility bill data and individual client privacy preferences, LED Saving Solutions will release the actual savings through the initiative in subsequent Press Releases.
"We applaud St. Aloysius Academy for taking a leadership role in next generation energy-efficient lighting within their industry. The Company's and Organizations that go first help pave the way for the
American Energy Revolution! " Charlie Szoradi – President of GREENandSAVE and its lighting division LED Saving Solutions.
"We have gained not only cost-reducing and energy-saving LED lighting, but also a partnership that is helping us to educate our school community about the environment and decision-making that is more ecofriendly."
About St. Aloysius Academy
http://staloysiusacademy.org/St. Aloysius Academy was established in 1895 in West Chester, Pennsylvania by the Sisters, Servants of the Immaculate Heart of Mary. It was founded as a private, Catholic elementary school for boys K to 8. The number of students enrolled soon exceeded the space available in West Chester and the Wootton Estate in Bryn Mawr was the perfect place to move the boarding school. Education in grades K-3 takes place within a faith-filled atmosphere, which fosters in each student a positive, personal relationship with God and respect for others. The small class size provides a setting in which students are taught, nurtured, and challenged according to their individual learning styles. St. Aloysius Academy provides a firm foundation for the formative years in a student's education.

About LED Saving Solutions

www.LEDSavingSolutions.com
LED Savings Solutions is a national energy reduction company that saves tens of thousands of dollars each month for its clients, with cash flow positive results in the very first month. They have established ground-breaking international production and financing relationships that help reduce up-front costs to $0 for property owners. Their 'best-of-breed' approach is simply based on comprehensive auditing, savings reports, lighting design, and matching the most cost-effective next generation lighting products with the needs of their clients.LED lights can reduce the electricity cost of lighting by 50% to 80% and many last up to 80,000 hours which equates to several decades under typical usage levels. LEDs also reduce the cost of replacing other bulbs every few years. Plus, LED lights do not have the toxic Mercury that is an environmental hazard and more costly to recycle given the requirement for controlled conditions.
Contact
Sean Darras Director of Engineering LED Saving Solutions, LLC 484-588-5402
E-mail:sdarras@ledsavingsolutions.com
Web Site:www.ledsavingsolutions.com/