Dominion Centre selects LED downlights from Cooper Lighting and Safety to save energy, reduce maintenance requirements
Nov 24th, 2010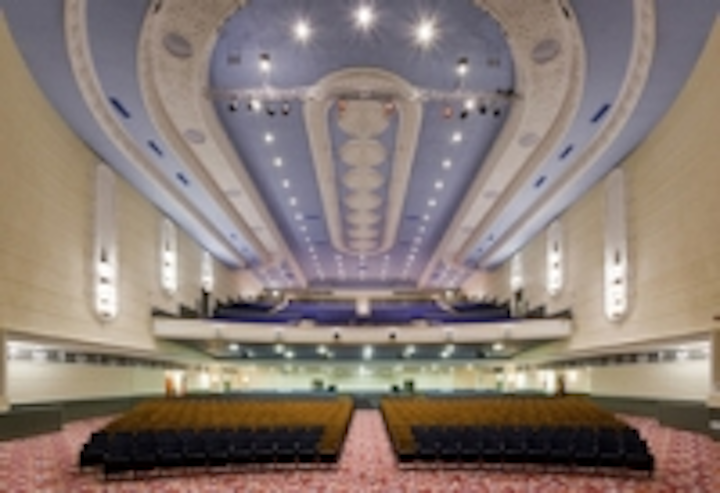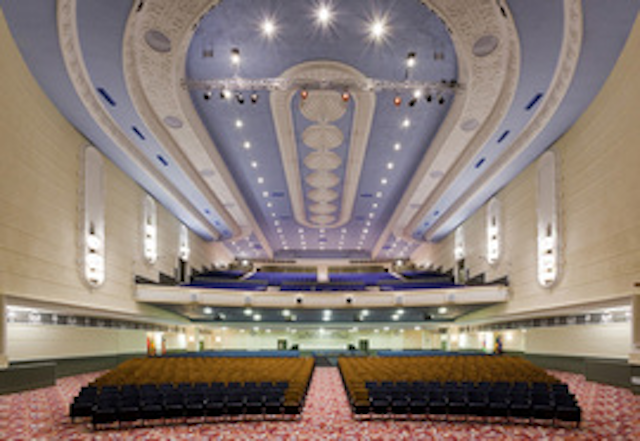 Date Announced: 24 Nov 2010
Doncaster, UK – Cooper Lighting and Safety, a business unit of Cooper Safety, has supplied 65 of its pioneering RXD1 LED downlights to the Dominion Centre in Wood Green, London, which is a former theatre now used as a place of worship. In addition to helping to minimise the building's energy consumption, the LED fittings provide a long service life while eliminating the need for lamp changes.
Originally constructed in the 1930s for use as a cinema and theatre, the Gaumont Palace was subsequently converted into a bingo hall and eventually renamed as the Dominion Centre when it became a place of worship. The building retains its original high ceiling and has 12 large 400W metal-halide house lights recessed into the ornate plasterwork.
During a recent refurbishment programme, it was decided that these main house lights needed to be supplemented by additional luminaires in order to achieve a more flexible lighting solution without the restrike or run-up delays associated with metal-halide light sources.
For Charles Amoah of Amsons Electrical Contractors, who are responsible for the centre's building services, the challenge was to identify suitable fittings that would deliver instant, high-output lighting and low energy consumption without requiring maintenance access from below.
"Because the metal-halide luminaires can take a few minutes to warm up, we were looking for supplementary lighting that would come on straight away, but would not require us to set up scaffolding every now and then to change lamps," said Amoah. "The Cooper LED downlight seemed to fit the bill perfectly as there are no lamps to change; you just install it and forget about it."
The RXD1 uses a multi-chip LED light source. Unlike conventional high-output LEDs, this technology incorporates multiple LEDs in a single package, giving increased light output in a smaller space and a wider spread of light.
The luminaire has a power consumption of just 25W and achieves an efficacy of up to 61 lumens per circuit watt, which easily exceeds the latest Building Regulations requirement of 55 lumens per circuit watt for commercial lighting (Part L2), as well as the lower requirement of 45 lumens per circuit watt for residential lighting (Part L1).
Effective thermal management is provided by proven pure-water heat-pipe cooling technology, which transfers heat away from the back of the LED source to the cooling fins. This advanced method eliminates the need for large, heavy heat sinks and helps the RXD1 downlight to achieve a maintenance-free life of 50,000 hours.
"I am very happy with the Cooper RXD1 fittings as they have given us much more flexibility with the lighting," continued Amoah. "For smaller meetings, in particular, the LED downlights are often used on their own without the main house lights, which means that we are making significant energy savings."
Contact
+44 (0)1302 303200
E-mail:info@cooper-ls.com
Web Site:www.cooper-ls.com