SunRay Scientific wins award for ZTACH Anisotropic Conductive Adhesive
Nov 7th, 2010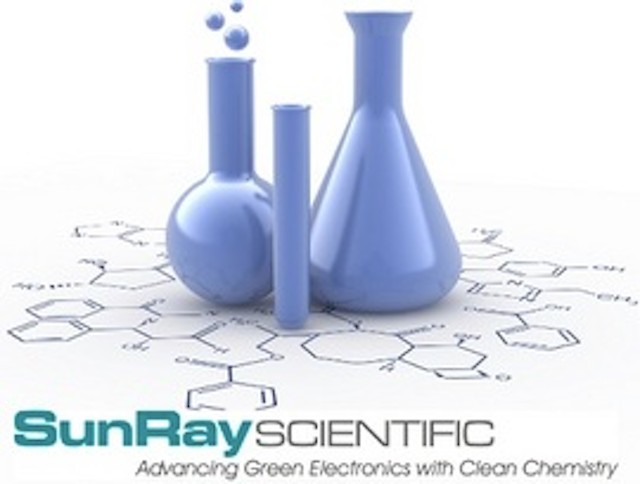 Date Announced: 07 Nov 2010
SunRay Scientific, a leader in green chemistry solutions for printed electronics manufacturing and lead-free packaging, won the 2010 NJTC Mid-Atlantic Innovation Award in Electronics for its novel, ZTACH™ anisotropic conductive adhesive.
A selection committee with representatives from several venture capital firms, universities and technology firms made their selections across four industries sectors: Electronics, Information Technology, Life Sciences, and Telecommunications. The ZTACH™ anisotropic conductive adhesive technology was recognized for its ability to enable several applications in electronic packaging that were limited previously due to poor yield, low throughput or high cost.
"We are proud and excited to honor SunRay Scientific as the winner in the electronics category," said Paul Frank, VP Membership, NJTC. He added "Innovation is the hallmark of the world's most successful companies, whether exhibited through unusual products or groundbreaking services. SunRay Scientific and the other winners have certainly lived up to that promise."
"The ZTACH™ anisotropic conductive adhesive simultaneously solves urgent, independent pain points in the printed electronics, lead-free assembly and 3D packaging markets. It is ideal for small form factor, low cost, low-temperature, and lead-free electronic packaging. Electronics packaging steps such as 3D stacking and flip chip processing, especially of miniaturized devices are ideally addressed by ZTACH™ for multiple consumer electronics and medical device applications. We would like to thank the NJTC committee for recognizing the current success and future potential of our ZTACH anisotropic adhesive technology," said Hari Venugopalan, Vice President, Business Development at SunRay Scientific.
About SunRay Scientific:
SunRay Scientific (SRS) is a supplier of advanced materials for printed electronics manufacturing and lead free packaging. The company's key focus is the advancement of green electronics with clean chemistry, which includes development of conductive inks, epoxies and anisotropic conductive adhesives that minimize waste, eliminate use of lead, and reduce carbon footprint in electronics manufacturing. For more information, pl. visit www.sunrayscientific.com.
About New Jersey Technology Council (NJTC):
The New Jersey Technology Council provides business support, networking opportunities, information, advocacy and recognition of technology companies and their leaders. Founded in 1996, NJTC's more than 1,000 member companies work together to support their own enterprises while advancing New Jersey's status as a leading technology center in the United States.
More information is available on the innovation award winners at www.njtc.org/files/innovation10.doc
Contact
SunRay Scientific 100 Technology Way, Mt. Laurel, NJ 08054
E-mail:info@sunrayscientific.com
Web Site:www.sunrayscientific.com/