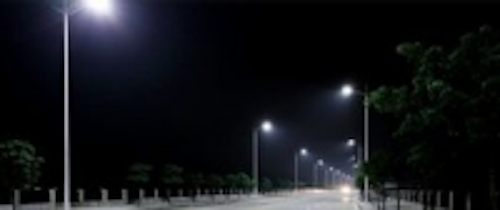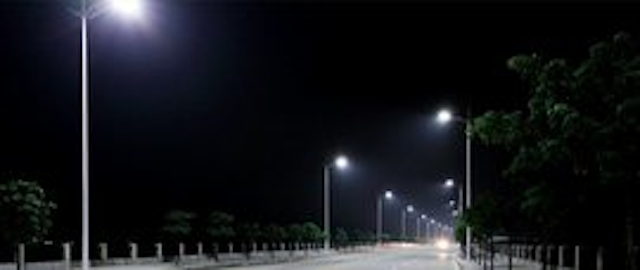 Date Announced: 30 Nov 2010
GUANGDONG, CHINA -– Dongguan Kingsun Optoelectronics Co. Ltd recently completed the revamp of street lighting on Dongjiang Main Road in Dongguan City (Guangdong, China) using LUXEON Rebel LEDs.
This project involved replacing Dongjiang Main Road's high-pressure sodium lamps and light fixtures with 98W LUXEON LED based luminaires.
In total, over 2,000 LUXEON Rebel LEDs were used to replace old lamps, or added on. This 52km stretch is, to date, the longest stretch of road illuminated by LED lights anywhere in the world. Using only LUXEON Rebel LEDs, the installation has been completed, tested and the new lighting solution officially inaugurated.
The project to revamp street lighting on Dongjiang Main Road in Dongguan city began as an open tender called for by the municipal government. The tender was open to bids in June this year. After evaluation by the authorities, Kingsun Optoelectronics was awarded the tender. Kingsun stood out from the competition due to the depth of its technical prowess, quality of its products and high-level of after-sales support. Since then, Kingsun has undertaken and smoothly completed the project in August.
Dongguan's Dongjiang Main Road street lighting revamp project deployed more than 2000 of Kingsun Optoelectronics' street lights featuring LUXEON Rebel LEDs.
This new model features high-efficiency truncated lights, using light sources from Philips Lumileds, the global leader in illumination technology. These products make use of non-optic imaging and advanced heat dissipation systems in their design. The light sources are then coupled with an electronically driven, wireless management system for intelligent control. Compared to high-pressure sodium lamps, these new lamps are able to realize energy savings of over 60% while possessing features that enable them to deliver increased usable light with low fall-off rate, improved stability and durability, while reducing pollution. The completion of this project will result in substantial energy savings annually from now on.
The LUXEON Rebel LEDs deployed in the Dongjiang Main Road street lighting revamp project also feature the world's first "Long-distance Intelligent LED street lamp management system" by Kingsun. This system includes testing and alert functions, so that if any lamp does not function as it should, the system will alert notifications immediately. The exact location, and fault description of the affected unit are clearly displayed on the system.
The system is also able to support stepless, time-sharing control which allows for the adjustment of the amount of illumination based on different time periods throughout the night, and according to road conditions. The ability to adjust the luminescence from 100% to 50%, 20% or 10% based on actual needs which offers a second level of energy saving capabilities, making this fully integrated solution one that is practical, energy-saving and environmentally friendly.
The success of the Dongjiang Main Road LED street lighting project did not happen by chance. Rather, it illustrates the strengths of both Kingsun Optoelectronics and Future Lighting Solutions. Through years of working closely together, Kingsun Optoelectronics and Future Lighting Solutions have researched and developed a highly efficient series of LED street lights that deliver brightness as well as other tangible benefits. At present, Kingsun has the highest number of successfully completed and well-used street lighting projects in the industry.
About Future Lighting Solutions
Future Lighting Solutions (www.futurelightingsolutions.com) is a leading provider of LED lighting components and support services for solid-state lighting products and installations, including engineering expertise, concept development, full system solutions and online tools that accelerate quality application development. The company is a division of Future Electronics.
Media Contact
Matthew Rotholz
Future Lighting Solutions
514.694.7710
Matthew.Rotholz@FutureElectronics.com
www.FutureLightingSolutions.com
Contact
Matthew Rotholz Future Lighting Solutions 514.694.7710 Matthew.Rotholz@FutureElectronics.com www.FutureLightingSolutions.com
E-mail:Matthew.Rotholz@FutureElectronics.com
Web Site:www.FutureLightingSolutions.com