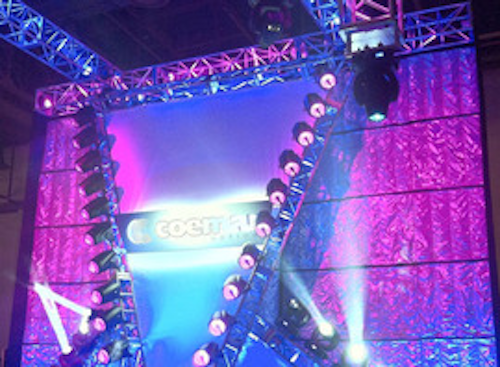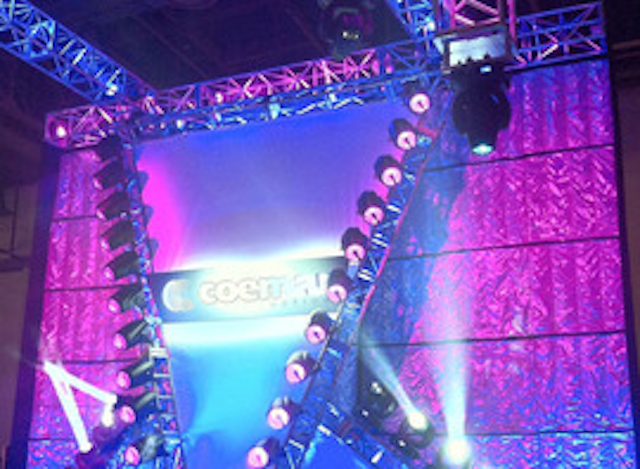 Date Announced: 02 Nov 2010
On Saturday, Oct. 23, the Coemar booth at Live Design International (LDI) 2010 in Las Vegas was awarded the prestigious "Most Creative Use of Light" award. Chris Aasen, manager of business development for Total Structures, was behind the project and worked closely with Marcel Fairbairn, president and CEO of both LED Source® and Gear-Source®, throughout the process.
"We spent six weeks designing and constructing the booth for this year's show," said Aasen. "Since we planned to take up a smaller footprint, considerable labor and creativity went into keeping this project on the cutting edge. It was a challenge to come up with a design that fit in the space, looked visually appealing and stood out from the crowd. In the end, our hard work paid off—winning this award is extremely gratifying."
Aasen designed and built the booth using all custom-made parts from Total Structures and Michael Meacham, owner of idesign, LLC, finished the look with his creative programming on a Grand MA console, courtesy of the company's friend, Bob Gordon. Meacham has been designing and programming entertainment lighting since the late 1980s and came across the many possibilities of LEDs about 10 years ago.
"A month prior to the show, Marcel asked me to program this booth and I was thrilled with the opportunity to try something new. I genuinely enjoyed this project," said Meacham. "The fixtures are amazing and the new Reflection is an innovative product. Chris, Marcel and the Coemar crew were fantastic to work with, and it's an honor to be recognized with this award by my friends and colleagues in this industry."
Aasen has spent the last 15 years creating award-winning booths for lighting brands, and has won previous booth awards with both Fairbairn and Coemar. For this booth, Aasen designed a massive "V" shape, representing "victory," and signifying the success and evolution of the Coemar brand. In September, Coemar was also recognized with the Innovation Award at PLASA 2010 for its new LED Reflection fixture, which uses LEDs to reflect either perfect color or pure light without pixels and shadows. After signing an exclusive North American distribution agreement with Coemar in July, Fairbairn couldn't be happier with the back-to-back awards.
"Coemar continues to create products that deliver exceptional technology and unsurpassed performance," said Fairbairn. "We align ourselves with the best in the market, and our partnership with Coemar has been a complete success. In addition to helping build brand awareness, Coemar and LED Source® share similar philosophies; we both are adamant on pushing the envelope for innovation in our field."
About LED Source:
Founded in August 2005 by Marcel Fairbairn, LED Source® is a national and international supplier of LED lighting that specializes in full-scale evaluations and retrofits through its Retrofit Division in addition to providing consultation all the way through to supply on new projects within their Architectural and Entertainment Divisions. the company launched a franchise program in October 2009 and expects to have a network of 150 franchise offices throughout North America within three years.
About Gear-Source:
Founded in 2002, Gear-Source® through its online platform, sells predominately used products in professional stage lighting, pro audio, video and staging. Customers include production/rental companies and resellers, as well as televisions studios, theaters and churches. For more information, please visit
www.gearsource.com
.
About Coemar:
Established in 1933 and based in Castel Goffredo, Italy, Coemar Spa is a world leader in lighting for the entertainment industry. The company also develops, manufactures and sells its products for architectural and commercial applications and guarantees pre-sale and after-sale services. At an international level, the company operates in five continents with a network of over 50 distributors.
www.coemar.com
Contact
Dean Ernst Phone: 866-900-4LED
E-mail:nicole@sandersonpr.com
Web Site:www.ledsource.com