Elation lights up the night at Nocturnal Festival 2010
Nov 4th, 2010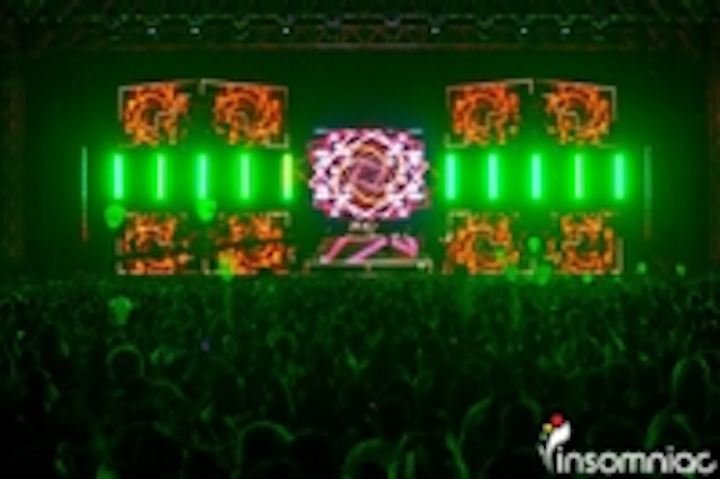 Date Announced: 04 Nov 2010
San Bernadino, CA – With more than 100 of the nation's top DJ artists pumping out tunes for 11 hours straight, Nocturnal Festival has become one of the premier electronic music events in the U.S. Produced by Los Angeles-based Insomniac Events, the one-day music marathon keeps getting bigger and better. This year's festival, held at the National Orange Show Events Center in San Bernardino, drew a record 42,000 electronic/trance/house music fans who braved the sweltering 100°-plus heat to listen and dance to Ferry Corsten, Steve Angello, Simon Patterson and Pretty Lights, to name a few.
"Bigger and better" also describes the size and design of Nocturnal Festival 2010's physical facilities, which encompassed 6 different stages featuring simultaneous performances. Most impressive of all was the Main Stage venue, a gigantic tent-like enclosure measuring 400' deep by 156' wide, outfitted with a stage and dance area inside. Built by AG Light & Sound Inc. (Ronkonkoma, NY), the colossal structure stood nearly 60' high and included a full wraparound mezzanine level. "The roof system that we built alone was about 65,000 sq. ft.," said Andrew Gumper of AG, noting that it took 17 trailers of gear to construct the enclosure and stage, including 62,000 sq. ft. of custom sewn vinyl, 75 1-ton motors, and 450 4'x8' stage decks. In truss alone, 12,574' was used, which measures out to 2.4 miles!
Stephen Lieberman of SJ Lighting Inc. handled the design of the stage and lighting (which was also supplied by AG Light). Although Lieberman typically designs 50-70 stages a year, and has worked on many previous Insomniac Events concerts, he described the 2010 Nocturnal Festival's Main Stage venue as, "The biggest structure I have ever done – and I've been doing this almost 20 years!" Such a large project called for big-time lighting/video products that could stand up to the challenge of this massive venue and its epic concert. Lieberman and Gumper found such sturdy, reliable performers for Nocturnal Festival's Main Stage lighting rig in Elation Professional LEDs, moving heads and video screens.
Four uniquely-shaped video screens, configured with Elation's EVLED 256 and EVLED 1024 low and medium resolution transparent LED video panels, were positioned on stage, two on the floor and two flown in the air.. The screens were constructed to appear 3D-like in shape, wider at the base then getting more narrowly graduated toward the top, resembling steps constructed from individual cubes. The two overhead screens were inverted to resemble an upside-down staircase.
Lieberman said that when designing the screens he was inspired by the old video game "Q-Bert," which featured a color-changing pyramid of cubes. "For years, I had been wanting to do something that looked like Q-Bert, but I never had the opportunity. Then when I started doing my preliminary design sketches to see what was going to work for this environment, it popped into my head."
The 2'x 2' EVLED panels' light weight and modularity helped make it possible to construct the distinctive pyramid-shaped screens, while their brightness and rugged durability made them well-suited for the challenging venue. Both rated at IP65 for indoor-outdoor use, the EVLED 256 features a 37.5mm pixel pitch and 2,000-nit luminosity, while the EVLED 1024 has an 18.75mm pixel pitch and 5,500-nit luminosity. In addition to being used onstage, EVLED video screens were wrapped around the entire venue, with a total of 637 EVLED 256 tiles and 60 EVLED 1024 tiles contained in the Main Stage tent.
Elation and its sister company Acclaim Lighting also provided much of the lighting featured onstage and in the dance floor area, accounting for nearly 200 of the 380 fixtures used in the venue. Twenty-four Elation 700-watt Power Spot 700 CMY color-mixing moving heads, which feature 2 gobo wheels and an animation wheel, and 24 of the company's 575-watt Power Wash 575-watt moving head washes, lit up the large dance floor area with a whirl of atmospheric color and effects.
Ten Elation Design LED 60 TRI-Strips, each containing a total of 60 3-watt tri-color LEDs, were positioned onstage to serve as audience blinders. One hundred Acclaim X-Band 300 IP65-rated RGB LED wall wash fixtures were hung on all the truss tower legs "as kind of like eye candy," said Gumper. Adding color to the trussing itself were 40 Elation ELED B48 LED blinders, which served as truss toners.
Making a project of this size and scope come together was "a true collaborative effort," commented Lieberman. "I was really impressed with AG – their entire team performed 100%. If any one piece of the puzzle is not done properly, it can affect everything."
An integral piece of this puzzle was the Elation lighting and video gear, added Gumper. "The products were rock solid. They worked great for the job. Everyone was happy."
Contact
Elation Professional 866-245-6726 AG Light & Sound Inc. 631-471-3700 www.ag.tc SJ Lighting, Inc. 818-874-9779 www.sjlighting.netinfo@sjlighting.net
E-mail:abby@fucinipro.com
Web Site:www.elationlighting.com