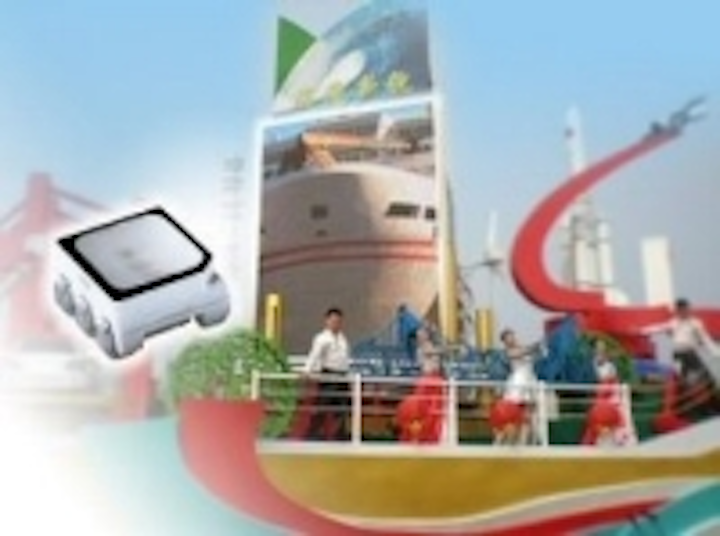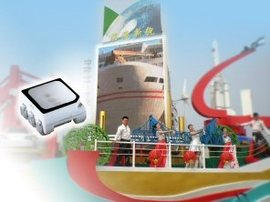 Date Announced: 02 Jan 2010
-- Black surface MULTILED brings excellent contrast and high color fidelity
OSRAM Opto Semiconductors' MultiLED black surface LEDs (LRTB GFTG) were used in the display wall in Tian An Men Square in Beijing. They were selected for the uniform display results and high color fidelity across the entire viewing angle. The black surface of the LED offers very good contrast both at night and in the day time, and from a distance.
The MultiLED allows displays on the 2.9m x 4.5m wall, installed for China's 60th National Day celebrations, to be seen by viewers from a distance of up to 150m. The black surface of the LED on the display provides excellent contrast and impressive depth of color. This visual sharpness is important to video displays, particularly in broad daylight and playing high resolution videos. In addition, very high uniformity and brightness is achieved by using the latest high-power Thinfilm and ThinGaN technology, enabling the display colors remain constant from all viewing angles.
"OSRAM's LEDs are among the best LEDs on the market," said Zhang Guang Qing, Chairman of the Board of Toecstar, the company which built the display wall. "Their MultiLED products enable very high uniformity in terms of color and brightness. What's more, they are also very reliable. This is very important as maintenance costs can be brought down."
The MultiLED family comes in a 6-lead package that delivers improved thermal management and increased reliability, making it the ideal choice for long term installations such as display walls.
According to DisplaySearch, LED revenues for outdoor displays will grow 50% from 2009 to 2012. The fastest growing markets are in China and Asia Pacific. They are expected to overtake North America and Europe/MiddleEast by 2011. Since the Olympics last year, LED displays have gained momentum in China. With the Expo in Shanghai coming up next year, the market is set to experience tremendous growth, achieving a CAGR of 15.1% since 2007.
Contact
OSRAM Opto Semiconductors Asia Ltd.
E-mail:prasia@osram-os.com
Web Site:www.osram-os.com