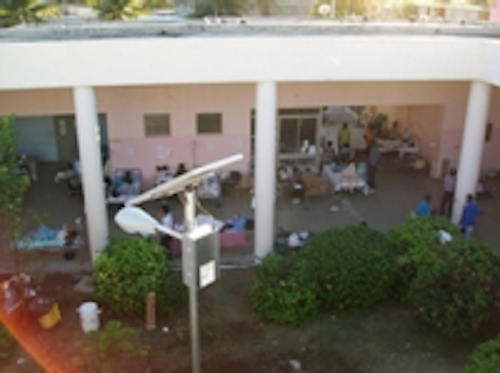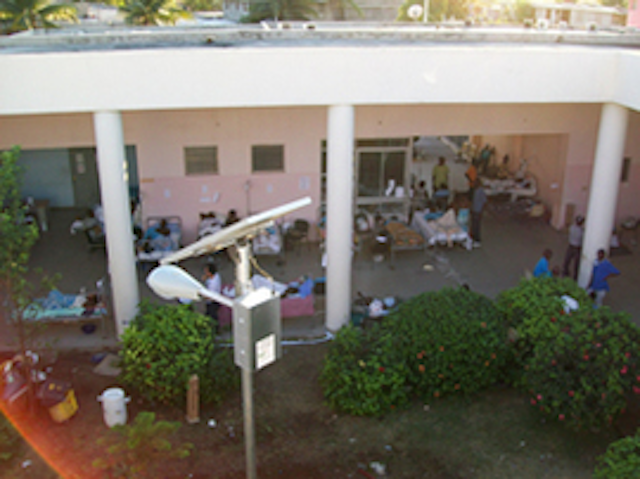 Date Announced: 29 Jan 2010
Palm City, Fla., U.S.A. - SOL Inc.'s solar lights are shining brightly all night long, expanding relief and recovery efforts at several Port-au-Prince sites following the devastating earthquake on January 12, 2010. Solar lights donated by SOL Inc have already been installed at University Hospital, International Airport, UN Logistics Base and Hotel Montana within days of the disaster for quick, immediate and reliable illumination for victims and volunteers.
The first phase of SOL Inc.'s pledge to provide $300,000 in solar lights has been reached as the company has manufactured and packaged over 130 solar light systems ready for shipment. Although approximately 1/3 of the lights are already delivered or in transit to the earthquake-ravaged nation, SOL Inc. is still seeking air cargo or ocean freight transportation assistance for the remaining lights from FL to Haiti.
Since January 19, 2010, SOL Inc.'s team has been on the ground in Haiti ensuring lights are secured, delivered, and effectively installed. The team reports overwhelming positive response to our efforts. SOL Inc. is keeping the world up to date on its solar light recovery at http://solarlighting.com/DISPATCH_FROM_HAITI.pdf To learn more about this relief effort and/or pursue helping SOL Inc. deliver its solar light systems to Haiti please contact agencyrelief@solarlighting.com.
About SOL Inc. – www.solarlighting.com
SOL Inc. is the world leader in solar LED outdoor lighting solutions with over 40,000 systems installed in more than 60 countries on six continents. Since 1990, SOL has introduced innovative and cost-effective solar lighting systems that provide unsurpassed levels of illumination and reliability. SOL Inc. develops, manufactures and markets commercial/industrial-grade solar powered and energy efficient lighting systems for a wide range of lighting applications including area and security, street and roadways, sign and billboards and transit and shelter lighting. SOL Inc. is ISO 9001:2000 certified and committed to superior design, manufacturing, and customer satisfaction.
Contact
Audwin Cash 772.233.3825
E-mail:acash@solarlighting.com
Web Site:www.solarlighting.com