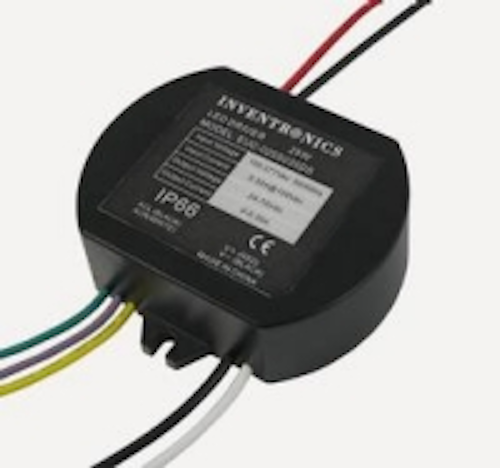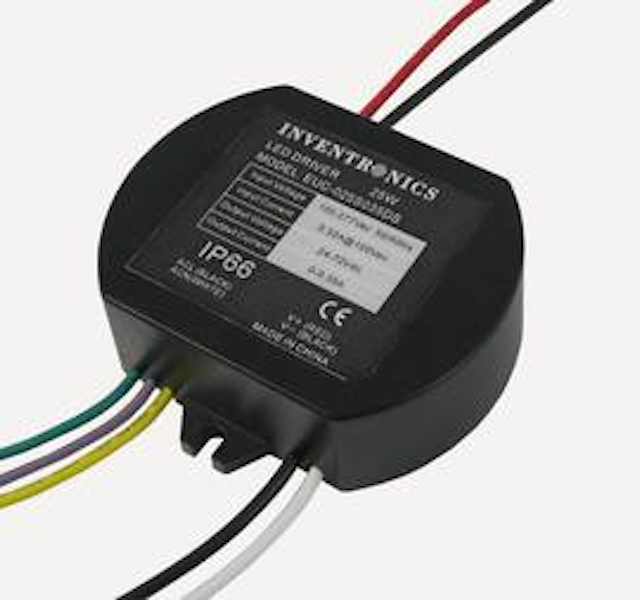 Date Announced: 04 Jan 2010
Hangzhou, China – Jan 4, 2010 - Inventronics has announced the availability of a new series of constant current power supplies for solid state lighting applications including constant current drivers and constant current drivers with built-in dimming. The EUC-025S series provides 25W of output power and is available in 21 different models with output currents ranging from 350mA to 2080mA. This new series is approved to UL8750
There are 8 models with dimming control function in the series. Dimming, on the drivers having this feature, is accomplished with a 0-10V input signal that scales the output current linearly with the applied voltage. To simplify application, the driver also provides a 10V reference output that may be used to generate the dimming input with a potentiometer or resistor divider network.
This series provides power factor of 0.99 with 110V input voltage and 0.94 with 220V input voltage. In addition to the high efficiency of these drivers, a rugged plastic housing which is IP66 rated enables the products to run cooler, significantly improving reliability and extending product life. The lifetime of these drivers is calculated at about 79,000 hours for the EUC-025S when operating at 80% load with an ambient temperature of 45°C.
The constant current output of these drivers simplifies luminaire design by allowing for the direct drive of LED strings. Based on their high efficiency and long life the EUC-025S prove to be an ideal choice for any lighting project where energy savings and lower maintenance costs are critical objectives. These compact, easy-to-use drivers were designed to meet a wide variety of general purpose lighting applications and feature over-voltage, over-current and over-temperature protection. The specially-designed plastic housing is IP66 rated allowing for use in indoor and outdoor usage.
Samples of the EUC-025S Series are available now. For a full datasheet please check the Inventronics website (www.inventronics-co.com) or contact the company at sales@inventronics-co.com.
Contact
Inventronics 3rd Fl, Bldg B. Eastcom City, 66 Dongxin Road, Binjiang District Hangzhou, Zhejiang 310053 P.R. China Attn: Ms. Grace Chen Tel: 86-571-86632260 Fax: 86-571-86601139
E-mail:sales@inventronics-co.com
Web Site:www.inventronics-co.com