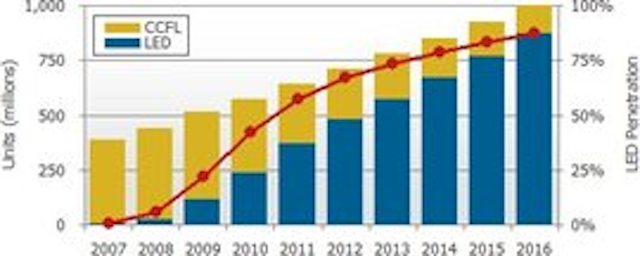 Date Announced: 26 Jan 2010
The LED backlight unit market has rapidly emerged in the TFT LCD industry, and momentum for this segment is expected to continue over the next five years. In the latest DisplaySearch Quarterly LED Backlight Report, the company reports that LED backlight units will surpass CCFL/EEFL backlights in large-area TFT LCD panels in 2011, and achieve 74% penetration in 2013. Large-area LED backlight demand for all applications will grow from 114 million units in 2009 to 770 million units in 2015.
"Without a doubt, LED backlights will be the dominant light source in all applications in 2011—representing a significant business and technology evolution for the entire backlight and panel supply chain," noted Kevin Kwak, DisplaySearch Director of LED Backlight Unit Research.
The figure shows the LED backlight unit penetration including notebook PCs, LCD monitors and LCD TV applications.
DisplaySearch forecasts the shipment of LED backlight units for LCD TVs to grow from 36.5 million units (a 20% penetration rate) in 2010 to 184.9 million units (a 72% penetration rate) in 2015. "In order for LCD TVs with LED backlight units to gain market share, they must provide attractive performance and cost competitiveness simultaneously," Kwak added. "Three main components will play a role in reducing costs: LED chips, light guide plates and dual brightness enhancement films."
Cost and performance remain bottlenecks for panel manufacturers for LED backlight units for monitor panels. Despite this, the Energy Star 5.0 specification will drive growth for this segment. In particular, LCD manufacturers are mass-producing 18.5"W-24"W LCD monitor panels with LED backlight units. DisplaySearch predicts that <26" LCD TVs with LED backlights, mainly using monitor panels, will grow rapidly also, as the cost premium is acceptable.
The notebook PC segment has the highest LED backlight unit penetration rate, as the power-saving benefit justifies the cost premium compared to CCFL BLU. Meanwhile, the prices for side-view, high-intensity (1,900-2,200 mcd) white LEDs continues to fall. As a result, LED backlights will have an 84% share of notebook PC shipments in 2010 and will be close to 95% in 2011.
The DisplaySearch Quarterly LED Backlight Report covers backlight unit capacity, backlight unit value chain, backlight unit cost structure by size, backlight unit shipment forecast by technology, CCFL capacity, CCFL supply chain, CCFL shipment and demand forecast, and LED technology introduction with its application in backlight unit. The report also provides an analysis of large-area LED backlight unit cost structure and cost trends for notebooks, monitors and LCD TVs and an extensive overview of LED backlight TVs. For more information on the DisplaySearch Quarterly LED Backlight Report, contact Charles Camaroto at 1.888.436.7673 or 1.516.625.2452, email contact@displaysearch.com, or contact your regional DisplaySearch office in China, Japan, Korea or Taiwan.
The DisplaySearch 12th Annual USFPD Conference, called "Laying the Foundations for the Next Wave of Growth: Energy Efficient & Low Cost Alternatives Lead the Way" will be held March 2-3, 2010 at the Hilton San Diego Resort in San Diego, California. The event will focus on all major and emerging flat panel display applications, as well as key components and materials related to the supply chain. To view the agenda and register, visit www.displaysearch.com/usfpd. Register by January 25, 2010 to receive the early bird discount and save $400!
About DisplaySearch
Since 1996, DisplaySearch has been recognized as a leading global market research and consulting firm specializing in the $770 billion display supply chain, as well as the emerging photovoltaic/solar cell industries. DisplaySearch provides trend information, forecasts and analyses developed by a global team of experienced analysts with extensive industry knowledge and resources. In collaboration with the NPD Group, its parent company, DisplaySearch uniquely offers a true, end-to-end view of the display supply chain from materials and components to shipments of electronic devices with displays to sales of major consumer and commercial channels. For more information on DisplaySearch analysts, reports and industry events, visit us at http://www.displaysearch.com/. Read our blog at http://www.displaysearchblog.com/ and follow us on Twitter at @DisplaySearch.
About The NPD Group, Inc.
The NPD Group is the leading provider of reliable and comprehensive consumer and retail information for a wide range of industries. Today, more than 1,700 manufacturers, retailers, and service companies rely on NPD to help them drive critical business decisions at the global, national, and local market levels. NPD helps our clients to identify new business opportunities and guide product development, marketing, sales, merchandising, and other functions. Information is available for the following industry sectors: automotive, beauty, commercial technology, consumer technology, entertainment, fashion, food and beverage, foodservice, home, office supplies, software, sports, toys, and wireless. For more information, contact us or visit http://www.npd.com/ and http://www.npdgroupblog.com/. Follow us on Twitter at @npdtech and @npdgroup.
Contact
888-436-7673 516-625-2452
E-mail:contact@displaysearch.com
Web Site:www.displaysearch.com/