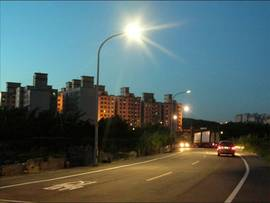 Date Announced: 10 Jan 2010
Delta Electronics, Inc. had celebrated the installation of its innovative, new LED streetlights along a road in Taoyuan, Taiwan two weeks ago. Delta and the Taoyuan county government had set up an LED street lighting pilot project on Taoyuan's DaShin West Road in support of the county's long-term goal of greater energy efficiency. With Delta's LED streetlights glowing brightly, DaShin West Road represents the county's determination to protect the environment and save energy while providing residents with safer night driving. The switch from the existing HPS streetlights to LED lighting by the Taoyuan county government demonstrates the growing environmental awareness and practice in Taiwan.
"We are honored that Delta Electronics can contribute to the environmental efforts of our city. Delta's LED streetlight products are modularized for better cooling, more efficient light emission, easier transport, safer maintenance, and quicker tuning for different demands, plus we include a three years warranty with the purchase. We offer a reliable product with outstanding performance that will please Taoyuan residents and everyone who drives under the bright LEDs lighting this road," said Roland Chiang, director, Solid-state Lighting Business Unit, Delta Electronics, Inc.
Delta's LED streetlight products range from the 5,200lm SLDT-08 for 2-lane city avenues to the 20,000lm SLDT-35 for 4-lane cross-border highways. As a replacement for existing 250W high pressure sodium (HPS) lamps, Delta chose to use its SLDT-200 streetlights for the pilot project because of the following strengths:
• High Color Rendering Index (CRI): the SLDT-200 averages 80 compared to 30 for HPS
• Energy saving: the 200W SLDT-200 can replace 400W mercury and/or 250W HPS
• Excellent power / electric stability and performance: Avoids distortion by power fluctuations and correspondingly enhances road safety
• Excellent optical design: Offers a comfortable and safe light uniformity on road
• Modularized design: Allows the light source to be built into government symbol cases and complies with the Taoyuan city beautification program
• Excellent thermal dissipation: Provides natural air convection, ideal for a humid and hot environment like Taiwan
• Easy upgrade and maintenance: The modularized design facilitates and simplifies the process of upgrade and maintenance by requiring only one screwdriver for assembly and disassembly. This minimizes the inconvenience of maintenance crews blocking traffic if a malfunction occurs from natural causes such as an earthquake or typhoon .
• Easy packing and transporting: The small and light modules can be packed and transported separately for easy handling.
In addition to outdoor streetlight products, Delta Electronics also provides a range of indoor lighting in professional areas such as halogen replacement, low bay, refrigerator lighting, as well as in the consumer area of recessed and bulb lamps. All deliver excellent optical, mechanical, thermal, and electrical performance.
Please find more information about Delta LED lighting products at http://www.delta.com.tw/product/cp/led/led_main.asp.
Contact
Julia Chiang Solid-state Lighting Business Unit Delta Electronics, Inc.
E-mail:julia.chiang@delta.com.tw