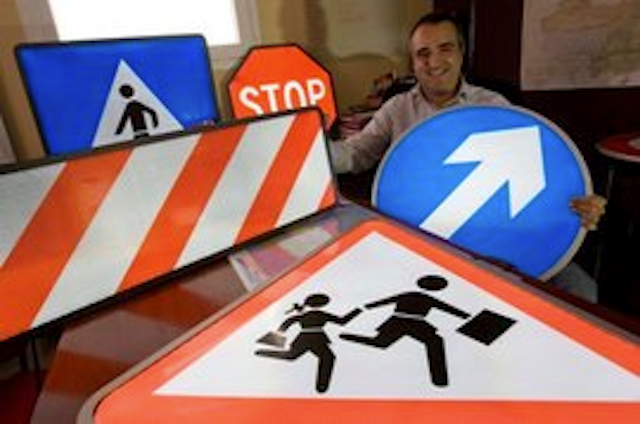 Date Announced: 22 Jan 2010
Elumin8 Ltd has announced today that it is launching its new range of energy efficient road signs. These internally lit signs use the latest LED technology and provide a clean flat lighting surface. Elumin8 has spent the last 12 months in R&D and testing and will showcase the new products at Intertraffic 2010 held in Amsterdam. The signs are already on test throughout Europe and Asia
Elumin8 has been involved in the developing traffic signs for over 4 years. Illuminated road safety has seen some dramatic changes in recent years. There is a definite trend to move from traditional lighting technologies to those that require less energy. This is a trend obviously championed by the need to reduce carbon emissions. With this in mind Elumin8 have developed their 2nd generation road signs using edge lit LED.
The key to the success of these products has been finding the balance of low energy consumption without compromising the light levels and effectiveness of the sign. Elumin8 have done this by the use of their unique LGP technology. Based on a comparison with incandescent products Elumin8 can see an energy saving of upwards of 60%. As well as being light emitting they are also enhanced with 3M retro reflective films. They are produced to all standard sizes required by road authorities
Barry Hatcher, Elumin8 CEO, commented; "we see the road sign market as a significant growth area for the lighting industry. Our range of LED signs have been designed to cater for a global market and tested to resist all environmental pressures from extreme heat to extreme cold. They even work when submerged in water."
Currently the Elumin8 traffic signs have been taken up by governments in Malaysia, Spain and most recently in the UK. "We see some countries are more enthusiastic about embracing the need for efficiently lit traffic signs that reduce energy use and urban clutter but most importantly, enhancing road safety. Spain for example is particularly excited by them. At the end of the day they are not just ecologically sound, they save money on electricity for the local authority and frankly they look really impressive thus enhancing road side environment" Said Barry Hatcher.
Elumin8 will officially launch and demonstrate the range of signs and other road safety products utilising solar technology at Intertraffic 2010 in Amsterdam. "This is the premier tradeshow for the road industry in Europe and because of our early success and the knowledge that these products are creating huge interest it is the obvious choice"
Elumin8 (Hong Kong) Ltd is a subsidiary of the privately owned Luminous Media Group of Companies. The group is a specialist lighting manufacturer with a focus on the key technologies of Electroluminescence, LED and solar power. Elumin8 Ltd specialises in the development and production of road safety products and illumination for the automotive and aeronautical industries.
The group headquarters is based in Hong Kong with a manufacturing facility in Southern China which is a wholly owned foreign enterprise with a specialist management team from Europe, North America, Middle East and Asia. The group has satellite offices in the UK, USA, Spain, France, Malaysia and New Zealand. The group is also represented in 23 countries and supplies many blue chip companies which include Coca Cola, Jaguar Land Rover Group, Diageo, Thales Defence to name a few
Contact
Press Contacts: English Simon Parkes. Elumin8 Ltd (UK) Press Office Tel: +44 (0) 20 7100 4186 email: simon@elumin8.com French Speaking Maxime Guhmann Elumin8 France Strasbourg +33 6 43 57 73 19 maxime.guhmann@elumin8.com Spanish & Portuguese Inigo Karide +34 663 809 227 ikaride@eluminousmedia.com
E-mail:simon@elumin8.com
Web Site:www.elumin8.com