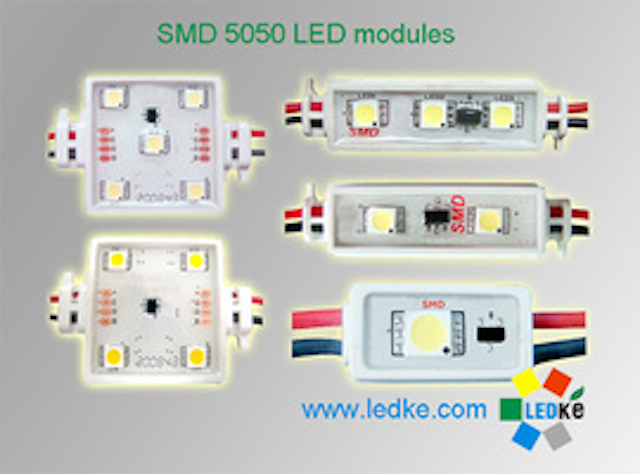 Date Announced: 12 Jan 2010
LEDKE Technology Co., Ltd (www.ledke.com) recently introduced SMD 5050 LED module series, this series LED modules are using ultra-high-brightness SMD 5050 LEDs as light source, with pure color, uniform color blending, also, There are a variety of colors can be choosed (white, warm white, red, blue, green and so on).
This LED Modules with low voltage, low power consumption, conformity with international safety standards, its shell is used flame-retardant and anti-static material, therefore prevent short circuit between PCB solder joints and metal signs. Also using constant current circuit design and lightning absorbing device, the modules are connected together by soft silicone rubber wire, so even for long-term use in the harsh outdoor environment, the wire won't become aging and embrittlement. While the entire module body with fully sealed waterproof structure, the circuit board is coated by moisture-proof plastic and flame-retardant epoxy resin with high thermal conductivity, and prevent corrosion and oxidation on the circuit by the outside water vapor, ensure the stability safty, durability and long lifespan when the SMD LED modules work in the outdoor environment. With protection rating of IP68, our LED modules can adapt to indoor and outdoor temperature and all kinds of moist weather, environmental applications is -20 to +60 degree.
Feature:
1) Use super brightness SMD 5050 LED as light source.
2) Energy efficient, major reduction in power costs.
3) Long service life 50,000+ hrs, virtually, No maintenance during lifetime.
4) Low heat, high brightness, works well under harsh conditions.
5) Compact size for narrow space installation.
6) Solid-State, High Shock / Vibration Resistant.
Application:
1) Backlight of channel letters and signage.
2) Advertisement decoration.
3) Outdoor guide, nameplate board lights.
4) Indoor lights decoration.
5) Lights for events and shows.
6) Lights for fountains, spring, waterfall, pool.
7) Marine signal and task lighting.
8) Decorations lights for bar, pub, club, disco.
Contact
LEDKE Technology Co., Ltd Tel: 86-0755-27319793 Fax: 86-0755-82949887
E-mail:info@ledke.com
Web Site:www.ledke.com