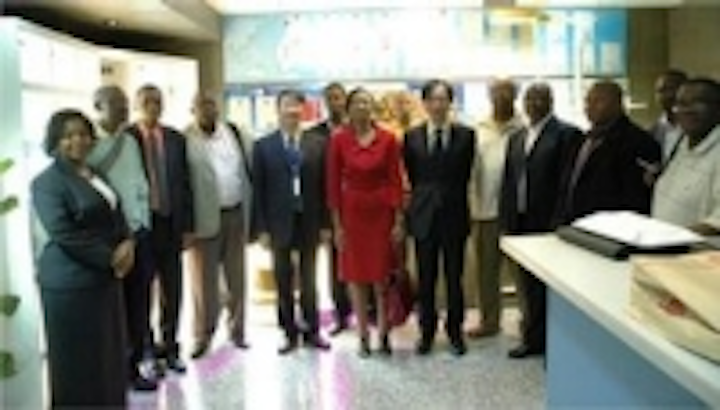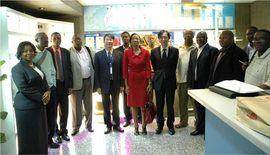 Date Announced: 03 Aug 2010
Taipei - The Swaziland Commercial Minister has led the business trading group to visit Aeon Lighting Technology Inc. (ALT) to look for joint venture opportunity of high power LED lighting. The CEO of ALT, James Liang, has declared that both Swaziland and ALT have brought the cooperation between two sides to next step to build up Africa Green Silicon Valley since the visit of Swaziland Prime Minster Dlamini from last year.
Since the visit of Swaziland Prime Minister Dlamini from last year, Swaziland is dedicated looking for green trading opportunity with Taiwan. Few days ago, Swaziland Commercial Minister, once again, has led the business trading group to visit high power LED lighting leading company—Aeon Lighting Technology Inc., and had great welcome by ALT CEO James Liang with entire company employees. During the visiting tour, Mr. Liang has personally illustrated the prevision of high power LED lighting, and furthermore proposed the "Africa Green Silicon Valley" plan to visiting group. The main idea of this proposal is to turn Swaziland to a unique green country in the world.
The vision to Pursuit Environment Purity is going to lead Green Revolution in Africa
According to Mr. Liang, the vision—To Pursuit Environment Purity, is the foundation of ALT. With this vision, the company has dedicated itself to develop green energy products with stable performance, long life time, and energy-save characteristics. The perfect quality of ALT product is not only reflected on global sales but also consumers' satisfactions. "energy-saving and carbon footprint deduction is no longer a slogan anymore," says by Mr. Liang in the presentation to Swaziland business group. "It should be an action plan and revolution to create an ideal energy-saving world." Due to low energy consumption and high lighting efficient, high power LED lighting can accelerate the development of Africa area. Especially the Green Silicon Valley plan, it will not only help Swaziland to develop but also lead a green revolution in Africa.
During the visiting, the Minister and other guests are not only interested in the future development of high power LED lighting but also impressed by the determination of environmental protection. After the meeting, all participated guests were questioning about consequence plans, exclusive lighting project, and replacement of streetlight in Swaziland. Mr. Liang also claims that ALT is going to establish a facility in Swaziland in order to implement the cooperation plan between both sides to build up a green environment in Africa.
Aeon Lighting Technology Inc. has cutting-edge heat dissipation technology directly from partnered industrial server manufacturer, and more than 100 patents and safety certifications. Additionally it is the first LED lighting company to receive recognition from IF Product Design Award.
Contact
Jerry +886-2-82261289 #3004 +886-919626474 / jerry.chou@aeonlighting.com
E-mail:info@aeonlighting.com
Web Site:www.aeonlighting.com