XL Video's hot hat trick at Glastonbury 2010
Aug 5th, 2010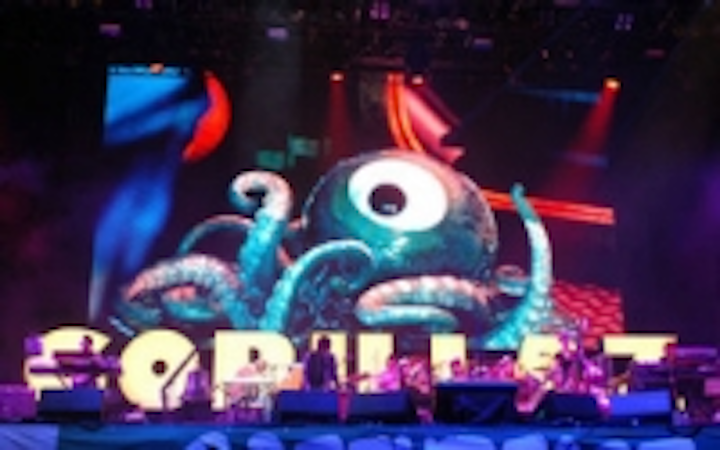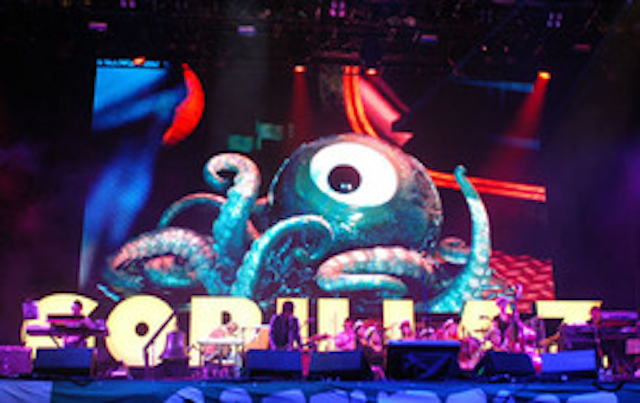 Date Announced: 05 Aug 2010
XL Video supplied video packages for the 3 Pyramid Stage headline acts at Glastonbury 2010 - Gorillaz, Muse and Stevie Wonder, account handled by XL director Des Fallon.
Glastonbury is the UK's highest profile and most popular music and contemporary arts festival, staged in the beautiful rolling hills of Worthy Farm, Somerset, and this year it was also celebrating its 40th anniversary.
XL also supplied a PPU and 3 cameras for the Pyramid Stage in a package co-ordinated for host broadcaster, the Production Network, by XL's Paul Wood.
Des Fallon, Lee Spencer and Ian Woodall spent the weekend at the festival to ensure everything ran smoothly on site.
Gorillaz
The 97 metres of PIXLED F11 screen was a prominent piece of stage architecture for the Gorillaz show which features the stunning visuals of co-collaborator Jamie Hewlett.
The high resolution screen was configured in 16:9 format, 13.2 metres wide, with XL also supplying VVTR playback decks and a Barco Encore screen management system operated by Richard Turner.
XL Video has been involved with every Gorillaz show since the concept started. At Glasto 2010, the set really ignited the crowd with a slick combination of new material and Gorillaz classics, complete with a full line-up of collaborating artists, each of whom appeared live for their relevant songs.
In a special finale, an imaginatively edited re-mix sequence from Dennis Hopper's 1969 classic road movie Easy Rider to "Fire Coming Out of The Monkey's Head" was shown on screen .... intended both as a tribute to Hopper and celebrating 40 years of remarkable Glasto history.
Just below the bottom of the screen was a set of large scenic letters spelling out G-O-R-I-L-L-A-Z, which were illuminated with LED fixtures.
This is the same outdoor festival rig as used by the band for other events this summer, and the F11 is proving perfect for the larger shows, really emphasising the vibrancy and colour of Hewlett's films.
Muse.
This is another account that's been serviced by XL since 2001 ..... and they took their festival system into Glastonbury 2010.
Lighting/visuals designer Oli Metcalfe's festival system contains 18 hexagonal screens mounted in special metal frames that were designed and built by XL Video, each one containing 208 Barco O-lite tiles, along with 5 HD VersaTUBES framing the shapes. These were flown off 2 x trusses.
XL is supplying a streamlined PPU with mini cams for the ongoing festival rig, and at Glastonbury, Muse video director Tom Kirk also took in some of the BBC's camera feeds via his PPU and output them to screen.
XL is also supplying full video production for Muse's stadium tour before they head back to the US for further American arena shows.
Stevie Wonder
Once again, the video look changed totally for Wonder's Sunday night headline slot, with a 10 metre wide by 6 metre high PIXLED F15 screen onstage at the back, which could be divided up into 3 areas or run as one large image, taking a combination of playback and camera images.
The 4 camera XL PPU complete with 7 robo-cams and a Kayak switcher was operated by Wonder's video director Matt Askem, who also took a number of BBC camera feeds into his mix.
As with both Gorillaz and Muse, XL is also engaged in current ongoing touring work with Stevie Wonder with the same rig.
Other Glasto Stuff
Around the Glasto site, XL Video also supplied 8 Barco SLM R12 projectors to the Orange Tent, plus 4 Hippotizer media servers; 22 panels of Lighthouse R7 to the Glade stage, and some extras for Fatboy Slim and Corrine Bailey Rae.
Contact
For more press info on XL Video UK please contact Louise Stickland on +44 (0)1865 202679 or +44 (0)7831 329888 or Email 'louise@loosplat.com'. To contact XL Video UK direct, call +44 (0)1442 849400 or check www.xlvideo.tv
E-mail:louise@loosplat.com
Web Site:www.xlvideo.tv